SEO Tips To Help You Make Money Online
Updated on June 15th, 2016
This is a guest blog post.
The Internet has opened up multifarious opportunities to earn money. The website has become a formidable tool that can help you to attract customers from all over the world. However, even if you are not engaged in any e-business, still you can make money online by creating your own blog. However, you can only capitalize on this by making sure that your website/blog is optimized for search engines i.e. SEO, which would increase the chances of people visiting your website. Heavy traffic diverted to your website will definitely increase your prospects of earning money online. Here are some SEO tips that will help you to increase your traffic and make good money online:
Always include relevant content in your website
Your content should be of superior quality which should impress the searchers. Make the content interesting and of course, it should be keyword optimized, which is essential for a good SEO strategy.
Make good use of social media for promotions
Social media is a powerful tool these days and it alone can increase your search ranking dramatically. Rich keyword content in social media profiles figures prominently on the search results. You could also build quality inbound links with the help of social media.
Make sure that your SEO does not have any loopholes
It is important to ensure that there are no technical lapses in the SEOs of your website, otherwise all your efforts will turn to waste. Make sure that all your web pages are linked internally. You must ensure that you do not have too many images in your website which can impact your SEO ranking negatively.
Ensure that you have sufficient keywords in your website
It might sound easy, but it is essentially difficult to use keywords optimally to your advantage. There are thousands of websites and many do not know much about SEO optimization, hence, you could cut through the competition by ensuring more traffic through SEO rich content. Ensure that the main keywords are in your sub-domains, domain and tags.
Enlist your website in various directories
It will be beneficial if you submit your website to multiple directories as it will hep you get indexed quickly.
Get ads on your website
You could make money online by having links or ads on your site to click on. However, you will eventually make good money once you start doing well on the search engines.
Include interesting pictures on your website
Pictures attract a lot of online users and these can be used as a medium to attract visitors to your blog. Learn more about the ALT Tag and how you can use it to use your pictures efficiently give you a long lasting result.
About The Author:Margaret is a writer/blogger. She loves writing, travelling and reading books. She contributes in ReputationChanger.com Reviews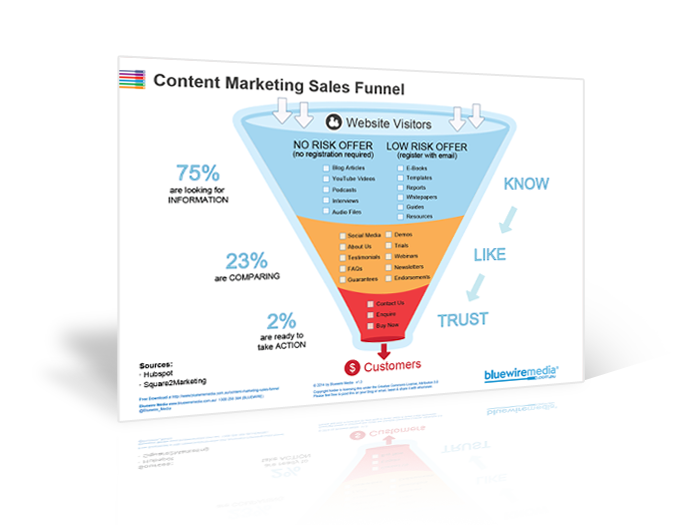 Content Marketing Sales Funnel
Your content marketing sales funnel is all about getting people to know, like and trust you by nurturing them with the right information at the right time.