The seven sure-fire ways to successful Facebook Ads
As a business coach I have been asked about Facebook marketing more than any other type of marketing medium.
Before you say – "but my customers aren't on Facebook" – there are 17 million users on Facebook in Australia alone, so you can be guaranteed that your target market is on Facebook, you just need to learn the best ways to target them.
I have personally been using Facebook to generate leads in my business for the last 7 years, I have spent hundreds of thousands of dollars learning what works and what doesn't.
I have seen many business owners waste a lot of money on Facebook ads, learning the best ways to generate leads on Facebook which is why I have compiled my top seven tips to make sure that if you're going to use Facebook to market your business you increase your chance of success.
1. Think it through
Hitting the boost post button or randomly creating ads without thinking about your strategy is a shortcut to failure. To be successful with any marketing you need to be clear on who you're targeting, what you're offering and how you'll get people to take action. Facebook is no different to any other entertainment media. You're interrupting someone enjoying the entertainment of their Facebook feed, your ad needs to stop them in their tracks.
2. Re-target website visitors
One of the most cost-effective methods of advertising on Facebook is to re-target website visitors. It is extremely easy to do and will give you a great return on investment. Simply install the Facebook pixel on your website and you'll start tracking your website visitors. Facebook will then allow you to create ads that you can then use two target these visitors when they're on Facebook. Using Google Chrome you can download the Facebook pixel helper plug-in that will allow you to see what websites have the pixel installed and learn from how other companies at retargeting you.
3. Create a custom audience
One of the most powerful features of Facebook advertising is the ability to create a custom audience. You can upload a database of current, past or potential customers and specifically target them. In addition, you can create a lookalike audience by telling Facebook you would like to target people that are similar to your customers.
4. Test, test, test and then test some more
I am continually amazed at how changing one word, button text or an image can have a huge impact in the acquisition cost per lead on Facebook. It's important that you continually split test your advertisements. Try using different headlines, call to actions and images.
5. Use video
According to Facebook, video is getting up to 11 times more engagement than any other media on their platform. Video is extremely easy to create using your smart phone and usually results in a much lower acquisition cost per action.
6. Personalise your marketing
If you want to maximise your results from Facebook ads, or any marketing for that matter, you'll need to have a sales process that builds a relationship with your prospect. I have found that telephone contact after generating a lead on Facebook gives me the be best return on investment.
7. Scale up your winners and stop your losers
Keep an eye on your campaigns and if you have a campaign that is giving you a good return on investment simply scale it up. With so many people on Facebook there is plenty of potential to reach more of your prospective customers. Keep a maximum acquisition cost and when your lower performing campaign exceeds your maximum then just stop running them.
BEN FEWTRELL
MANAGING PARTNER AND BUSINESS EXCELERATOR™
Ben Fewtrell, Co-Founder and Managing Partner at MaxMyProfit and author of the Business Exceleration™ Blueprint, is a sought-after advisor, keynote speaker and trainer. He has been featured in 'Secrets of Top Business Builders Exposed', Virgins Inflight Entertainment Pod and In-Flight Magazine, Sky Business and many more. Ben is also the host of the popular Business Brain Food Podcast show where he interviews leading experts on anything and everything you need to know to help you build the business you imagined.
Having built several businesses from scratch, Ben knows a thing or two about getting a business off the ground. Ben's presentations are always fun and educational, and his Programs have helped many Business Owners help build the business they imagined. Ben started his first business at the age of 18, he built it to be a multi-millions dollar business with 64 trucks on the road in just 4 years. As impressive as it sounds, Ben was working ridiculous long hours and not making any money! By the age of 28 he was over it, and just knew there had to be a better way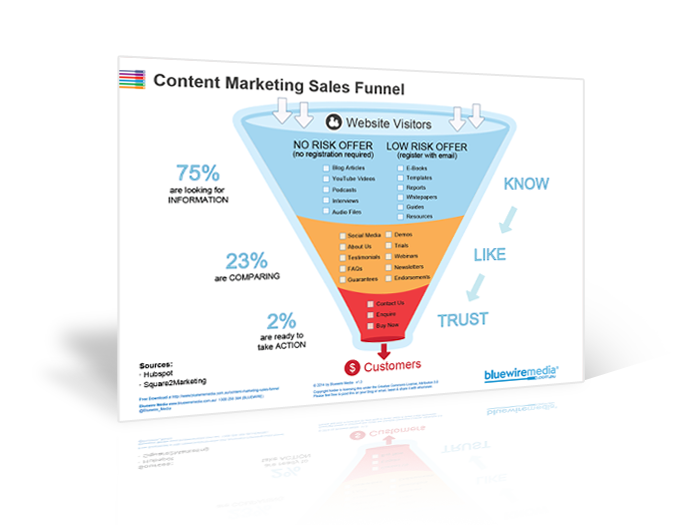 Content Marketing Sales Funnel
Your content marketing sales funnel is all about getting people to know, like and trust you by nurturing them with the right information at the right time.