SMMW15 Mike Stelzner's opening keynote
Here are my takeaways from Mike Stelzner's opening keynote! (I'm blogging live so please forgive any typos – -I'll fix them later).
Video is huge:
56% of marketers want to improve their YouTube knowledge and do more videos.
57% of marketers use video… with Facebook, Youtube, Instagram, Twitter and Vine all encouraging video, this is an activity that I am going to pursue.  You may have seen my 60 secs with Adam video series that I've been posting to YouTube, Facebook and my blog. It's easy to film, easy to edit and upload all on my phone.
Meerkat
The new live video streaming app brings up lots of copyright issues. For example what is stop you going to a play, movie, sporting event or conference and live streaming it. I've done a couple of Meerkats to check it out although I'll probably not get into too much just yet.
Crisis management
If Apple can have a crisis with "the iPhone 6 Will It Bend", you need to be prepared something will go wrong. Of course, I recommend starting with our Negative Comments Response Template.
Social media drives traffic to your website
Do you have a system or process in place to use social media to drive traffic?
Facebook is BIG for marketers
51% of marketers say it is important, and 62% say they'll increase their usage. On a personal note, Facebook is one platform I am really embracing at the moment, especially with videos.
Podcasts
Pat Flynn and Michael Hyatt are both bloggers who are now widely popular podcasters and of course John Lee Dumas came out 'nowhere' to be a top podcaster (both in listeners and earnings).
Repurposing content is a still a great approach.
Gary V takes his #AskGaryV videos and uses the audio for podcasts. Mike Stelzner has a daily 10 min show which I think is a blog post, read out loud for a podcast.
Tracking ROI
You can add code to URLs to see all traffic that comes from social media and convert to business goals.
Time
At the end of the day.. time is still the biggest issue for marketers. No surprises there! We are all in the same boat.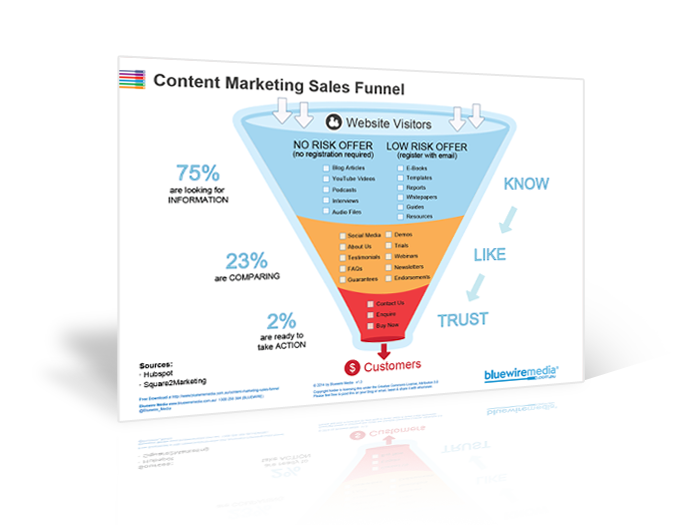 Content Marketing Sales Funnel
Your content marketing sales funnel is all about getting people to know, like and trust you by nurturing them with the right information at the right time.