How SMS Mobile Marketing Ties Into Your Content Strategy
89% of Australian adults own a smartphone… And our love for our phones is deeply embedded in our culture, with over 60% of us ready to give up TV instead of our mobile phone.
While email marketing still has its place, SMS marketing is pivotal to directly communicate highly relevant messages with your target audience.
With a character count of 160, similar to Twitter, why and how should you integrate SMS into your content strategy?
SMS, with an objective to drive customer actions that are profitable, is the enabler to attract and acquire a clearly defined audience by distributing relevant and consistent content.
Why SMS?
SMS as part of your content strategy is a must have distribution tool. It's personal, direct and immediate.
Communication platforms such as VidCorp, prioritise SMS as a highly targeted distribution method, combining Video and the ability to survey your audience.
The key to a great content strategy is to understand and research what your target audience will respond too. Content distributed via the right SMS platform allows you to test and analyse responses that reflect the readers needs and wants.
Blogs are wonderful and there is a heap of content in the blogosphere. The challenge is that you sit in hope waiting for your audience to know your content is on your blog or social media to read it. Distributing your content with SMS, ensures that your time and effort is sent directly to your audience's mobile device and your content has a higher chance of being consumed.
Capturing the "hard to reach" millennial cohort is much easier with SMS. They spend a lot of time on their mobile phones, therefore the directness of SMS enables you to get the younger generation to pay attention.
While the actual SMS message only allows you 160 characters, it is easy to add a link to your content on your blog, social media or dedicated landing page expanding your capability to communicate and engage with your audience.
Utilise SMS throughout the Marketing Funnel
SMS is a necessity in your mobile marketing strategy.
Did you know, according to Deloitte's Mobile Consumer Survey 2015, Aussies, aged between 18 to 75, collectively glance at their mobile phones more than 440 million times a day.
Why? Because we suffer from fear of missing out (#FOMO). With the internet at saturation point and our addiction to mobile phones, it only makes sense to structure your content strategy and marketing messages to capture your target audience at every stage at of the marketing funnel. \
How you ask?
Awareness
Reach the masses or your segmented database with SMS.
Steer your audience to a mobile friendly landing page where your audience can view the ad and convert on the spot. VidCorp makes video communications via SMS easy. It is an all in one platform that enables you to build your branded landing page, all with a WSYWIG editor and an inbuilt SMS gateway.
Text is so fast that it has an average send-to-open time of 3-14 minutes, compared with 6.4-48 hours for email. SMS Marketing also transforms traditional mass marketing to a personal and trusted one to one communication.
It is a solution that is ubiquitous across nearly all mobile handsets developing a deeper customer bond and user engagement.
Consideration
Got a new product you need to promote? Does your audience want a product comparison, tutorial, case study or testimonials?
Increase site visits, qualified leads and communications penetration using SMS. Due to the interactivity, text messaging gives customers the ability to immediately respond to offers.
Combining clickable call to actions and downloadable PDF's for case study distribution to your landing page can drive high response rates.
It is said that recipients of mobile offers such as a free product or free trial have an average redemption rate of 20%.
Conversion
Research reveals text results in greater profit. It has been determined that the average SMS user is more profitable, transacts more frequently, and has a higher purchase basket size.
Your sales promotions, advertising, competition and product information and videos should be distributed through SMS to increase your qualified leads and sales rates.
9 out of 10 mobile searches lead to action with more than 50 percent leading to sales. SMS with dedicated landing pages and branded URLs linking back to your conversion pages is a necessity.
Also, 16 percent of smartphone users purchased a product due to marketing communications they received on their device. And, half of the purchases were made from the smartphone itself.
Loyalty
"Customer testimonials have the highest effectiveness rating of 89% for all types of content marketing" according to WebDam.
SMS is a cheap and direct way to nurture and maintain your relationship with your customers.
Net promoter score (NPS) is a world renown customer satisfaction and loyalty measurement that traditionally uses email. Did you know 500% more people complete a SMS survey rather than an email survey?
Using integrated communication platforms like VidCorp enable you to easily build your regular NPS campaigns, mobile friendly landing pages and the survey. The personal nature of SMS and feedback requests from NPS surveys help build and reinforce customer relationships and loyalty.
The Tips and Tricks of integrating SMS into your Content Strategy
Opt in Messaging and Targeting
Ensure you are communicating only with those who have given you permission and opted in. Without permission you are being intrusive, and you are in breach of the SPAM Act. On all marketing messages, ensure you have added an OPT OUT link or ability to text back STOP.
There is nothing worse than getting an irrelevant message in your inbox. Ensure you use the same segmentation and list management strategies with your SMS database. That way you'll know you are sending the right message, at the right time to the right device.
Use Sender IDs
Tell your customers who you are! By doing so you add value to your SMS and message.
Keep in mind that you only have 11 characters. So with your brand name as the sender ID, your customers immediately know the message is from you, immediately building trust with upfront transparency.
The two primary draw backs to consider are that sender IDs are only one way communications, and they don't support special characters and hyphens. Some SMS gateways will charge you extra for this service but text message providers like VidCorp absorb this cost.
Be Consistent
As you do with your email strategy, you need to be consistent with your SMS content distribution to stay top of mind and build your customer bond and relationship.
Many businesses do not send content via SMS regularly, at consistent times of the day, week, nor putting in the effort to convert opportunities when they arise.
Sales Promotion and Coupon Messages
As you only have 160 characters, my suggestion is to treat it as a tweet. Be clear, concise and get straight to the point to hook your customers in.
"Exclusive Offer, for 24hrs only. Get 2 4 1. Buy Now!"
That's only 51 characters, leaving you room for your shortened landing page link and opt out link. All coupons and sales promotions must have an expiry date to combine the power and immediacy of SMS with an act now message.
Need More Than 160 Characters?
If you really need to push your message beyond 160 characters, your SMS provider will deliver the SMS as one message but charge you for two messages.
Watch your characters, Dear Tim compared to Dear Alexander could send you over 160 characters without you even realising.
Conclusion
With the internet at saturation point and the rate of smart phone adoption, focus has shifted to Mobile marketing and SMS.
You could be an innovative leader and embrace the future of mobile content distribution, advertising and brand awareness. Introducing SMS into your existing content strategy at every stage of the marketing funnel is a must and can easily drive greater brand awareness, consideration, conversion and loyalty.
Capturing your audience at every stage of their decision process by leveraging SMS, is not as hard as you think. 
About Rey
Rey Yesilnacar is Head of Marketing at VidCorp. Rey joined VidCorp in December 2015 with a new business direction to focus on marketing strategy and execution. The past 15 years have seen her drive growth in Australia's leading start-up success stories, Webjet, iSelect, and MessageMedia. She has extensive experience in search engine; direct and further digital marketing functions and brings a comprehensive array of business management skills to VidCorp. Rey is currently studying a Master of Marketing at Monash University and is due to complete it in 2018.
Bonus 33 Free Templates
Download the 33 free templates from Toby and Adam's book.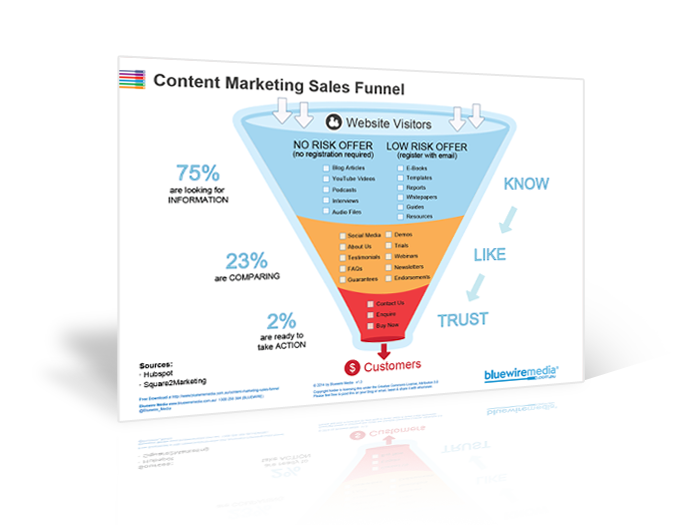 Content Marketing Sales Funnel
Your content marketing sales funnel is all about getting people to know, like and trust you by nurturing them with the right information at the right time.