Social Media Mythbusters 101 (and what to instead)
Updated on October 22nd, 2019
Today I wanted to share some startling results from a recent digital marketing survey and show you how you can be on of right side the trends!
This is a survey of finance brokers but these stats are reflective of many high-trust relationship based businesses that I speak with.
Here are the facts:
1 in 5 finance brokers DON'T have a website
30% don't use a CRM or have contacts
95% want more leads
40% visit social media less than ONCE a month.
Source: https://wealthify.com.au/
It's staggering hey…?
Yet what I find at the root of it is that there is a disconnect between our perception of social media and the reality.
In a nutshell…
You've spent your career building your expertise.
This expertise is easily shared in a useful way on social media and it positions you as even more of an authority to a wider audience.
You've spent your career building a valuable network of contacts.
This is mirrored by your connections on LinkedIn and means people can find you.
You've spent your career building your reputation.
Your digital presence is a reflection of this and allows you stay front of mind and makes you easy to find and refer.
Plus consider the scale of growing your digital presence.
You might be able to make 20 calls a day or have 10 meetings, but think about how many people don't get the benefit of your expertise. There are literally hundreds, if not thousands of people in your network that you can stay front of mind with via social media.
I've bumped into people who I've not seen in person in years, but they know what we do here at Bluewire. Plus I've got qualified leads and won new clients from people who I've either not seen in ages or who I didn't even know in the first place. That's why it's so important to make sure you use social media to represent yourself effectively online.
Social Media Mythbusters 101:
I've come across quite a few mindset myths that contribute to many businesses neglecting their digital marketing. So let's bust a few the myths that may be holding you back from addressing a weakness in digital marketing!
Mindset myth #1: "My clients aren't on social (so I'm not on social media)".
Also known as "I'm old school and don't even have Facebook!"

Debunked: Maybe you are old school, have a successful business and get plenty of new business already. If so that's great, but your clients are still on social media! You are almost certainly neglecting an opportunity to stay connected with them or worse still, missing valuable word of mouth and referral opportunities by not being top of mind on social media.
There is always the fact that someone else might be communicating with your clients and potential clients — and you're missing out and not even realising. These days business owners are building trust with prospects via their social media content long before the prospect ever makes an enquiry. I want this to be you too!
Mindset myth #2: "No-one wants to know about what I do"
Also known as "Who wants to hear from me?" or "My industry is boring".
Debunked: You certainly do have knowledge, insights and plenty of useful stuff that people WANT to know about.
Think about the last social event like a BBQ, birthday party or lunch, have people ever asked you genuine questions about your work? I've heard these exact questions asked of friends at social get togethers.
A real estate agent was asked "how's the property market in Brisbane?"
A broker are asked "Do you think interest rates drop?". "Do you reckon I'd get a better rate somewhere else?"
A financial advisor was asked "what shares are good to invest in at the moment?"
If strangers or friends hit you up with these specific types of questions, and let's assume they're asking with a genuine interest (not just polite chit chat like "how's work?"), then others will want to know too!
"But they can just call me, and ask."
Well there's two reasons why they won't:
1. Most of the people interested in what can share don't even know you yet…!
2. Even if they do know you, they are reluctant because they don't want to bug you and waste your time with 'silly questions' and secondly they're worried you'll hound them to death with sales follow ups if they show even a remote interest.
Yet they still want to know this information — and this is where the opportunity lies!
So take 5 minutes to record a short video or write an article addressing what people have been asking you. At the very least, share this on LinkedIn, and possibly on your Facebook page. When you do, you'll reach hundreds if not thousands of people in your direct and second degree network, and you'll instantly be on their radar as a trusted source of information.
Mindset myth #3: "I don't want tyre-kicker, riff-raff leads off the Internet"
Also known as "we hand pick our clients" or "we've never needed to advertise because we have great word of mouth."
Debunked: Sure, you don't need to pay to advertise, but there are many ways to maintain your prestigious clientele, and not attract poor quality leads.
You can do your research and find top quality people to reach out to. Hand pick them from the biggest and most useful database of people on the planet; LinkedIn. Are you looking for CEOs, business owners, property investors, Australian C-suite execs based in Hong Kong…? Whatever your ideal client looks like, they exist on LinkedIn. Find them, connect with them and get the relationship started.
Pro Tip: Get off social media
Once you've found them and connected, it's best to get OFF social media and on to email, on the phone or into a meeting.
Now this social media stuff isn't for everyone. If you prefer to fly under the radar or do it the way you've always done it, that's fine. However if you own or run a business, or your job involves biz dev, sales, marketing, publishing, recruiting or you want to advance your own career…. then please keep an open mind because this approach really does works!
Social Media Mythbusters 101: Here's my video on Facebook where I explain it in super simple terms. I'd love your thoughts in the comments.
Also enrol in our free Tools of The Trade Marketing Mini course. I share all the tools we use at Bluewire.
Based on recent conversations with many Bluewire News readers, I've decided to add a Social Media Doing Workshop to the program for 2018. It in we'll do:
If you liked this Social Media Mythbusters 101 article and you'd like to know more, check out the links below:
Social Media Doing Workshop – Sydney Wed 14th Feb 2018
Social Media Doing Workshop – Brisbane Thurs 22nd Feb 2018
The social media workshops will run the day after these digital marketing ones. Check out the agenda and order your tickets below:
Digital Marketing Doing Workshop in Sydney – Tues 13th Feb 2018
Digital Marketing Doing Workshop in Brisbane – Wed 21st Feb 2018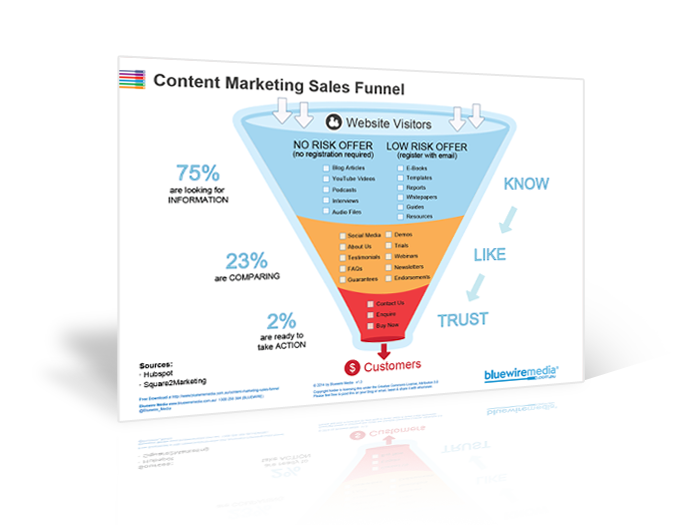 Content Marketing Sales Funnel
Your content marketing sales funnel is all about getting people to know, like and trust you by nurturing them with the right information at the right time.