How to Create a Social Media Plan [Step-by-Step]
Updated on April 16th, 2020
Create a social media plan
Do you ever feel overwhelmed by social media marketing and feel you need to create å social media plan?
Twitter, Facebook, LinkedIn, Blogging, LinkedIn, Pinterest…
Where do you possibly start?
Do you just get an account everywhere and run with it?
For months I remember trying to figure it all out myself, reading blogs, listening to experts and attending events. But even with all the free information available I found it REALLY hard to get results.
I distinctly remember a turning point in it all; and it was when I decided to document a social media plan.
Create a social media plan
Despite everyone telling me that a documented strategy was a good idea, I always used to tell myself; "You'll be alright, you've got your strategy in your head".
But as soon as I broke down those assumptions, and documented a strategy, everything started to feel much less stressful.
I was starting to see some results – social media traffic back to my website was rising, my followers were on a consistent upswing and people were starting to get in touch purely because of my social media presence.
Why? Because the strategy had helped me create daily, weekly and monthly habits, so I was able to outsource and automate a lot of things – leaving the free head space for engaging and community building.
People make creating a social media plan sound easy, but it's not.
Especially if you're trying to use it in business, and need to get a return on your effort.
Like anything else you need to spend a little bit of time getting clear on your priorities and then figuring out where best to spend your limited resources. That's what this post is all about.
I want to step you through exactly how to make a social media plan from scratch using our popular "Social Media Planning Template" (You can download a free copy below). That way you don't have to guess, you don't have to stress and you can start to see some actual results.
How to Navigate This Article
Ok, so a quick disclaimer… This is a MONSTER post. And the last thing I want to do is overwhelm you with information.
So to make things easier, here are a couple of recommendations…
New Business Owners and Social Media Beginners
If you're a new business owner or social media beginner, I'd recommend printing off the "Social Media Planning Template" and having it on your desk as you read. Literally stop after every section and complete the appropriate activities.
Also, perhaps you'd like to bookmark this page and only do one or two sections at a time. Then you can come back whenever you're ready to take the next step.
To make things a little easier I will include a table of contents at the bottom of this section so the article is really easy to navigate.
Digital Marketing Consultants
If you're a digital marketing consultant and are looking to use the "Social Media Planning Template" with your clients, perfect – go right ahead! You can re-brand it and use it as your own no worries at all.
To make this article relevant for you I've included some pro tools, tips and examples – you'll find these at the end of each main section of the article. You may like to skip ahead and go straight to them.
Ok let's get started…
Table of Contents
Using the Social Media Planning Template
Tactics & Strategy
Watching
Emergency
Employees
Technology
Success
Content Publishing Schedule
What Should You Do Next?
How to Create a Social Media Plan
I want you to ACTUALLY create a plan after reading this post… (Or be able to create one for someone else)
So for that reason, the whole article is designed to step you through step-by-step, with screenshots and all, how to use the social media planning template.
The social media planning template has been downloaded tens of thousands of times as part of our free 33 Web Marketing Templates.
If you don't have it already, grab a copy by clicking the link below, then come back to this post to start taking action.
Bonus:
 Download the "
Social Media Planning Template"
 to make your very own social media plan and take action on this blog post immediately.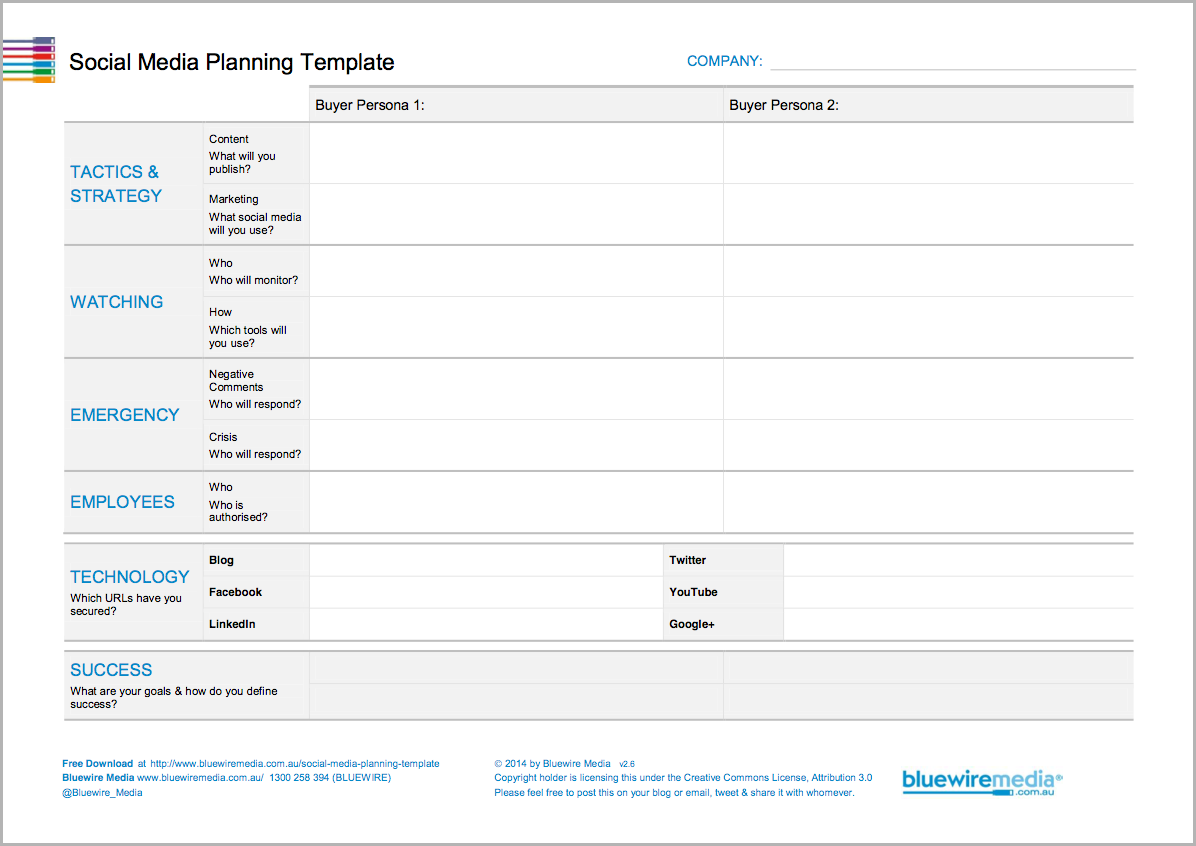 Using the Social Media Planning Template [Step-by-Step]
The Social Media Planning Template is a two-page PDF document that takes you through all the important elements of a social media strategy. From understanding your buyer personas, monitoring and replying to brand mentions, knowing what goals you are going to set, and even what and when you will post content.
It is broken down into 7 sections, all with free space to fill in your own details
Tactics & Strategy
Watching
Emergency
Employees
Technology
Success
Content Publishing Schedule
Before using this template to document your social media strategy, you should have a good understanding of exactly who your target audience is. These are your buyer personas.
If you're not super-clear on WHO you are targeting as a business, take some time to check out our Web Strategy Planning Template. That's the starting point for understanding how all of this fits in together, and on the second page you can answer some simple questions about your ideal customers to help guide your thinking.
But if you're all locked and loaded with your buyer personas, let's get right into the social media planning template…
Tactics & Strategy
As you can see from the screenshot below, the "Tactics & Strategy" section is the first part of this template, so that's where you should start.
What social media networks will you publish content on? What type of content will you share?
The best way to figure out where to publish content on social media is to think about where your target audience is most likely to engage.
It's important in the initial stages not to spread yourself too thin.
This is a fundamental error that many businesses make with social media marketing.
They quickly setup every social media account they can find and start sharing content, engaging with people and beginning conversations.
But before you know it, social media management has become a full time job and you can't focus on the core of your business. So those conversations get neglected, people forget who you are and it diminishes the perception of your brand.
Pick one or 2 social media platforms
Instead of being everything to everyone, just pick 1 or 2 social media networks, pair it with some high quality blog content on your site and do it REALLY well.
Become known for being the "Twitter" guy, or the "Instagram" girl. Put all of your energy into only a few things and it will deliver you better results.
Then once you have mastered one social network, automate it, hire someone to help out and go onto the next one.
So what social media networks are right for you and your business?
Let's have a look at the main social media platforms;
Blogging is an essential tool for any online business. It helps build your credibility as a thought leader or expert, statistically companies that blog generate more web traffic and it inevitably helps deliver you leads.
Facebook isn't essential, but it's pretty close to it. With over 70% of online adults actively participating on Facebook it is easily the most engaged social network, despite some drop off from younger users. The biggest downfall with Facebook is that it's moving more towards a paid media business model, so organic reach is almost non existent any more.
LinkedIn is a great social platform if you are in the B2B industry. Most users are in a "work" frame of mind when it comes to sharing content on LinkedIn, so keep that in mind when planning your interactions. It offers a very unique audience in comparison to other social networks, with a typically educated user often with a high income.
Instagram is your ticket to the younger generation, with lots of the "non-Facebook" users taking to the visual social networks. If you have a visual aspect to your business and want to show it off, Instagram might be right for you. Fitness, fashion, food and lifestyle businesses can get a great return on effort from Instagram. The team at Foundr Magazine have an amazing case study of success when it comes to Instagram, I'd highly recommend checking it out. (They've got over 700K followers!)
And don't forget:
Twitter is a great way to connect with influencers, and people who regularly wouldn't respond to a LinkedIn message or email. It's a fast-paced social network where your content has a short lifespan but big wigs are accessible. If you are in a hustle and bustle industry like events, digital marketing, or anything public facing – Twitter is great.
Pinterest is very much a food, fashion and female social network. That's not me trying to be sexist, it's just predominantly females that use it to engage. So if that is your target audience, then Pinterest is a must.
YouTube is the second biggest search engine on the internet… After Google. That makes it a HUGE opportunity and a must-have for many businesses who can effectively add video content into their strategy. However if you can't invest in high-quality, professional video I'd recommend giving this a miss for a little while.
How much, and what type of content should you share?
There is no perfect answer to that question, and it's going to be contextual depending on your target market and the social networks you choose. You decide how to create your social media plan.
But here's a nice rule of thumb for every 10 updates you post to a social media channel;
5 should be relevant content from other people in your industry
3 should be helpful content for your audience but not "promotional"
2 should aim to humanise your brand and connect with your audience
(Image Source: Buffer)
Watching
The next section of the "Social Media Planning Template" is all about monitoring your social media profiles, brand mentions and anything else worth "Watching".
Hopefully people are talking about you and your brand on social media… Or at least they will do once you kick things into gear.
What this means is it is extremely important to watch out for mentions of your name – good, bad and ugly –  so you can swiftly react and either amplify the positive messages, or mitigate the not-so positive ones.
Effective social media monitoring, or "watching" as we call it in the template can have a big long-term effect on your brand and the success of your business.
Here are just a few reasons you should be looking out for what people are saying about your business:
Find opportunities to engage with customers
Discover who your TRUE brand advocates are and reward them
Build trust by joining in conversations
Protect your reputation
Limit the "viral" effect a negative comment can have on your business when it's let loose on social media
Create a competitive advantage through first class service and support
So how do you get started with social media monitoring?
There are several tools available for you to monitor your brand mentions, here are a couple of options;
Brand Mention
Brand  Mention offers real-time social media search and analysis. You can literally drop any business or personal name into the search bar and discover who has mentioned it on social platforms based on a set of criteria.
BuzzSumo
BuzzSumo allows you to setup recurring alerts for whenever your brand is mentioned online.
Mention
Mention is probably the market leader for social media monitoring software, they offer a suite of solutions for tracking brand mentions and customer advocacy.
Quiip
Or if you're looking to invest a bit more money (and save yourself a whole lot of time), you can engage a social media monitoring and community management firm like Quiip.
Emergency
Next up we have the section on "Emergency"… This is all about what you will do if you run into a social media crisis or a negative comment.
When it comes to handling negativity and potentially brand damaging comments on social media, you need to be prepared.
Who is going to reply from your business? What damage controls and guidelines do you have in place? Who's in charge of monitoring the process from start to finish?
One of the hardest things about the age of social media is that expectations for responsiveness are growing big time.
53% of people expect you to reply to them within an hour on Twitter. This rises to 72% for those that have made a complaint!
Image Source: Marketing Land
If you're looking for a quick way to respond to negative comments on social media and avoid disaster, you can download our free Negative Comments Response Template.
The social media monitoring tools I mentioned above will help keep track of potential crisis moments, but here are a couple more tools you might find helpful;
Be Present
Sprout Social offer a "Be Present" tool that can track your response time on Twitter.
Spark Central
A more in-depth option is Spark Central for keeping a log and analytics for your customer support social messages.
The most important thing to remember is that you need to respond… And it needs to be as quickly as possible.
Employees
When it comes to your employees, who is authorised to manage your social media accounts?
Do you encourage employees to post about your business on their personal social media profiles?
In terms of your company social media accounts, it's probably best to have a select few employees who can access, share and engage.
Even though social media guidelines can create consistency, it's hard to replicate a unique brand voice across multiple people as well as monitor success and potential dangers.
However, one thing you should consider is the value of your employees posting about your business, and your content, on their own social media profiles.
Why? Because content shared by employees gets 8 times more engagement than content shared by brands. It is also reshared 25 times more frequently.
What that means is your employees are a largely untapped source of potential promotion and advocacy when it comes to social media, so you want to nurture and encourage them to be active.
So how do you encourage your employees to promote your brand and content on social media?
Here are a few suggestions from some top brands;
Image Source: Buffer
If you want some inspiration for a winning employee social media strategy, check out Zappos @InsideZappos Twitter profile.
They have a unique Twitter profile specifically designed to shine the light on employees and what it is like to work for the company. Transparency like this is gold when it comes to social media marketing, it also creates some excitable brand advocates out of your employees.
Technology
This is the "Technology" segment of the planning template… At this stage you will want to figure out who is in charge of all the technical aspects of your social media strategy, are they in-house or do you need to find someone externally?
Also, the sooner you can secure the domains, social profiles and  anything else you need to under your brand name the better. It's all about creating brand consistency.
That's not to say you need to be everywhere and everything to everyone…
But once you've locked down your customer personas and decided where you want to begin your social media adventure, make sure you get hold of your relevant profiles.
For example
It's much easier to run social media campaigns when your EXACT business name is the Twitter handle and your blog URL is immediately recognisable to people.
It's the little things that add up… You want people to easily find your brand on social media if they want to, but you also want to create consistency across the board.
Use the same profile or brand images; the same design, style and colours. It all makes a difference.
Here is an example from Entrepreneur Magazine who operate a well-oiled machine across all their social profiles, blog and website with brand consistency…
Success
How will you know if your social media plan has been successful?
Setting goals and tracking success are a HUGE part of a well crafted social media strategy, and lots of people overlook them.
Your social media goals will depend on your context and what you are trying to achieve with this strategy…
Here are a few metrics that may be worth tracking:
Followers – this one is often considered a "vanity" metric, but it also creates a great perception of your brand when you have a big social following. Social proof is extremely important.
Clicks – tracking clicks will tell you whether the content you are sharing is hitting the mark with your audience. If you don't get enough clicks, you may need to consider changing things up a little.
Engagement – monitoring re-tweets, shares, comments and other engagement metrics will help you adjust your social media plan to further engage your audience and over time attract more advocates.
And also these:
Shares – this one is more specific to your blog and how many shares you get on your posts. More shares means more social proof on your website and more eyeballs on your content.
Mentions – keeping up to date with brand mentions is important as I stated earlier, it will help you avoid a negative incident and potentially help you find new brand evangelists.
Referral traffic – how much traffic are your social media efforts driving back to your website? This is probably the most common goal to set, so it's worth tracking.
Conversions – From that traffic, how many people are turning into email subscribers or becoming customers? This will inevitably tell you your return on investment.
Once you've set your goals there are an array of tools available to track the metrics you will need to for measuring success.
Here are a few examples;
Google Analytics
Google Analytics is a great platform for tracking everything to do with your website… Traffic sources and referral traffic, conversions and other metrics can all be measured for free by placing a simple piece of code on your website.
Audiense
Audiense (formerly known as SocialBro) is predominantly designed to discover and understand certain audience segments on social media. But it also allows you to track the success of organic and paid social media campaigns within a visually appealing dashboard.
SumAll
SumAll provides a one-stop-shop for data and analytics. It's not just about social media because it brings all your marketing metrics into one place. Definitely worth a look.
Followerwonk
Followerwonk is owned by search specialists Moz… It's Twitter specific but offers some really in-depth analytics that will help you optimise your Twitter strategy.
Iconosquare
Iconosquare is an Instagram social media management tool. Whilst it's primarily designed to help you manage your Instagram account and engage users, it's also a great tool for measuring success. If Instagram is on your social media plan, this tool is a must have.
Content Publishing Schedule
You're almost there! Page one of the "Social Media Planning Template" is done and dusted for the moment, so let's move onto page two – the "Content Publishing Schedule".
When, where and how often you schedule content on social media is going to depend on which networks you have chosen and where your audience hangs out.
But this infographic from "On Blast Blog" summarises the best time to share content on each of the main social networks, PLUS a whole bunch of other neat tricks and tips for planning your content publishing schedule;
Infographic courtesy of On Blast Blog
What Should You Do Next?
If you haven't already, download the "Social Media Planning Template" and get started on this stuff right away.
Managing, optimising and most importantly getting a return on effort from social media marketing is NOT easy.
It's hard, confusing and quite frustrating at times.
But if you take the time to construct a social media plan, and be more deliberate in your approach to social media, you will immediately see better engagement without it feeling like you need to do it all yourself.
More engagement, structure and governance will in the end deliver better results and a much higher ROI for your business.
If you have any questions, I'd love to help you out in the comments…
If not, then what's holding you back from getting started?
BLUEWIRE MARKETING METHODOLOGY
PS. When you're ready, here are 6 ways we help
consultants & advisors

grow:

1. Web Strategy Planning Template (PDF). Our flagship 1-page tool we co-created with David Meerman Scott. It's been downloaded over 1 million times and featured on Forbes.

2. Read a free chapter from our book. Web Marketing That Works --- an Amazon #1 best seller.

3. Join the private group on Facebook. Access free training resources, and hang out with 2,300+ peers.

4. Discover your marketing score. Take the 40 point Marketing Scorecard (in < 6mins) and get a customised report.

5. DIY for $7. Get the Complete 50+ Script Library for connecting with people to winning clients.

6. Let's brainstorm how to fill your marketing funnel.

DM the word "INTERESTED"

via Messenger

 or 

book a 20 min slot to talk

 on Zoom.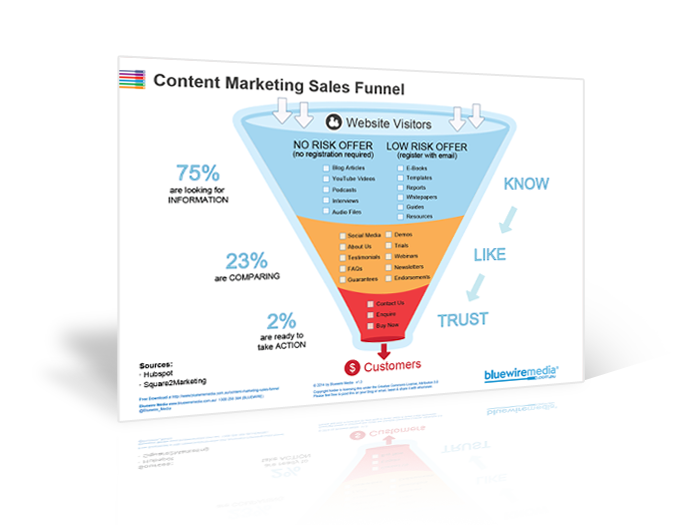 Content Marketing Sales Funnel
Your content marketing sales funnel is all about getting people to know, like and trust you by nurturing them with the right information at the right time.