Social media strategy example
Updated on January 6th, 2020
Bluewire News – 25th March 2015
Join 33,303 marketers, and subscribe to our weekly Bluewire News emails here
Subject: Social media strategy example
The first step of using social media for business is to document your strategy.
However the word 'strategy' has connotations of being complex, ambiguous and often meaningless because it gets put on the shelf or server, never to see the light of day again.
It shouldn't be this way.
As you know from our templates, we like to keep things simple. One double-sided page is enough.
Social Media Planning Template (free PDF download)
Here is one of our most important downloads. Download it, print it out and let's take a closer look at what you need to do with it to turn it into your strategy.  It includes a social media strategy example of our own at Bluewire.
Firstly, there's the acronym that conveniently spells out TWEETS (easy to remember).
TWEETS
T: Tactics + strategy
W: Watching
E: Emergency
E: Employees
T: Technology
S: Success
So, one letter at a time… and as you go through, simply fill in your own template and it will become your social media strategy.
Tactics:
What content will you publish? (hint:) information that helps your buyers solve their problems!
What social media channels will you use? (tip): Pick the channels that your buyers use most and that you enjoy most. You shouldn't be on all social media channels, and it's got to be enjoyable for you or you'll give it up, so choose sensibly.
Watching:
Who will monitor? Possibly you, but if not, assign responsibility to an individual who reports to you.
Which tools will you use? I recommend and use TalkWalker Alerts for websites and Mention.com for listening on social media. Both are free.
Emergency:
Who will respond to negative comments? Probably you, unless you have a team to manage this.
Who will respond to a crisis? You or escalate to a director, legal counsel or police depending on the nature of the crisis (eg threats of violence is a police matter).
(FYI, there is template, email + training video for this next up in the series.)
Employees:
Who is authorised? You, and nominate who else is ok to use it.
(FYI there is also template, email + training video for this later in the series.)
Technology:
Setup your account for each of the following and secure the best custom URL you can, even if you don't intend to be active, as it stops another company with the same name pinching it.
Success:
What are your goals and how do you define success?
My advice is to track sales (and revenue) that originates from social media. The best approach is to ask each customer how they first found about you and for the ones who say social media keep track of what they spend. If you've got software like Hubspot or Infusionsoft this sort of data will be available to you if you check your reports.
So that's the front side of the template. On the flip side of the template is the Content Publishing Schedule, which has rows for the certain activity: (and on each row you simply write down what sort of content you'll write and the frequency).
For example…
Activity
Blog: 1 how-to article , weekly
Facebook: 2 posts, daily
Twitter: 10 tweet or retweets, daily
LinkedIn: 3 posts, weekly
YouTube: 1 video interview, monthly
Email Marketing: 1 newsletter, weekly
Google+: 5 updates weekly
Other: 1 Pinterest post, monthly
Activity completed
You can tick off each activity as you complete so you can actually 'see' your progress on the printout. This forms a simple and effective report to show your colleagues, boss or board.
To go deeper, here's a free training video I've just released called How to set up your social media strategy.
This template and training is simple, yet powerful. I encourage you to download it and fill it in as you watch my training video explaining it in more detail and with a few stories as examples.
Again, this is exactly what we teach clients in private workshops – nothing is held back, so go right ahead and set 15 minutes aside to watch and implement yours.  Feel free to borrow as much as you like from our social media strategy example.
Cheers,
Adam and Toby

PS. If you know a friend who would find this material useful, please feel free to forward this to them, thanks!
MY MARKETING METHODOLOGY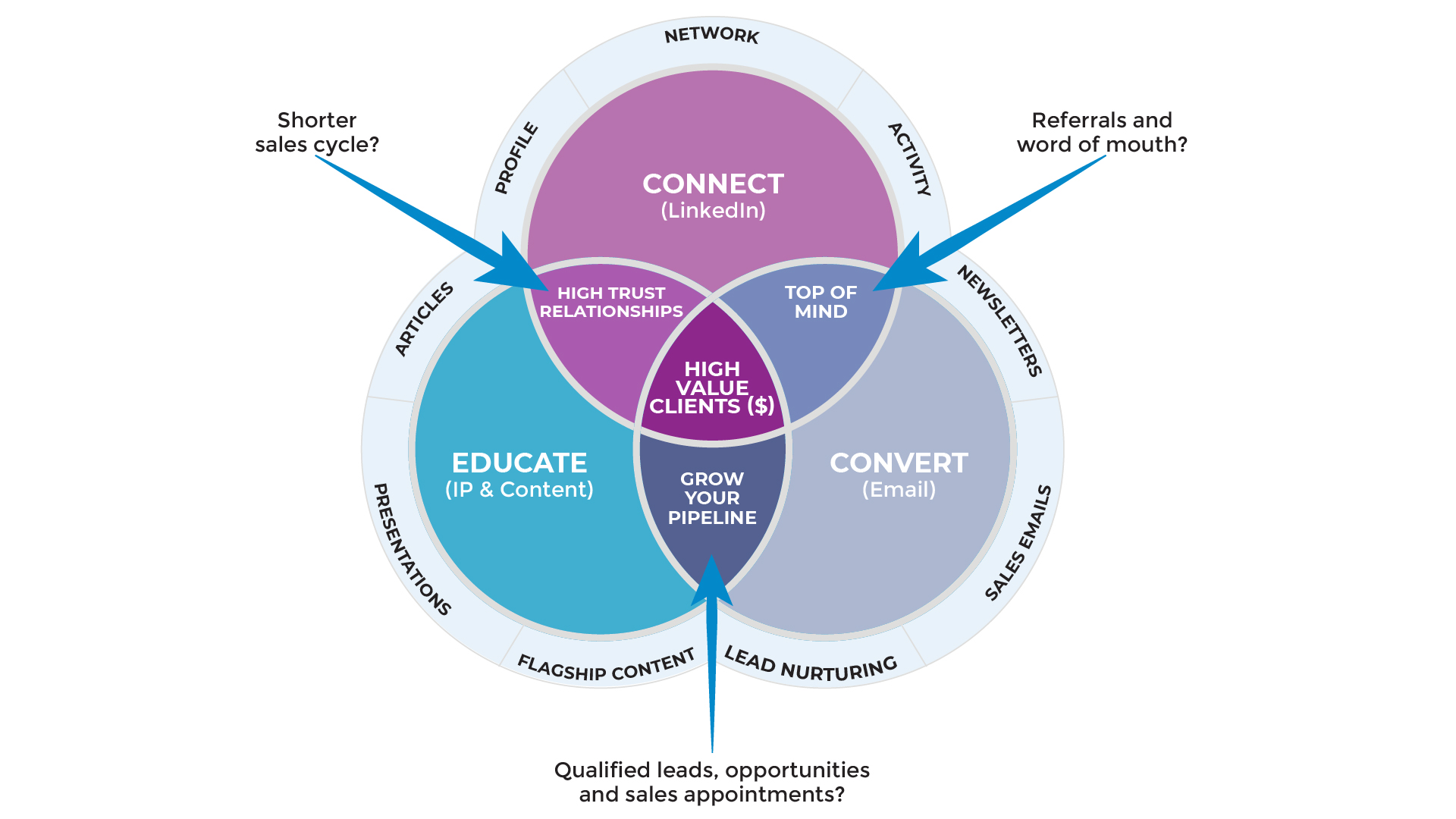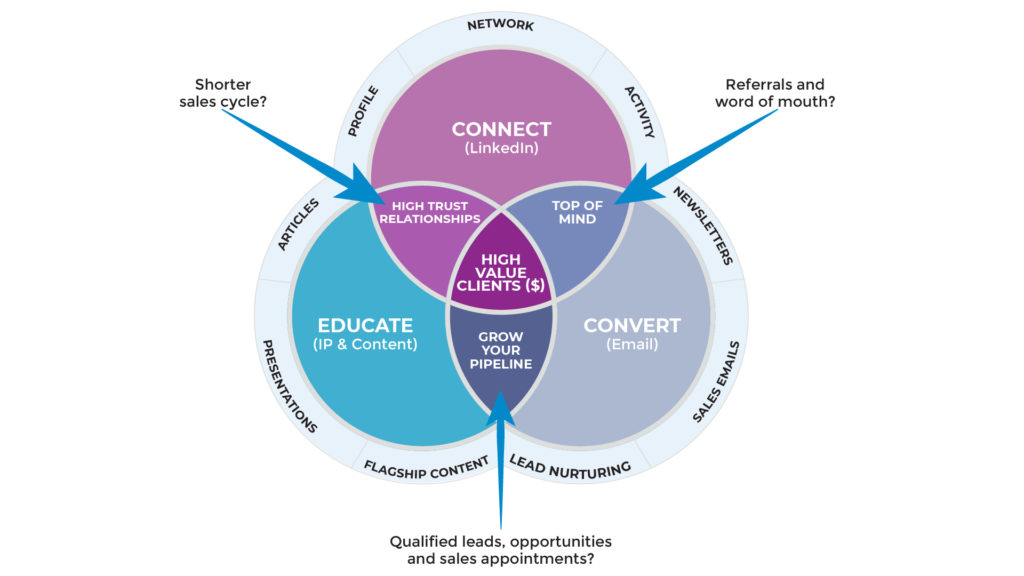 PS. When you're ready, here are 6 ways we help
consultants & advisors

grow:

1. Web Strategy Planning Template (PDF). Our flagship 1-page tool we co-created with David Meerman Scott. It's been downloaded over 1 million times and featured on Forbes.

2. Read a free chapter from our book. Web Marketing That Works --- an Amazon #1 best seller.

3. Join the private group on Facebook. Access free training resources, and hang out with 2,300+ peers.

4. Discover your marketing score. Take the 40 point Marketing Scorecard (in < 6mins) and get a customised report.

5. DIY for $7. Get the Complete 50+ Script Library for connecting with people to winning clients.

6. Let's brainstorm how to fill your marketing funnel.

DM the word "INTERESTED"

via Messenger

 or 

book a 20 min slot to talk

 on Zoom.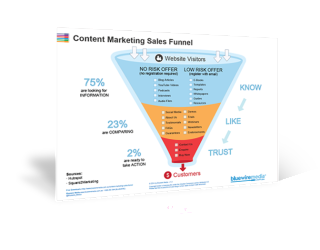 Content Marketing Sales Funnel
Your content marketing sales funnel is all about getting people to know, like and trust you by nurturing them with the right information at the right time.