How To Stay Organised With Social Media Checklists
Are you forgetting something? With so much going on in your business and a million and one tasks running around in your head, it's easy to miss something important.
Creating a checklist is a great way to stay organised and productive. Not only can it help you save time, but it can also help avoid any last minute panics!
When it comes to your social media strategy, there's a lot to do to help maintain your brand's online presence. Social media managers have a busy schedule to get their many tasks completed. Each activity needs to be carried out at different times, and at different frequencies. To help you stay on track, we've broken work the down into simple daily, weekly and monthly tasks.
Take a look at these 3 social media checklists, to help make your work more manageable. You'll now always know exactly what you need to do, so you can prioritise your work and get your social media tasks done on time and efficiently.
Daily social media checklist
Reply to all inbound social media messages
Perhaps one of the most important things, and the one that you should do first thing every morning, is to check whether you have any new messages from customers. Currently, a shocking 5 out of 6 messages go unanswered by brands.
Make sure you stand out for all the right reasons by replying to your customers straight away. Don't forget to keep checking back throughout the day too. If you get easily distracted, set alerts in your calendar to remind you.
Listen for brand mentions
Once a day, look to see if anyone has mentioned your brand via social media. This is especially important on sites such as Twitter, where someone may have mentioned you, but didn't include your Twitter handle. Reply to any mentions where relevant, or simply 'Like' their comment. This will help to increase your brand visibility and show that you've acknowledged their post.
Don't forget to search for misspellings of your brand name too, just in case!
Monitor keywords
Look out for various keywords to see what is being said across social media. You may find content that you can engage with, or re-share. Start by looking for mentions of your products, services, a location, an event, a campaign, or even a specific person.
Watch your competitors
Take a look at what your competitors are up to on social media. This could give you inspiration for your own accounts, let you learn from something that they're doing well, or possibly improve upon something they're not doing very well.
Create new content
Although you can save time by creating your posting plan the month before, it's still important to look out for exciting new content to share. There may be a new trend that you could mention, or an event that is relevant to your business that you can tell your customers about.
Monitor live ads
Don't just set up an ad and leave it to run on its own. For the best results, make sure you check it regularly to see how it's performing. If it's performing well, you may want to add some extra budget. If it's not performing well, you may want to stop it, change the image/text, or perhaps amend the targeting.
Follow new people
Do you have some new followers? Take a look at their account biography. If they're relevant to your business, you could follow them back or add them to a Twitter list, so you can monitor their activities!
Weekly social media checklist
Check basic statistics
Keep a close eye on what is happening on your social media accounts. You can use a collection of free tools such as Facebook Insights and Twitter Analytics. Although you don't need to write anything down at this stage, it's important to have a good awareness of key statistics such as your reach, engagement metrics and follower numbers.
Engage with influencers
Take some time to find key influencers in your industry. To help get your brand on their radar, follow them or add them to a Twitter list. You then have a list of people you can engage with at an appropriate point in the future.
Create conversations with brand advocates
Don't wait for the conversations to come to you. Keep a list of your brand advocates and interact with them to help encourage engagement.
Create a weekly blog post
Blogs are a great way to share interesting content with your audience. Set some time aside each week to make sure you're getting fresh new content going live on a regular basis.
Monthly social media checklist
Create a detailed report
Look at your social media channels and create a detailed report. Evaluate your goals and see whether they've been achieved. Look at what posts and campaigns have performed well and what hasn't performed as well. This can help you improve your social media in future months.
Have a brainstorming session
Once you've seen how your social media has been performing over the last month, it can be a great time to sit down with your team for a brainstorming session. This will allow you to plan for the month ahead and set new targets.
Create a monthly posting plan
Create your posting plan one month ahead. Doing it all in one go can help you save a lot of time. It's still important to look out for great new content and trends though, as something may come up that you couldn't have planned for or anticipated.
Schedule posts in advance
To help save even more time, once you've written and approved your posting plan, schedule all your posts in straight away. This means you won't have to remember about posting each day and you won't be stuck worrying about forgetting to post. If you do schedule a whole month at once, double check that you select the right dates and times.
Conclusion
We hope these checklists have helped you spend your time in the best possible way. Keep them with you whilst you work, so you can tick each task off as it's completed; daily, weekly or monthly. Feel free to adapt this to suit your specific needs, or add to them over time. Don't forget to share them with the rest of your team too!
Have we left out one of your key daily, weekly or monthly 'To Do' list items? Or do you have any helpful tips that you'd like to share with us? Let us know in the comments box below.
About Elizabeth
Elizabeth Harmon is a writer for Open Colleges, one of Australia's leading online education providers. She is a Social Media Consultant with a number of years' experience in the field. She has worked with a growing list of clients around the world, helping to build successful social media strategies, create effective content and much more. Follow her on Twitter @Liz_Harmon.
Bonus 33 Free Templates
Download the 33 free templates from Toby and Adam's book.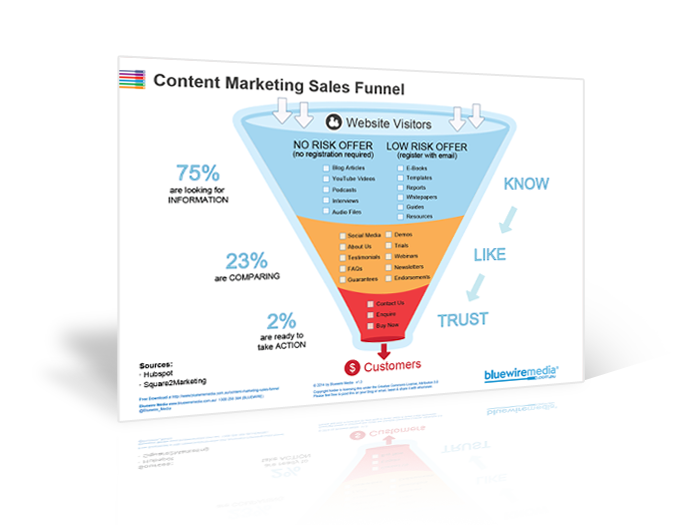 Content Marketing Sales Funnel
Your content marketing sales funnel is all about getting people to know, like and trust you by nurturing them with the right information at the right time.