WMTW 085: Steve Gordon author of Unstoppable Referrals [podcast]
Podcast: Play in new window | Download
Subscribe: RSS
Updated on June 19th, 2015
"Referrals are the lifeblood of any business." Steve Gordon (Tweet this)
Adam Franklin chats to Steve Gordon about winning referrals by being helpful and reverse prospecting on LinkedIn
Show-notes:
Key points
Wrote the book "Unstoppable Referrals: 10x Referrals Half the Effort.", is the publisher of the website Unstoppable CEO and also an editor of numerous newsletters.
65% of business revenue in the United States comes from referrals.
Referrals often come from clients, so treat them well and inform them for better results.
Get yourself a Referral kit that Steve mentioned in his book.
A referral kit is a basically helpful information packaged into a format that is easily transferable.
Contents of a referral kit

Problem that your clients faces
Glimpse of the solution
Something to get them engaged and informed
Proof
 People mentioned
Links mentioned
Get in touch with Steve
Did you like this podcast?
If you liked this podcast, please click to tweet this show >>
Subscribe
We would love you to subscribe to Web Marketing That Works and please leave your honest reviews via:
Stitcher radio
iTunes

SoundCloud
Bonus 33 Free Templates
Download the 33 free templates from our new book.
Or order the book online: Web Marketing That Works: Confessions from the Marketing Trenches (Wiley 2014).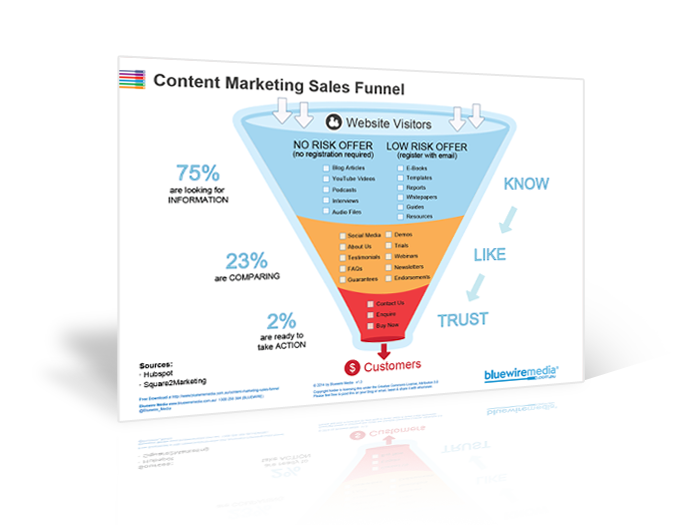 Content Marketing Sales Funnel
Your content marketing sales funnel is all about getting people to know, like and trust you by nurturing them with the right information at the right time.