Storytelling: Every Marketers Secret Sauce
This is a guest post — Simon Williams is a copywriter at Persuasion Copywriting helping small to medium sized businesses create content that brings in customers they really want to work with. Simon can't get enough of good films, books, and the occasional TV series, if time permits. Connect with Simon on Twitter,
Welcome Simon…
Don't we just love stories.
They are built into our makeup. Helping us connect with others and tap into our emotions.
They are everything for a digital marketer.
They are the fabric of communication that binds together ideas and makes them connect with someone else. We converse, relate, identify, and learn through story. We've done it as long as humans have been around, and well before we could write anything down.
With the growth of digital marketing, you tell a great story through your online content and its ability to create waves of engagement from your target market amplify.
If you forget about stories, you limit the engagement of your content.
Why does storytelling work in the first place?
Stories have made us who we are today because our minds need order and imagination to adapt to changes in our world.
Studies have shown there are two areas of the brain that are activated through storytelling—Broca's and Wernicke's areas—the language processing units.
Depending on how the story is told, other locations fire up as well, including the motor cortex (dealing with movement), sensory cortex (dealing with senses), and frontal cortex (dealing with emotion).
Image Source: Blausen.com staff. "Blausen gallery 2014". Wikiversity Journal of Medicine. DOI:10.15347/wjm/2014.010. ISSN 20018762 is licensed under CC BY 3.0
As Jonathan Gottschall, author of The Storytelling Animal, says;
Storytelling is a 'crucial evolutionary adaptation. It allows us to experience our lives as coherent, orderly, and meaningful. It is what makes life more than a blooming, buzzing confusion'.
Story threads our chaotic world together into ways we can deal with. It hits us on an emotional and spatial level, getting our minds to participate. We understand how a story should work, and are swept up by good ones.
How storytelling benefits your digital marketing
Digital marketing is an ever expanding force today. The platforms at the disposal of every kind of business are many, and whatever avenues are chosen need good content to fuel their furnace.
Not only to cross the path of their target customer but have them engage with it.
Storytelling helps us do this in three significant ways:
Storytelling with content
Storytelling and content marketing are family.
They work together in producing stuff people take notice of. With so much content out there, anything that has some personality behind it stands out. The content can be on absolutely anything and storytelling will take it to new heights.
Both the weight and quality of content needed has jumped. The CMI Report into Content Marketing in Australia highlighted 76% of Australian Marketers are creating more content than last year, 67% wanting to make it more engaging and 67% wanting to gain a better understanding of their audience from it. It also showed the variations being used including social media platforms (86%), articles on websites (85%), in-person events (74%), video (72%) and visual content (66%).
Whatever platform you use, the storytelling has to fit the format.
You can't tell the same story about a mobile taco van franchise the same way in a blog post as you would for a face to face meet up. The nuances in different content types change the way the storytelling will work.
Image Source: "Metaphors in Neon" by Rich Mitchell is licensed under CC BY 4.0
Search engines and storytelling
Search engines are becoming semantic search entities now. The complex algorithms used by Google and Bing are digging deeper into the content out there, and picking up relevant information that relates back to the user intent. Google's recent purchase of Deepmind, an AI development company, suggests they want to take machine learning in search results much further.
Results are now qualitative and personalised for the user. They're looking for the person in the content and seeking out what's resonating.
Storytelling helps give interesting layers to blog posts, articles, social media posts, and infographics through longtail keyword phrases and related topic information that are sticky with search engine indexing.
Sure linkbuilding, keywords, anchor texts and onsite optimisation are not going away. But the more engaging and interesting content has become a key to better SEO.
Marketing isn't the one way dialogue it used to be. When prospects are interested enough in the content they come across, they will dig deeper and look wider for the other things you have out there. Research has shown people require anything between 7 to 13 touches with a business before they are willing to purchase. That's a lot of analysis.
How do you cross their path?
By listening, a storytelling skill not enough marketers employ.
Finding out what your target customers are having challenges with and how you might help them. Locating where they are talking about their pains, through niche online communities and social media, and where you can get involved with the conversation.
This is where getting involved, asking the right questions to open up these prospects and piecing together their stories can benefit everyone.
They love people who listen to them keenly
Social listening tools like Brandwatch or Mention help you find where your customers are online.
You can flag keywords like a business name, competitors or industry topics and have the latest social media discussions on them delivered to your inbox or presented as analytics on your dashboard.
You tell a good story through your content on the web, and cross paths with your target customers, they return to see what else you've got – by subscribing, following, liking, connecting, getting in touch with you.
The demands of content marketing have made storytelling an essential, and exciting tool to use for business marketers. And this isn't going to change anytime soon.
About Simon
Simon Williams is a copywriter at Persuasion Copywriting helping small to medium sized businesses create content that brings in customers they really want to work with. Simon can't get enough of good films, books, and the occasional TV series, if time permits. Connect with Simon on Twitter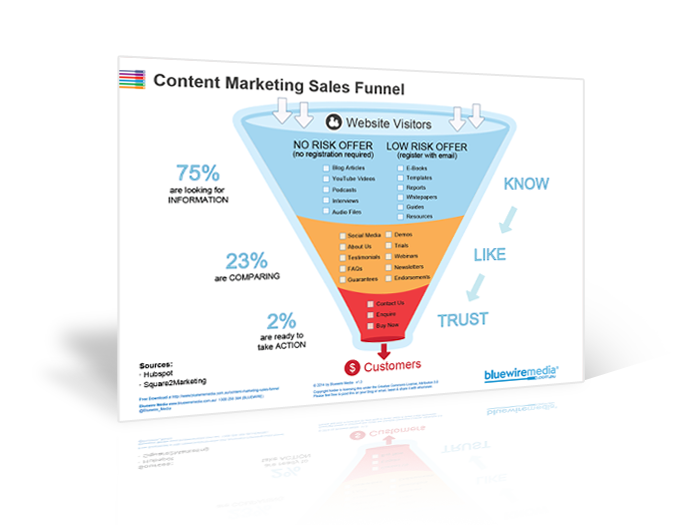 Content Marketing Sales Funnel
Your content marketing sales funnel is all about getting people to know, like and trust you by nurturing them with the right information at the right time.