3 Strategies to Build Your Business With Networking
Last year, I retired from networking.
If I never see another mini meat pie, dry goat's cheese canape, soggy finger sandwich or rubbery poached egg with conference coffee, it will be too soon.
I've spent innumerable hours at hundreds of networking events talking to other business owners who only want what I want: To sign me up as their client.
Leaving another fruitless couple of hours small talking with fellow hopefuls, I was often reminded of a line from the TV series 'The Westwing', where a character is heard muttering when leaving a meeting:
That was 20 minutes of my life I'll never get back
Except when networking, I'd lose 2 hours of my life, not 20 minutes.
Coming back for more
But although my business is now at a stage where I don't need to keep schlepping myself around anymore, I kept coming back for more, year after year.
Why?
Because I learned how to do it, and it started to work and work well. I largely built my healthy business coaching practice on it in the last 15 years.
It was worth getting out of bed for, that's why.
Let me tell you what I learned that started making the difference (in no particular order):
Accept that nobody goes to a networking event to buy anything, they don't.
Don't spend time talking to people you work with… That's missing the point entirely.
Be brave… Take the initiative and approach strangers, they'll love you for doing so.
Ask questions with real interest, not just so you earn permission to sell your stuff.
Be passionate about your stuff.
Follow up and know that nobody else will do so.
Know that the 2% who do follow you up, do so for no other reason than to have another go at selling themselves to you.
Develop an easy way to follow up yourself that works.
Be generous to those who deserve your generosity.
Most of the above points are self-explanatory, and I learned a lot of these lessons from a few master-networkers I've written about on my blog here. But I want to explain a bit more about points 6 – 10 above.
If you don't follow up after attending a networking event, you truly have wasted 2 hours of your life that you'll never get back.
Nobody will call you
Trust me on this. Nobody you meet at a networking event will call you out of the blue, at any time in the future to buy something from you. It just will not ever happen.
To have any chance of doing business with the people you meet or better yet the people in their networks, you have to be the one that follows up and you have to find a way to do so that is easy and meaningful.
What that means is that you have to establish a reason to follow up, right when you meet. And furthermore, the reason to follow up must be about something useful to them, not you.
If you do those two things, you'll find it much easier to get in touch with people whose business card you've walked away with, because you established an expectation for the follow-up and what's more, you're getting in touch to do them a favour.
My 3 Strategies
I developed three strategies to follow up with the people I meet at networking events:
I created things to give to them. I actually wrote some books, but a well-crafted information sheet or white paper about something you know a lot about and that's appropriate for them can do the same thing.
I made it a point to find out who they needed to be introduced to and I would go to some trouble to try and make those introductions.
I'd invite them to other events, either to workshops or events I ran myself or to relevant groups I was a member of myself.
So in some cases, I would simply send an email after meeting someone with a link to download the book I'd already mentioned to them at the event. In other cases, I'd organise a coffee to find out more about the right people to introduce them to, or I'd invite them to come along to a weekly business breakfast group I was a member of. And sometimes I'd do all three.
As a consequence, I became known as the guy with all the great connections. If you wanted to be introduced to a trustworthy mortgage broker, real estate agent, plumber or web developer, you knew you could call me and you'd get one or two good names.
It's a process
Most people who attend networking events really do waste 2 hours of their life when attending the local Chamber of Commerce gatherings. They don't understand that attending the event really is only the first step in the process, and not taking the next steps makes the whole exercise pointless. It's no different than wasting a bunch of money on designing a series of stunning magazine ads but not having the money to actually run them in the magazine.
Networking as much as any other form of marketing needs a realistic budget. In this case, a budget of your time.
It took me a while before I got it, but when I did, when I budgeted appropriate time for the whole process, networking started to work for me and my business became healthy.
So if you want to grow your business and you think networking is a good strategy to do so, start by creating a networking budget, a budget for the process of networking, not just for attending an event now and then… You'll be surprised at the difference it makes in your business… I promise you.
About Roland
Roland Hanekroot is a business coach, mentor, author and speaker who works with small business owners to Make Business Fun again and to build businesses that sustain them for years to come. More information at http://www.newperspectives.com.au.
Bonus 33 Free Templates
Download the 33 free templates from Toby and Adam's book.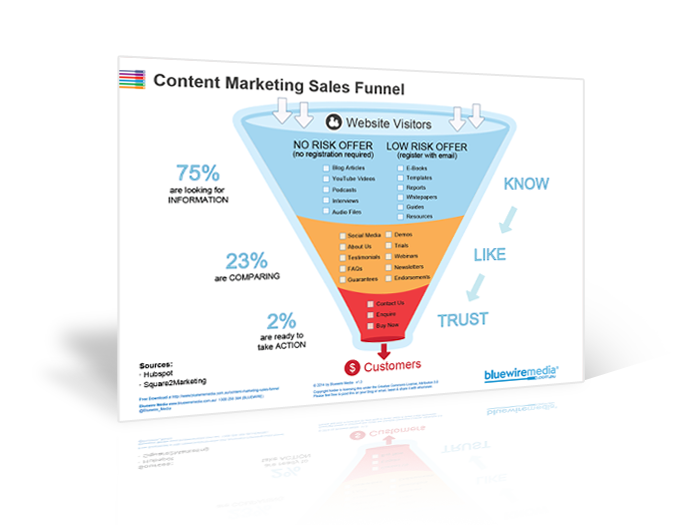 Content Marketing Sales Funnel
Your content marketing sales funnel is all about getting people to know, like and trust you by nurturing them with the right information at the right time.