Sumo Listbuilder review – real stats and best performing example
I want to let you in on my favourite tool for growing an audience of email subscribers.
I installed this tool a few years back, and each week we get dozens, if not hundreds of new email subscribers from it. It's super easy to install too.
It is Sumo's Listbuilder. It is what's called an "exit pop-up" and it is a wonderful and polite way to offer your flagship content (aka your valuable free giveaway aka your lead magnet) to website visitors when they are about to leave your site.
Yes, that's right, it is an elegant and non-intrusive pop-up. It only shows up when people are about to close the page, change the URL or open a new tab. No more annoying pop ups! That's what I love most about Listbuilder.
Here's what mine looks like and feel free to model your own on it. This is our best performing example.
You can see below from my stats that it converts extremely well — between 3.6% to 5.5%.In real numbers, you can see that has equated to over 5,000 extra email subscribers.
This Listbuilder tool is great and it is by far and away the easiest and most effective way to convert website visitors into email subscribers. I highly recommend it and it's such as easy way to get started.
The good news is there is a free version that you can set up today.
If you're serious about growing your audience of email subscribers, and you want to have it integrate with your email marketing platform, then I recommend the paid Sumo Pro version.
I want to give you some gentle encouragement to take action… so if you sign up to the paid version of Sumo (which includes Listbuilder) before the 31st October, I'll throw in a 1-on-1 digital marketing review for you. We'll hop on a Skype or phone call and I'll give you feedback and advice on your marketing!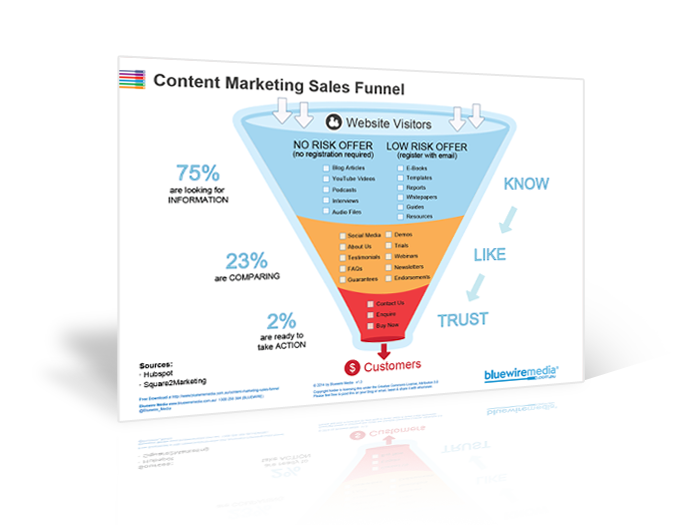 Content Marketing Sales Funnel
Your content marketing sales funnel is all about getting people to know, like and trust you by nurturing them with the right information at the right time.