The 9 Best Editing and Writing Tools for Your Content Strategy
Your content marketing strategy should be at the core of your digital presence.
Without a strategy, your content will be left to speak for itself, while you hope and pray it finds an audience…. And that may not even be the right audience!
Having a solid strategy allows you to connect the dots between your website, social media profiles, blog, and online marketing campaigns and create a cohesive branding experience for your clients.
But even the best, most well conceived strategy will fail if your content is poor quality.
These tools will let you be confident that your content is in the best shape possible before it speaks for your brand.
Here are 9 fantastic editing and writing tools for your content marketing strategy.
Grammark is a great tool to help check your grammar.
You just need to copy and paste your content onto their web page, and the checker will find; run-on sentences, passive voice, and other grammatical errors.
However, there are plenty of things it cannot check for, so be sure to edit with your own two eyes as well. It cannot find subject/verb agreement, comma splices, or apostrophes in the wrong place, among other things.
Sometimes, you might be too busy to spend hours writing content for your website or blog. In those instances, it's best to bring in the professionals.
The writers at custom writing service EssaysCapital are trained in a huge variety of subjects, so you can find a writer who is knowledgeable about your topic. The team at EssaysCapital can produce all of your web content, articles, blog posts, and marketing materials.
They can also offer insight and assistance during the proofreading and editing process. They can even format your writing to work on your website. And if you really want to do the writing and editing yourself, you can still benefit from their blog that offer writing tips and help.
Language Tool is an open source proofreading program that checks for grammar, spelling, and even style choices.
It detects errors in over twenty languages. Just open the website, copy and paste your content into the checker, and watch the mistakes get highlighted.
No proofreading tool is perfect, so this isn't a substitute for proofreading on your own, but it can certainly provide a helpful final check.
Having the right word count is important for a lot of reasons. First of all, you don't want to bore your reader. It's best to keep your message short and sweet. But it's also important for your website's SEO and Google ranking to have enough substance.
Blog posts perform best when they are around over 1,000 words. It's also important to throw in the occasional long post to keep your readers interested and break up your blog.
Use the word counter tool to hit the mark every time.
PlagTracker can really help your online marketing strategy.
There is nothing worse than realising your written content about your product or service is identical to your competitor's content.
Whether or not this is intentional doesn't matter as much as the fact that it makes your company look incompetent: like you didn't do your research before designing your website.
PlagTracker can fix this by scanning the Internet for any instances of plagiarism. It can even re-write the sections to give you truly unique content. How's that for helpful?
This website features a collection of other proofreading and editing sites for writers. One featured website is ByWordApp, which lets you upload your documents directly to blogging websites like WordPress and Blogger.
You can also check out SpellCheckPlus, a site that highlights spelling and grammar errors. SpellCheckPlus is also useful when you're creating marketing collateral or business documents. You can even use the site to test your important emails before you send them off into cyberspace.
Natural Reader is a really handy, though at first strange, tool to help edit your content.
You can copy and paste the material into the reader, and NaturalReader will read it to you. This way, you can not only find technical errors like spelling and grammar problems, but you can also find sentences that just sound a little… off.
Listen to the words you have written, and see if there are any places where the content can be improved.
Pro Writing Aid says it can "turn your good writing into great writing." It's similar to a lot of editing software because it lets you copy and paste your text into the editing tool.
However, it's different because it can also integrate with your word processing software. And not just the usual programs like Word and Google Docs. Pro Writing Aid can also integrate with Scrivener (authors everywhere rejoice), and API.
When creating content for your website or blog, it's important to remember that it's not all about your writing. Your images and videos are equally important.
Some may even argue that they are more important since people are more likely to purchase from a company with high quality images on their website.
This online database of 13 editing tools for images will help you do more with your pictures than you ever thought you could. The links will help you create slideshows and infographics, resize your images for social media, design GIFs and beautiful quotes, and more! A few websites to get you started are Picasa, Over, and Pablo.
Wrap up
Creating your content marketing strategy should be a big priority for your business. But once it's developed, it's equally important to keep it up to date with quality content.
Hopefully, this list was able to help you find tools to help clean up and strengthen your content.
Which ones do you think will work best for your business? Share your thoughts in the comments section.
But remember, no tool can replace a good strategy. Make sure you know what you're going to do with all this content once it's looking great!
About Anna
Anna Olinger is a technical content manager from Washington, DC. To learn more tips on content marketing, writing and social media follow Anna on Twitter and Linkedin.
Bonus 33 Free Templates
Download the 33 free templates from Toby and Adam's book.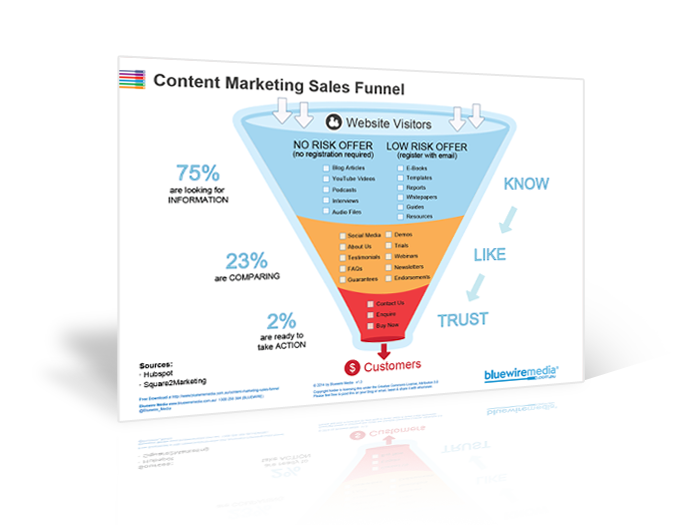 Content Marketing Sales Funnel
Your content marketing sales funnel is all about getting people to know, like and trust you by nurturing them with the right information at the right time.