The Art of The Retweet
Updated on December 3rd, 2019
To RT or not to RT, that is the question.
The Art of the Retweet.
RT (for those unfamiliar with the abbreviation) stands for retweet and if you've ever come across anything interesting, funny or simply worth sharing to your followers you may have 'retweeted a tweet' at some point.
A retweet in basic terms is to repeat/cite a message (a tweet) by somebody on Twitter. There are a few ways to achieve this but the most common method is to begin the tweet with 'RT' followed by the username of the person who tweeted it and finally duplicate the content of the original message.
For example:
RT @Bluewire_Media: New blog post about retweeting!
The process isn't perfect. It's slightly awkward and sometimes a little daunting for new users.
Twitter is well aware of the value of a retweet and actively encourages it. At the same time however, Twitter wants to take out some of the guess work and help streamline the whole process. To assist in achieving this goal they have announced Project Retweet, an official built-in retweet feature to be implemented into the social networking service in the coming weeks (if not days).
A sketch of Project Retweet by Twitter founder, Biz Stone
Now that we all know how to retweet and also understand that Twitter is about to make the process a lot easier, here's the next thing to consider: "how do I get retweeted?"
Dan Macsai over at fastcompany.com takes an in-depth look about the not-so-simple-science of observing your "retweetability" by studying a few facts and stats from Dan Zarella's: The Science of ReTweets.
Here is a list of the top 20 best and worst words that can affect your own "retweetability".
Most ReTweetable Words & Phrases
1. You
2. Twitter
3. Please
4. Retweet
5. Post
6. Blog
7. Social
8. Free
9. Media
10. Help
11. Please retweet
12. Great
13. Social media
14. 10
15. Follow
16. How to
17. Top
18. Blog post
19. Checkout
20. New blog post
Least ReTweetable Words & Phrases
1. Game
2. Going
3. Haha
4. Lol
5. But
6. Watching
7. Work
8. Home
9. Night
10. Bed
11. Well
12. Sleep
13. Gonna
14. Hey
15. Tomorrow
16. Tired
17. Some
18. Back
19. Bored
20. Listening
The retweet is certainly a powerful tool for many Twitter users due simply to the fact of how quickly you can spread and share interesting conversations online. With some understanding on how to perfect the art of the retweet you will ultimately gain more from your experiences and add even more value your networks.
Social Media Brisbane: If you would like to know more how social networking can assist your business please contact us on 1300 258 394.
Follow Bluewire Media on Twitter!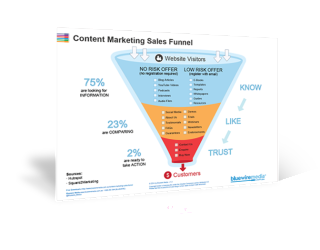 Content Marketing Sales Funnel
Your content marketing sales funnel is all about getting people to know, like and trust you by nurturing them with the right information at the right time.