The Common Path to Uncommon Success
Common Path to Uncommon Success
I've also been reading the new book from my friend John Lee Dumas, host of the podcast Entrepreneurs On Fire.
John aka 'JLD' has spent thousands of hours interviewing over 3,000 of the world's most successful entrepreneurs.
It's humbling that JLD chose to interview me for Episode 92 back in 2013, and he interviewed my Bluewire co-founder Toby on Episode 784.
I turned the tables and interview him myself as well.

This week, JLD launched a book that distills what he has learned from these conversations into a 17 step roadmap to help YOU achieve your dream of freedom and fulfillment.
Doubts, fear, and confusion are all things we face as entrepreneurs. For some, they're crippling – but they don't have to be… not anymore!
It's time to say goodbye to doubts, fears, and confusion, and hello to YOUR version of uncommon success!
The book is called The Common Path to Uncommon Success. Get your copy today at https://UncommonSuccessBook.com and begin your journey to freedom and fulfillment!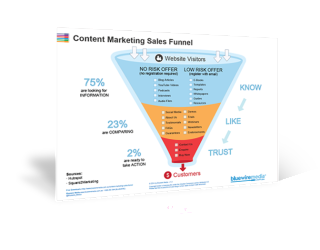 Content Marketing Sales Funnel
Your content marketing sales funnel is all about getting people to know, like and trust you by nurturing them with the right information at the right time.