The journey to a useful intranet [Part 1]
Updated on November 24th, 2016
One of the great things about working at Bluewire is our ability to document things. And it's not just those of us in admin… it's the entire team across all disciplines and levels, HR through to development.
The 'Bluewire Wiki', as it's fondly referred to, has gone through a couple of incarnations and now holds everything from how-to articles (document scanning, ordering stationery, design guidelines, testing procedures, ) to policy (Quality Manual, HR Manual). I can't tell you how many articles we have now… there are too many to count. The good thing is it continues to grow!
Over the years we've tried a couple of different ways to store this information but have found our most recent use of Google Sites to be the winner. It's easy for everyone to use (including non techies like me), the entire team can access it from anywhere by logging into their Google account and because it's a Google product we have the added benefit of being able to search for things easily.
Here are some things we've learnt along with way…
Make sure your entire team has access
Bluewire has offices in Brisbane and Sydney plus staff often work remotely (from home or other parts of the globe). The original Bluewire Wiki, built using MediaWiki, gave us the ability to document things but could only be accessed while being connected to the head office network. Not very helpful if you're sitting in Mexico.
If you make it too difficult to access, noone will use it or continue to add to it! An intranet is only as good as the information being stored there.
Make sure it's easy to get to
If I don't bookmark something in my browser I forget what the address is, let alone remembering what my username and password is. If you don't bookmark you might be in even more trouble!
As a company, Bluewire made the shift to Google apps a while ago which also gave us very easy access to our new Google sites wiki. Once logged into email, our wiki is only one click away! No need to remember a different URL.
Make sure it is easy to use… for everyone
Once again, the previous version of our wiki was a little difficult to use (understatement!). Formatting was a nightmare! To bold something you needed to put a * either side of the word… or was it =… I can't remember. And while someone had written an article explaining how to add images to a page I for one never quite got the hang of it.
Our latest wiki is super easy to use, in fact it's a cross between using Microsoft Word and creating a web page in a Content Management System (CMS). We can give pages different layouts (one column, two columns etc), add images, link to other pages (internally or externally), set headings, add content lists, embed Google docs and sort articles into sections. We've used Bluewire language everywhere and matched the layout of our head office server.. so it is logical to Bluewire team members.
Make sure your company culture supports it
Let's face it, there is often so much going on in your day that documenting what you do for others gets pushed to the back… if it gets considered at all.
Here at Bluewire, if you need to know how to do something the most common response is 'have you checked the wiki'. This doesn't mean our team doesn't talk to each other, but rather there may be a step by step (with pictures) answer that someone has already taken the time to write. And, if you can't find the answer, write it!
It means that when someone is on holidays or sick, information is always at hand. It's part of our culture! Everyone is encouraged to document what they know.
Make it work for your situation
For me the most exciting aspect of our wiki is that as Bluewire's Quality Manager I have been able to harness the platform for documenting procedures required as part of our certification. Quite a dull subject for some but for me, being able to tick all those QA boxes while integrating the information into a readily used resource means we get the most from our certification.
I plan to write a separate post about this particular experience but I guess my main point is that if your team learns to embrace a wiki/intranet it can be used for much more than just being a place to store policy.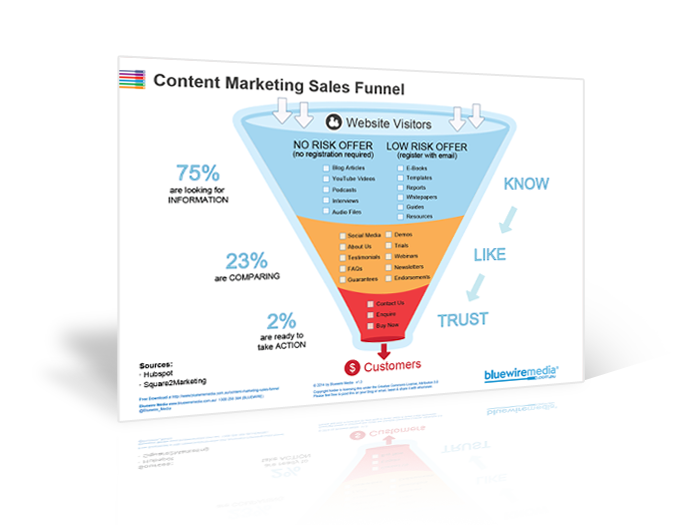 Content Marketing Sales Funnel
Your content marketing sales funnel is all about getting people to know, like and trust you by nurturing them with the right information at the right time.