Tips for Boosting Mobile Engagement
Updated on May 22nd, 2018
Mobile-first indexing is the latest development in Google's endless mission to make the internet more welcoming to mobile devices. Designed to rank search listings based on the mobile version of content, this update has paved the way for a mobile-dominated search economy.
Bracing yourself for the impacts of mobile-first indexing is an essential survival skill. If you're not sure how to develop your website for optimum mobile engagement, these tips will help:
Emphasise Speed

Modern-day internet users aren't the only ones with short attention spans. In January 2018, Google announced that it would start using mobile page speed as a ranking factor in search engine results (this update will launch in July 2018). As a result, pages that take a long time to load on mobile devices may start to slip down the search engine rankings.
In addition to making your website less visible, slow pages tend to have low levels of engagement and reduced ROI. It might not sound that significant, but just a one-second delay can impact your conversion rate.
If your website is testing Google's patience, these modifications may help it load faster:
Adjust your image formatting – Use zip compression to minimise file size, as large images can slow your page down
Minimise redirects – Designed to transport users from one website to another, redirects can eat into your load time
Load above-the-fold content first – Above-the-fold content is the portion of a webpage that can be seen in the browser window when the page first loads. Showing this content to users as quickly as possible will discourage them from bouncing away from your website before it has a chance to load.
Making minor adjustments like these can turn your mobile site into a certified speed machine.
Streamline Your Checkout
Online checkouts are the final frontier of mobile engagement. Shopping on a mobile device can be cumbersome, and even the most avid mobile users often turn to desktops when making a purchase.
To maintain mobile engagement right up until consumers have paid for your product or service, you may need to restructure your payment processes. Instead of making users type out their credit card number, consider providing secure payment methods like PayPal.
Less is More
Having plenty of copy and images on your website can be eye-catching on desktop, but on a mobile phone or tablet screen? Not so much. When optimising your website for mobile engagement, opt for an uncluttered aesthetic.
If you're worried that cutting back on copy and images will make your webpages look bland, keep in mind the dimensions you're working with. As the average phone screen is around just 5 inches wide, it doesn't take much to overcrowd a mobile webpage.
These are just some of the most important steps involved with boosting mobile engagement. To achieve the best results, look at every aspect of your website through the eyes of a mobile user. By prioritising mobile engagement, you can make the most of mobile-first indexing.
Matt Bassos is a SEO Manager at digital marketing agency searchfactory.com.au. He works with a range of enterprise-level clients across multiple industries, providing comprehensive SEO strategies and insights in growing organic search visibility.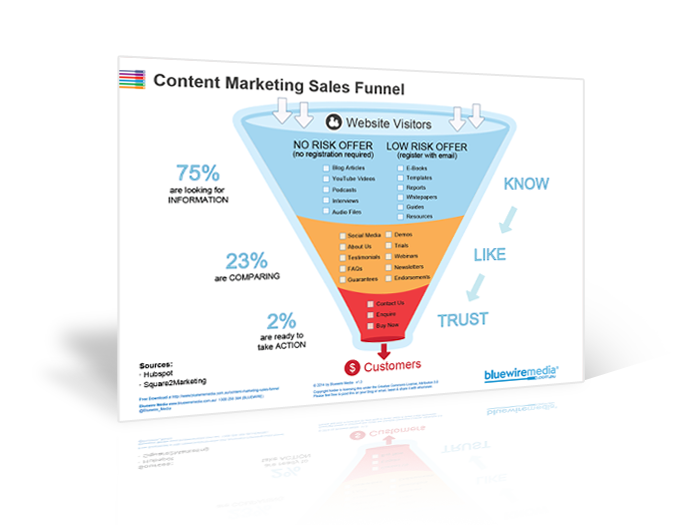 Content Marketing Sales Funnel
Your content marketing sales funnel is all about getting people to know, like and trust you by nurturing them with the right information at the right time.