The Olympic story I reluctantly shared
Updated on November 25th, 2015
I wanted to share a story that's close to my heart.
You may know that I'm a water polo player and I went to the Athens Olympics in 2004 but it's not something that I've written about much. Why? I've told myself over the years that it doesn't always tie into web marketing and so I've avoided it. Also I've been afraid that it might be misconstrued as blowing my own trumpet so I've been reluctant to share my stories.
But when Kevin Kruse, a NYT best selling author, reached out to me in April to ask for my best time management/productivity tip as an Olympian and entrepreneur, I realised it was an incredible opportunity to share my experience.
I love water polo and I love business, and his email prompted me to reflect on the lessons I've learned along the way.
Here's what I wrote back to him:
"Find someone whose work you trust and admire and who has already done specifically what you want to do. Ask them for help and then filter their advice for your own situation. It's not about saving an hour here or there. It's about saving you potentially years to get to your goal.
I had some great water polo coaches throughout my career. Each had strengths and weaknesses. My realization though, was that if I had a specific challenge, then I needed a specific answer.
When I wanted to put on muscle, I didn't speak to my water polo coach. I spoke to my strength coach, a discus and shot put guy who had put on more weight, faster than anyone else I knew.
When I was nervous before games, I'd speak to my captain who'd played hundreds of internationals and learn from his pre-game routines.
When I wanted to improve my swimming speed and endurance, I went to a swimming coach who was coaching some of Australia's fastest swimmers at the time.
It all seems pretty obvious but being specific about the challenge you face and then finding the specific person best in a position to help you accelerated my learning enormously. It would be nearly impossible to quantify how many hours this saved me over my career as an athlete, student and now in business."
So I was stoked to find out last week that my tip had been included as one of 13 Olympians in Kevin's latest book: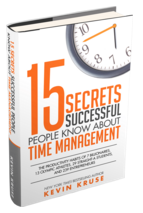 15 Secrets Successful People Know About Time Management: The Productivity Habits of 7 Billionaires, 13 Olympic Athletes, 29 Straight-A Students, and 239 Entrepreneurs
It's pretty fun to be included alongside Mark Cuban, James Altucher, John Lee Dumas, Lewis Howes and many other people whose work I've admired.
1440
As Kevin says, we all have 1440 minutes in each day that we never get back. I thought I was pretty good with managing my time, but in the last 3 days I've implemented 2 concepts from the book that have already made a huge difference. And I still have a tonne to learn.
Would you like a free copy of his book?
Kevin is offering to send you a free hard copy of his book worth $19.95. 
*All you need to do is cover shipping (just $7.95 anywhere in the US or Canada, $17.95 anywhere else in the world). Also this is time sensitive so the offer may have expired when you read this but try the link anyway!
Along with the free paperback book you get these gifts:
1) 4 "extreme productivity" training videos
2) PDF Download of Quick Start Action Plan
What's your favourite productivity tip? I'd also love to hear in the comments below if you have a second!
[Also if this sort of thing tickles your fancy – then definitely check out my podcast interview with Kevin too. We had an awesome time diving into the best of the hacks he learned in his research.]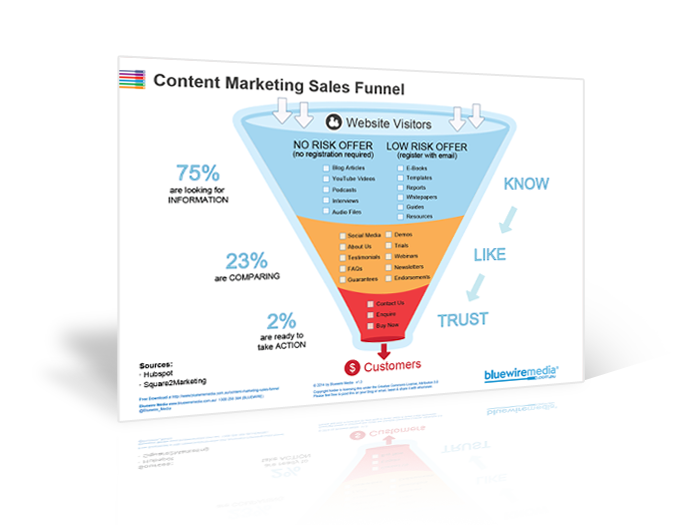 Content Marketing Sales Funnel
Your content marketing sales funnel is all about getting people to know, like and trust you by nurturing them with the right information at the right time.