How to keep track of opportunities on LinkedIn [#0]
Updated on September 29th, 2019
[Docklands, Melbourne, Victoria, Australia]
If you feel swamped with LinkedIn connections and messages, then my 3 tips today will show you to keep track of your opportunities on LinkedIn.
Private coaching clients have asked me they can keep track of everything so high-value opportunities don't fall through the cracks.
The key is getting people over to email and into your CRM – in a systematic and effective way.
If you'd like my guide please type "conversions" in the comments and I'll send it to you.
VIDEO – Track opportunities on LinkedIn
TRANSCRIPT
Good day. It's Adam Franklin from Bluewire here. And have you ever felt swamped by not only the number of connections that you've got on LinkedIn, but also all the messages that you're getting? Well, you're not alone and a lot of my private coaching clients have been asking me how do we keep track of everything that's going on, on LinkedIn, particularly because we don't want to be missing any high value opportunities. Because if one of those opportunities falls through the cracks, that can be worth tens of thousands of dollars.
3 tips
Okay, so basically I've got 3 tips for you today.
1. The first is if they a really high value prospect them simply add them into your CRM, your customer relationship manager straight away so you don't miss them.
2. The second tip is just to send a one on one email, or Gmail or Outlook to the people that you've actually started to have a meaningful conversation with. That way I find once you move off LinkedIn and over on to email, it's a lot easier to keep track of because you can put them in folders, you can tag them, you have a lot more control over that communication.
3. And the third tip for when you're doing this stuff at scale is to have a system in place whereby you can move people from LinkedIn across to your email marketing system. Now of course for this you need people to actually opt in. So the mechanism to do this is to invite your contacts.
Once you've had some exchanges with them, invite them across to register for something like a Webinar or a piece of flagship content on a landing page. That way they're entering their name and email and then moving across over to your email marketing system.
That's how you keep track of various opportunities that you've got so that nothing slips through the cracks. If you found that useful, then I have my LinkedIn Conversion Guide that may be useful to you. If you'd like a copy, just write "Conversions" in the comments and I'll send it over to you. No opt in required, nothing like that. I'll send it directly to via a direct message on LinkedIn. So that's it from me. Take care.
100 videos in 100 days. Want more?
This is part of my 100 videos in 100 days challenge.  For all my videos, join my Facebook page
MY MARKETING METHODOLOGY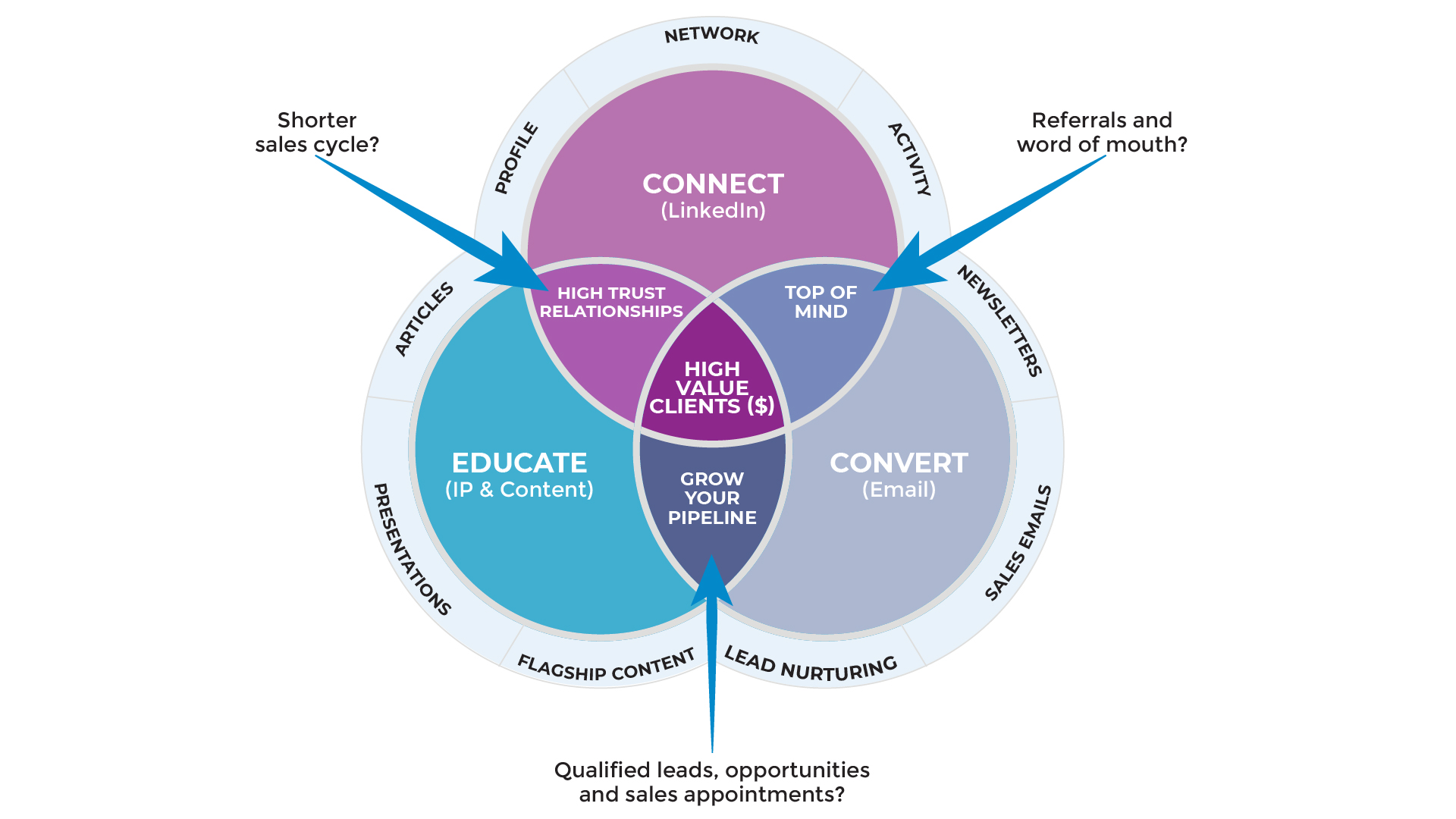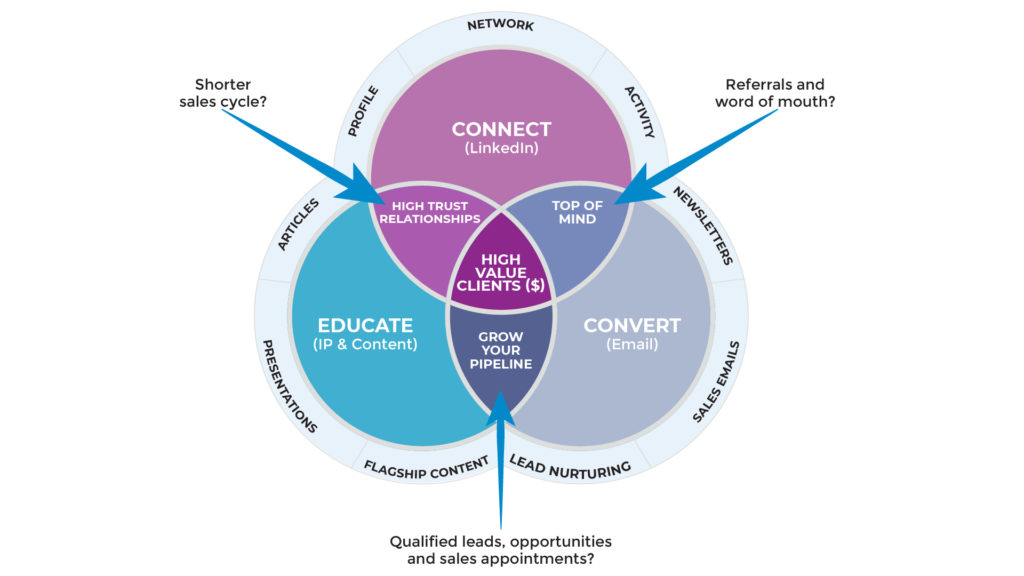 PS. When you're ready, here are 6 ways we help
consultants & advisors

grow:

1. Web Strategy Planning Template (PDF). Our flagship 1-page tool we co-created with David Meerman Scott. It's been downloaded over 1 million times and featured on Forbes.

2. Read a free chapter from our book. Web Marketing That Works --- an Amazon #1 best seller.

3. Join the private group on Facebook. Access free training resources, and hang out with 2,300+ peers.

4. Discover your marketing score. Take the 40 point Marketing Scorecard (in < 6mins) and get a customised report.

5. DIY for $7. Get the Complete 50+ Script Library for connecting with people to winning clients.

6. Let's brainstorm how to fill your marketing funnel.

DM the word "INTERESTED"

via Messenger

 or 

book a 20 min slot to talk

 on Zoom.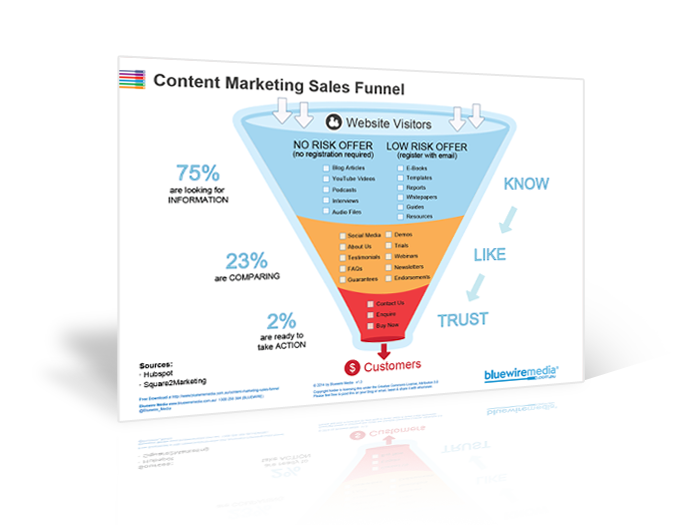 Content Marketing Sales Funnel
Your content marketing sales funnel is all about getting people to know, like and trust you by nurturing them with the right information at the right time.