Translate my marketing templates and courses [video #13]
Updated on April 13th, 2019
[The Gap, Brisbane, Australia]
As some people in the Bluewire community know, my marketing templates are available to be translated into your native language.
I am also pleased to announce that our premium online courses are also available to students to translate. One of our students who has enrolled in each course I've released, has entered into a partnership and has translated my LinkedIn course in Tagalog (a language they speak in the Philippines). I'll share more about this partner on a separate video.

TRANSCRIPT
Hello. I was on the phone today with one of my students who has actually bought and enrolled in each of my flagship courses over the years, and when we were chatting he had said that he'd been on my mailing list probably for three years.
I've known him for three years, done the social media course, the LinkedIn course, the Double My Leads course, and he actually put his hand up to translate some of my marketing templates into Tagalog, I think, I'm doing that, just I don't have my notes from my conversation with him earlier, but it's one of the languages they speak in the Philippines, and he's come on board as one of my international partners.
So what he's actually doing is not only has he translated some of my marketing templates but he's translated my courses as well into Tagalog, which is, yeah, Philippines.
So, anyway, if you are watching this, if you do speak another language, or if you are in a non-English speaking country, that's an option to firstly, translate my marketing templates, they're all creative comments, so you're free to do with them what you like, but also if you want to talk to me about becoming a partner, to use some of my IP but translate for your own marketing, we can enter into some sort of agreement like I have with my partner in the Philippines, then that is something that's on the table.
I'd love to hear from you and that's basically what I wanted to share with you tonight. Sadly our book hasn't been translated into any other languages yet, but that is something that could always happen. So, if any of that appeals let me know, but basically that is one of the ways that we're partnering with people to expand our reach, expand people learning about LinkedIn and digital marketing and everything else.
So, look, that's really exciting and that's it. Talk to you soon. See ya.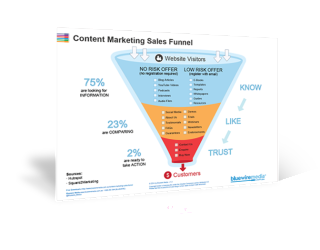 Content Marketing Sales Funnel
Your content marketing sales funnel is all about getting people to know, like and trust you by nurturing them with the right information at the right time.