Trello Board Template for Marketing Tasks [#39]
[Shrine of Remembrance, Anzac Square Memorial, Brisbane, Australia]
In this video I discuss the Trello Board Template I use for Marketing Projects and Tasks.
VIDEO
TRANSCRIPT
G'day it's Adam Franklin here at the ANZAC Square Memorial in Brisbane.
And in today's video, look what I want to do is actually talk you through how I keep track of all my tasks and prioritise them using a tool called Trello.
Now chances are you've probably heard of Trello. It's a free tool and what it does is kind of acts like how you might have a cork board with post it notes or have you, you can move the tasks around on tiles. What I find it does it allows me to prioritise certain tasks.
Now, I like to have a pretty simple model. It's based on agile methodology. But, I have a column called a back log. So that's where I keep all of my different ideas, tasks, things that I think of at three o'clock in the morning. Or I've listened to a podcast on a run. I've got this idea I write it in my backlog.
At the start of each week I will actually go through and think about what tasks are the most important. So the highest priority. And from there I will work out which I'm going to put into my to do list for that coming week.
So then I don't need to think about what I do in the start of the week. I'm gonna pick the top tile and perform that task.
Once I actually start the task I drag that tile across into a new column called in progress. So it means I've started it but not finished it.
Once I actually finish that task as in it's shipped, it's done, it's published, what I do is I put it in the done column which means at the end of each week I can see what I've done. I can also see what I haven't completed and it gives me a chance to reassess my next weeks priorities.
All right so very simple. It's based on the agile methodology. I do have a version of it. It's a Trello board that I've tailored. I've made it as a free template. If you want it just type Trello in the comments and I'll shoot it off to you.
So if you wanna make it yourself, by all means. Starts with a back log. Then a to do column for the next seven days. Then an in progress column. And then a done column.
So hope that works for you. I found it worked really well for me and my private coaching clients. If you're interested in finding out more about doing private coaching just hit me up in the comments or a private message.
Look forward to chatting with you soon. See you folks.
100 videos in 100 days. Want more?
This is part of my 100 videos in 100 days challenge.
For all my videos, join my Facebook page
For more videos and tip, let's connect on LinkedIn:
Or subscribe via my website and download my popular Web Strategy Planning Template.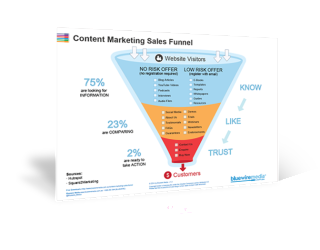 Content Marketing Sales Funnel
Your content marketing sales funnel is all about getting people to know, like and trust you by nurturing them with the right information at the right time.