An uncomfortable conversation
Updated on December 11th, 2017
Earlier this week I asked Bluewire News readers what you would love to achieve if 2018 if you had endless motivation and a magic wand.
It sparked many interesting conversations with readers, and here is a sample of what you shared with me:
"Have my content on LinkedIn to make a knowledge and thought leader" ~Adrian
"Turning our business to an online one." ~ Narelle
"Have a thriving business with a steady amount of leads." ~Tariq
"A solid sales funnel delivering consistent leads :)" ~ Andrea
"Get my side business up & running!" ~ Ben
"Scale my team and create an online course!!" ~ Lyndal
"To publish a successful trilogy of novels." ~ Brian
"Find more "relentless" clients and business partners". ~ Shane
Thank you for writing in.
What I wasn't expecting was one of our business coaches to ask the same question of Toby and me; "What would we like to achieve in 2018?"
With the tables turned, it lead to a thought provoking 2 hour discussion. Toby and I still have several more sessions booked in our calendar to define and map out our action plan for next year (and beyond), but as we flesh these out I wanted to share some with you.
Originally I planned to send you a different email today but I decided to send you this first because of the increased accountability and to keep you in the loop.
Personally, I am still very passionate and driven to keep sharing the message about digital marketing and social media. I truly believe there is so much potential for business owners and professionals in high-trust, relationship-based roles to stay top-of-mind, attract leads and get more sales using digital channels. My plan is to continue to share this message via my webinars, speaking, events and writing so that I can help people leverage their existing knowledge, reputation and relationships onto the web.
Back to our coaching conversation.
Along with asking what our 2018 goals were, our coach challenged us as to whether we'd been 'coasting' in our business because it's been 3.5 years since our book was published and since most of our marketing templates were released. He asked whether we had contributed any more IP to the marketplace in that time…?
It certainly got us thinking, and it was both confronting and uncomfortable.
We've always believed that discomfort is the compass for growth, so rather than shy away, we should embrace it. So if it's ok with you, let me share where we're at because Toby and I have some new projects in the wings that may be of interest to you.
One project Toby is very passionate about is the Art Of Partnership. Many people we speak to — even trained psychologists and professional business coaches — are amazed that two friends have been able to navigate the ups and downs of 12+ years in business both amicably and without the business imploding. There are a lot of things that we've deliberately implemented in our business relationship and friendship to handle tension, address conflict and to do meaningful work. Toby has been documenting these along with the personal stories behind them. If you're in a business partnership, especially with a friend, this material might appeal to you.
One project I have been talking about privately for years is a Marketing Consultant Toolkit helping marketing consultants (and agency owners) with the 'boring' business side of things — like proposals, systems, documents, agendas, check lists, questionnaires, deliverables documents and more. I want to release all the tools from our years running Bluewire as a marketing implementation firm. We invested heavily in developing these systems and it was critical in us running our business through the ups and downs. Many marketing consultants love helping their clients but would love someone else to take care of the back-end systems and processes side of things. I'm thinking of releasing these as a toolkit.
As you know from today's story and previous emails I've sent you, Toby and I benefit from books and courses, but also from the accountability, uncomfortable questions and tough love that comes with mentors, coaches and consultants.
If you're working on your own 2018 goals and need someone to help as a mentor, coach or consultant, Toby and I each work with a small number of private clients. It can be on an ongoing, in-depth basis, or on an as-needed basis for a strategy session or training workshop. If this appeals to you, please let us know and I can let you know if we'd be a good fit.

Alternatively, a lower cost way to work together, is to attend our hands-on 'doing' events which are lined up for February 2018. Please click the links below to find out more and to register.
Digital Marketing 1 Day "Doing" Workshop – SYDNEY — Tue 13th Feb 2018
Social Media 1 Day "Doing" Workshop – SYDNEY — Wed 14th Feb 2018
Digital Marketing 1 Day "Doing" Workshop – BRISBANE — Wed 21st Feb 2018
Social Media 1 Day "Doing" Workshop – BRISBANE — Thurs 22nd Feb 2018
If you need to convince your boss, here are two email templates you can use to explain what you'll achieve on the day.
Justify My Attendance – Digital Marketing workshop (Google Doc template)
Justify My Attendance – Social Media workshop (Google Doc template)
If you're in Newcastle or the Hunter region, you could come along to my half day social media workshop on Friday 9th Feb.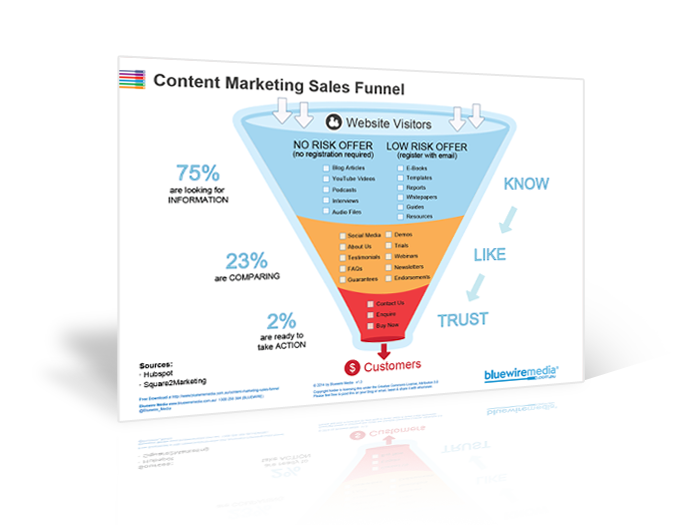 Content Marketing Sales Funnel
Your content marketing sales funnel is all about getting people to know, like and trust you by nurturing them with the right information at the right time.