How To Use Your Personal Twitter Profile To Boost Your Career
Updated on February 6th, 2017
Unless you have been living under a rock for the last 5 years, then it is likely that you have at least heard of Twitter.
Just like many of the other popular social media platforms such as Facebook and Tumblr, Twitter is accessible any time of the day from any type of device. Whether it be through the Twitter app or through their website, if you are not currently reading or writing a tweet, are you really living?
Everybody from your favourite celebrity, to the girl next door, to the strange man who always stares at you at the bus stop, will have a twitter account – or know of someone who does. It is difficult to avoid, and to be honest – there is so much lurking potential that you would be silly to avoid it!
Twitter even has its own slang, so before you jump onto the tweeting bandwagon, make sure you know your DM's from your BFN's, and don't dare mix up Hashtags with Dweets or you'll get a Fail Whale!
Welcome to the Twittersphere, it's lovely to Tweet you!
Anyone can create an account and start writing tweets to the Twitterverse (Twitter universe), but there are some things that you should know before you dive in head first.
Strategies to Get the Most From Your Twitter Account
If you are reading this, then chances are that you already have a Twitter account, or are thinking of getting one in the near future. Good idea.
If used correctly, they are more than just a place to tell people about what you are seeing or doing – the networking potentials are sky high. Of course bear in mind that this is the internet, and as soon as you dip a toe in the internet, there are certain rules to follow, and things you need to be aware of.
Remember That Your Twitter is About YOU
Your Twitter account is basically an extension of you. A more interesting extension of you … so keep this in mind when creating and using your account.
If the physical you is against cheese pizza's, then why would the Twitter you like cheese pizza's? Maybe don't admit that you don't like cheese pizza's though (that piece of advice is free). 
Spend some time on your bio
While your twitter name is the thing your followers will see the most, oftentimes it's your bio that will mean the difference between a follow or a missed opportunity. People will spend hours thinking of the perfect Twitter name, and only seconds (if any) coming up with a bio.
When creating your bio, keep it simple. Pretend that you do not know yourself. What would you like to know, in only a few words?
Are you fun? What about you is interesting and will not make you seem like a strange creep? Write that!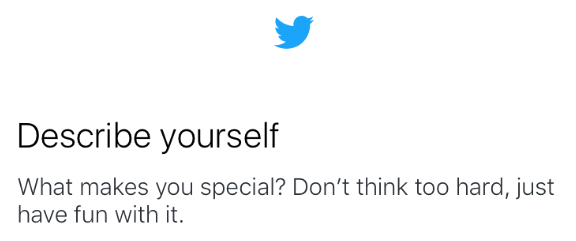 This is the profile of Human Being, who is not at all a creep as you can see.
Use Twitter as it is meant to be used… As a networking tool
Twitter is an amazing tool for networking, finding (and losing) friends, and getting your opinions heard. The first step of course, is to actively find people to follow. The only way you yourself are going to gain followers is to first follow others.
There are many ways in which you can find accounts to follow:
Search your contacts list – Twitter will have access to your contacts (they know all), and will be able to tell you who does and does not have an account. Only follow those who you would be happy to follow you back. You can easily and effortlessly sync your contacts to find who you know in Twitterland.
Search keywords for accounts you would be interested in – If you like basketball, search for #basketball and all basketball-related accounts will appear. You may not know them personally, but they will be of interest to you. You get the picture!
Find friends of friends, or search accounts that your friends follow – Chances are, if you have a close friend on Twitter who is interested in the same things you are, then find out who they follow. Can you see how Twitter is suddenly turning into one big connected network? 
Be Careful Who You Follow And What You Tweet
Learn from the celebrities' mistakes! No matter how few followers you might have, the internet has a way of sniffing out controversial or offensive content.
The general rule of thumb is if you would not be happy with your mother, boss or spouse reading it, then do not tweet it.
Learn from Kanye. Don't be Kanye unless you want to end up on Ellen trying to justify your Twitter rants.
Keep Your Private and Work Life Separate
If you think that mixing business with pleasure is a good idea, then Twitter might not be the best platform for you. Unless you have a business Twitter account (and why would you), then leave colleagues and especially your boss away from your account.
What you might find hilarious may actually be seen as offensive to your boss, and this can affect your career prospects. So unless you want to be fired, heed this warning!
Don't do this. This is never a good idea, especially if you have been drinking!
Keep it Interesting
Surely I don't need to explain why it is important to keep your account interesting. There is no point in having a Twitter account unless … there is a point to it.
Images speak a thousand words. You'll find that the most interesting and popular Twitter accounts are the ones that post images and videos. Except for celebrity accounts of course – celebrities don't need to be interesting to get millions of followers (Kendall Jenner being a prime example). So unless you're a celebrity (why are you reading this), add a TwitPic (picture) or TwitVid (video)!
How boring would this Tweet be without the image?
Either be completely serious or completely funny. Never be in the middle. Both news accounts which are completely serious (and are used as points of reference), and comedy accounts (which exist for humour) are the most popular accounts on Twitter. If you have to choose between the two – always choose humour. People are more likely to stay interested and not be offended if the level of comedy is high. Take Will Ferrell as an example. He is annoying, yet he is hilarious. So he wins.
One search of #humor returned three moderately funny posts. Be at least moderately funny.
In a Nutshell
There is nothing stopping you from getting a Twitter account except yourself. But while everyone is ABLE to have an account, believe me when I say that not everyone SHOULD.
Make sure that you earn the right to have Twitter and be followed. Follow these basic rules, and you will ensure that your personal self and Twitter self (Twittelf?) coincide in harmony.
Social media can ruin lives and careers. Don't be that person. Be Will Ferrell.
About Julie
Julie Martin is a content writer and editor on math assignment blog MyMathDone. She makes a research about the influence of social media activity on future success in career field. You can catch her on Facebook, Google+ or LinkedIn for more information about getting the most of your social accounts for reaching career goals.
Bonus 33 Free Templates
Download the 33 free templates from Toby and Adam's book.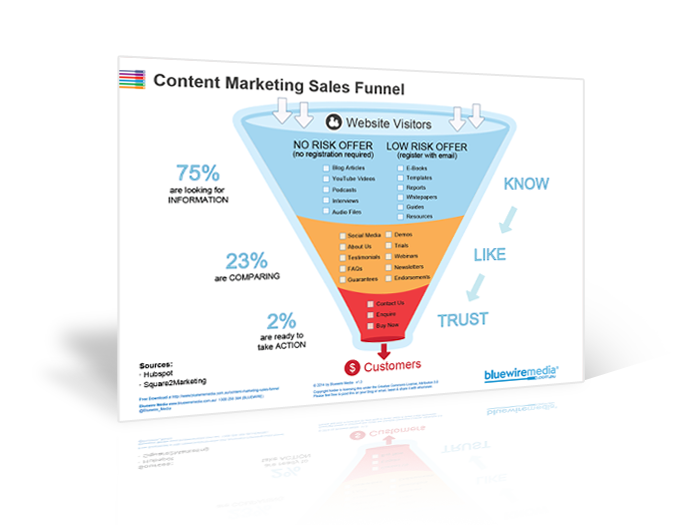 Content Marketing Sales Funnel
Your content marketing sales funnel is all about getting people to know, like and trust you by nurturing them with the right information at the right time.