Why I don't use captions on many of my videos [#42]
Updated on June 3rd, 2019
[North Adelaide, South Australia]
Here's why I very rarely get captions on my videos.  It's not because they aren't useful but I find it faster and easier to get the video up and then just get a transcript for the blog.
VIDEO
TRANSCRIPT:
Good day. It's Adam Franklin here. Behind me is the Lion Hotel in North Adelaide where I'll be running my workshop tomorrow. And the thing I want to talk to you about today is another thing that I know that I do wrong on these videos, but I do it anyway. And I want to explain what it is and why. So what I don't do right is I don't put captions on all of my videos. Now I know that 70, 80% of people watch videos on social media with the volume turned off. And I know that captions can convey that message better. But the reason I don't is partly because I'm lazy and partly because if I cut out that step, it means I can get my content out faster and keep that momentum without it becoming too much of a chore.
So I do also believe that the thumbnail tile over your video can convey the message quite well. And I also believe that a lot of what you talk about can be conveyed in the text that accompanies the video. So in LinkedIn or Facebook or YouTube you've got an allocation of text where you can also convey your message. So for me, that's enough to use that text to mirror what I'm saying in the video as well. So that makes it faster. I can just airdrop or take the video, edit it on my phone. with i-Movie, I put a title sort of super, I guess you'd call it in in video jargon, the words underneath me of what the video's about, I airdrop it to my computer, I upload it to LinkedIn and to Facebook and to YouTube. And then I'm done.
I then also after the fact, I then get a transcription of what I say. So that can form the text of a blog post or a Facebook post. But I don't bother doing the captions. I would have to convert the video file format and add the captions in. And sometimes the caption is actually overlay over the way I've edited the video. So that's why. Hope that makes sense. Talk to you in the next video.
100 videos in 100 days. Want more?
This is part of my 100 videos in 100 days challenge.
For all my videos, join my Facebook page
For more videos and tip, let's connect on LinkedIn:
Or subscribe via my website and download my popular Web Strategy Planning Template.
PS. When you're ready, here are 6 ways we help
consultants & advisors

grow:

1. Web Strategy Planning Template (PDF). Our flagship 1-page tool we co-created with David Meerman Scott. It's been downloaded over 1 million times and featured on Forbes.

2. Read a free chapter from our book. Web Marketing That Works --- an Amazon #1 best seller.

3. Join the private group on Facebook. Access free training resources, and hang out with 2,300+ peers.

4. Discover your marketing score. Take the 40 point Marketing Scorecard (in < 6mins) and get a customised report.

5. DIY for $7. Get the Complete 50+ Script Library for connecting with people to winning clients.

6. Let's brainstorm how to fill your marketing funnel.

DM the word "INTERESTED"

via Messenger

 or 

book a 20 min slot to talk

 on Zoom.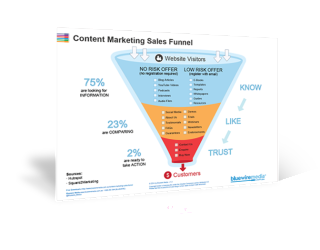 Content Marketing Sales Funnel
Your content marketing sales funnel is all about getting people to know, like and trust you by nurturing them with the right information at the right time.