How to Use Videos In Your Cold Outreach to Generate Fresh Leads
Updated on July 1st, 2020
Using Cold Video Outreach for Leads
While most of the content delivered through digital marketing is written, video is gaining ground as a favored marketing medium. Compared to 2015, when just 78% of marketers considered video an important element of their campaigns, over 92% of marketers placed importance on video in their marketing campaigns.
Using videos in your digital marketing campaigns will help you connect with your audience fast. It's why the big advertising bucks are reserved for Television. However, you can also use video in other more traditional parts of your business.
In this article, I'm going to show you how to use video in your cold outreach effectively.
Why Should You Use Video In Your Outreach
Written content in email is fine. You can solely rely on written copy for outreach campaigns, and it is effective. However, by experimenting, and you should always experiment, you can improve your response rates.
The first time I came across video outreach was from Daniel Di Piazza. He used a mixture of email and video outreach on eLance to land web design clients. There were four reasons that he decided to use video in his outreach:
You can use video to make a connection with people fast
You can transmit a lot of information in a short period of time compared to text
At the end of a video, you feel like you've got to know the person
Nobody else was doing it, so why not be different and stand out
That fourth point is important. I'm a big believer in trying to break away from the crowd. Anything you can do to disrupt your niche will help you grow faster than the herd, who are all doing the same thing.
In the rest of this post, I'll share how I adapted his video outreach strategy to land leads for my business. Hopefully, you can adapt the framework I use to land leads for your business. Let's get started.
Send an outreach email to introduce yourself
When you send the first outreach email, your goal is to get hold of the person in charge of purchasing, procurement, or marketing. When you have their contact details, you can start your outreach campaign.
An outreach email with video could be as simple as this:
That was quick and painless, right? At the end of the email is a postscript with your primary Call to Action (CTA).
Placing a CTA in a postscript is a classic copywriting trick. It's the last thing a person reads. Plus, people know that a PS always contains essential information or juicy gossip.
In this instance, the CTA sends the person to Youtube. If you're running a basic outreach campaign, a 3-5 minute outreach video on Youtube is good enough. I used this strategy almost four years ago to land partners for software promotions with an email with a link to a Youtube video.
Here's the copy I used.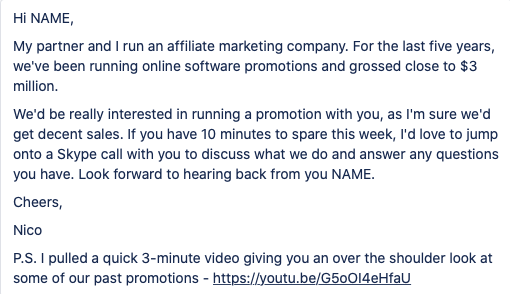 The email copy has a simple value proposition. The primary CTA is a link to the Youtube video. I used a template, so I could have one of my colleagues do all of the outreach.
Here is a screenshot of the video. It started with a piece to camera and then transitioned to a screen share with me talking in the bottom right corner. Then I ended the video with a final piece to camera with my call to action.
Generally, people watched the video, which provided social proof, and then hit reply to the email.
We grossed five-figures from this outreach campaign that secured a couple of partnerships before we knocked the offer on the head.
If I were going to rerun this same campaign, I'd send people to a custom landing page or push them through a sales funnel. You can do this in 10 minutes with some sales funnel software. To maximize your response rate, you'll want to send a couple of emails as part of an outreach sequence. Below are some potential follow-ups you could put together for your sequence.
Follow up on the initial outreach with client testimonials
Some prospects never bother reading outreach emails. There are others that your email tracking for Gmail shows have read your message but never get to send a reply for one reason or another. Are you going to just give up on these prospects?
The second email in your outreach sequence is meant to lay on the social proof.
I recommend sharing a case study or some other form of social proof that establishes your authority. Think about it.
Let's put yourself in the shoes of a prospect. Are you likely to trust someone who doesn't have an existing client base, or would you rather give your money to a business that has a proven track record of addressing client concerns? I can't blame you for taking the second option. Testimonials show that your business delivers as promised, and that's what you want to spend money on.
Convince your prospects with free content
The final email in your series is "the close" – you know, where you give up before annoying the hell out of the prospect. In this email, you can make your last appeal.
I recommend making a free offer. This could take the form of a free report or consultation.
Many companies use a free report or white paper to show their industry expertise. It's an effective method of telling your prospects, Hey, we know our way around.
Please don't create the report before they answer. There's a good chance the person you are emailing will never respond. However, some will. For those who respond, well, you'll need to rush to create a professional-looking report that feels as if you spent weeks working on it.
Using a good template will help with this.
Useful tips for incorporating video into your email
After discussing how and why you should use videos in your email sequences, I'd like to give you some tips for producing videos that do the job well.
Write engaging email copy and create a meaningful thumbnail
You can't just send a link to your video and leave it at that. You have to convince your email subscribers that the link you're sending will be useful to them. I don't like spam (except for the variety that has little cheese bits in it), and for me to read and respond to your email, it has to engage with me even before I've opened it.
The first thing you could do with your email copy is to create a nice subject line. You can either create a subject line that is interesting or factual — both options work.
When writing your email, I recommend you keep your copy brief and to the point. Aim for 3-4 paragraphs. Remember, in most cases, you are emailing a busy stranger that does not have the time to read your content.
The thumbnail of your video also matters. It should show your product in a positive light. You could even include a personalized image using a tool like PicSnippet:
You don't have to confine yourself to a static image. A GIF, like the one above, works just as well.
Again, you can set up your email marketing software to send engaging emails and push your leads further down your sales funnel. But without quality copy and thumbnails, your video email promotion won't succeed, even with the most advanced software.
Use a tried and tested sales script
Your video shouldn't waste any of your prospects' time. Making a video without using a structured script will only waste your time too.
Here is a sample script you could use:
Introduce yourself and thank them for their time
State the problem you've found and want to solve
Establish your credibility
Tell stories about your previous experience with similar problems
Make a clear call to action
Notice that we didn't include a sales pitch anywhere in the script. Your goal here is to get your audience to respond to your email by getting them interested in your services and your previous experience. Don't make your video too long. Five minutes is usually enough.
Invest in quality video equipment
While you don't need to buy a dedicated video camera, there are tools you could use to create a professional-looking video. For example, a mini-tripod will help stabilize the image, while a ring light will ensure your product receives a sufficient amount of light as you shoot it.
You also don't need to buy expensive software to edit your videos – although the majority of your video should be a piece to camera, you might transition to a screen share when you illustrate your point. Many editing tools give you good results with little effort. iMovie, for example, gives you professional-looking results and allows you to publish directly to YouTube.
Monitor your video views
Video marketing is very much like other marketing channels. You need to monitor your videos' performance constantly to see what's working and what needs to be tweaked. Here are some metrics you should be tracking:
Number of views. This measures your thumbnail's effectiveness.
Average watch time. This helps you identify the point where viewers close the video.
Relationship between views and actions. This measures how effective the video is in terms of making your viewers reply to your email or visit your website.
Once you see what's working and what doesn't, you can adjust your video campaign strategy to attract more views and conversions.
Generate more leads with video content
Video content marketing takes more than a knowledge of video editing, storyboarding, or graphics. It also involves knowing how to get video content across to decision-makers and choosing the right medium. When you combine video content and email sequences, you have a powerful lead-generation tool at your fingertips.
If you have any questions, just let me know in the comments, and I'll try my best to reply.
About Nico Prins
Nico is an online marketer and the founder of Launch Space. He helps companies develop their digital marketing strategies and make money blogging.
He's worked with everyone from Fortune 500 companies to startups helping them develop content marketing strategies that align with their business goals. Follow him on Twitter @nhdprins.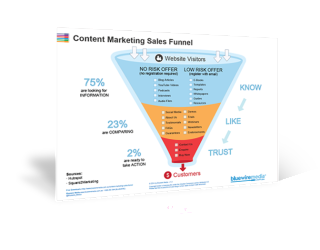 Content Marketing Sales Funnel
Your content marketing sales funnel is all about getting people to know, like and trust you by nurturing them with the right information at the right time.