Website Speed Optimization: 3 Reasons Your SEO Strategy Needs It
Updated on March 5th, 2020
Website Speed Optimization
SEO strategy encompasses many elements. Website speed optimization is one of them, and it plays a critical role in the ultimate success of your website. Basically, speed refers to the amount of time guests have to wait for a page to load.
Since 2010 when Google announced that speed would greatly impact on website rankings, users have also continued to take necessary steps to improve the loading speed of their sites. As of now, the average time it takes for a typical e-commerce site to load is usually about 7 seconds. However, the best-recommended speed should, in fact, be 3 seconds.
Website speed optimization is critical in overall user experience, and if it's slow it can cost you in so many ways; including reputation and loss of revenue. People value time and speed. It, therefore, becomes an unwelcome inconvenience to meet a page that does not optimize on what users regard most. Therefore, it's not surprising when majority of them bail out on your site and move to that of your competitors.
What you also need to conceptualize is that search engines detest slow speed, and they easily penalize you by moving your site down the ranks. The norm is that search engines are interested, and work extremely well with sites that have excellent speed.
They always value and reward such sites. The trickle effects of such ranking cannot be underestimated. high ranking attracts more users, leading to heavy traffic on your page.
This quickly improves conversion and overall success of your site and business. Whether it's on mobile or desktop, users expect, and associate speed with efficiency.
Some of the reasons why speed should be a great consideration for your SEO strategy are outlined here.
1. Page speed affects traffic and rankings
According to Google's own admission and recommendation site speed is a key factor to overall ranking of your page on the search engine. The faster your site loads, the higher the ranking. The opposite is true for pages that have low-speed, which eventually suffer from user engagement.
Low speed leads to low perceptions of your site; this is normally observed in increased bounce rates as well as low average time on the site. On the other hand, and even more significant is that if your page is ranked high, and is quickly visible, then it probably will also reflect in higher traffic.
In the meantime, if you take the necessary steps to optimize on speed, you stand to reap lots of benefits. Other than ranking, the perception is key. It's common for any business worth its salt to want to have a good reputation among users. The truth is that every second counts, especially for first-time users.
How to improve website loading speed
In this case, when a visitor accesses a page for the first time; the faster your page opens, the better for your site. However, if loading time takes longer than necessary, most users are going to abandon your page and quickly move on to somewhere else. With each passing moment, you lose great opportunities for conversion, which in effect, reflects in business loss.
Once more, if you improve on site speed you also improve on indexation. The reason is that each day that the search engines crawls your site in relation with the relevant keywords, your site continues to move up the ladder. Also, Googlebot spends its time as efficiently as possible when crawling any site that comes with fast-loading speed.
How to make web pages load faster
If you have a large e-commerce site, good indexation makes your site and products visible to a large number of users. But sites with slow speeds have their indexation highly affected. It is because the same search engines if they cannot crawl your site for days or weeks on end, your site is penalized by being moved down the ranks.
2. Fast Speed Improves Conversions
According to a number of research studies that have already been done, fast loading pages have a way of quickly converting. Reason being that the speed at which page loads impacts greatly on user experience, and then trickles down to the success of your website.
There are just two things that happen; if your speed is slow, and then you quickly lose users to your competitors. On the hand other if you page is loading fast, you receive more benefits from the heavy traffic, most of which convert because of first impressions and other characteristics.
Clearly, there is always a definite interconnection between fast loading speed of a website and high conversion rates.
3. Speed Is Important For Mobile Devices
Most users are using mobile device to access sites and conduct business. As much as they are on the internet, they also value their time, and they expect websites to load even faster. Among the key parameters for websites, are fast loading pages. It is what guides their impression of your page. It is not about the web design anymore. Rather, navigation and speed are what takes precedence over everything else. If your page is not loading fast enough then your site will quickly suffer.
Improve page speed WordPress and other websites
The best news is that your website can benefit from numerous Google suggestions that are easily available; which can to ensure that your site is loading with the required speed. This includes formatting and reducing image sizes, reducing the response time of the server and avoiding redirects to landing pages.
Regardless of whether you are on WordPress, Wix or any other sites there are so many other inventions to utilize and help your sites speed on mobile devices.
Conclusion
Website speed optimization is necessary to making an impression on users. Again user engagement, and conversion just like ranking, is important characteristics that lead to the success of your website. The effects are cyclical in nature; such that speed impacts on user experience, which has a direct effect on search ranking. It then trickles forth to even more traffic and subsequent conversion rates.
Therefore, among other elements that come into your SEO strategy, fast loading speed should take center stage. The good news is that it's possible to take a number of measures to ensure that your site's speed is performing well. Some of these measures include having to cut down on unnecessary files, and utilizing an effectual catching plugin. You can also reduce the sizes of images on your website.
About Lisa Webner
Lisa Webner is from The Hosting Institute.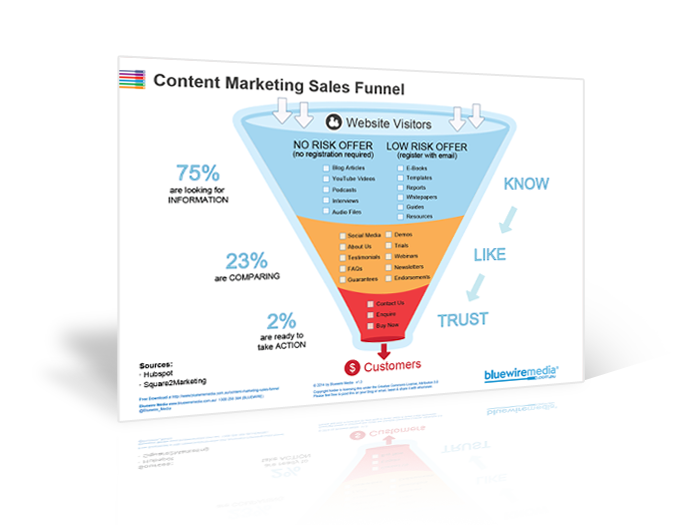 Content Marketing Sales Funnel
Your content marketing sales funnel is all about getting people to know, like and trust you by nurturing them with the right information at the right time.