Weekly round-up (Vol. 71)
Updated on January 20th, 2022
Building Online Authority: Have You Given Up on the Sale? – Search Engine People
You've probably read a lot of suggestions on how you should be using social media with your business – it can be pretty overwhelming! So many of these suggestions revolve around focusing on your consumer, providing content and backing off on the hard sale. So it's refreshing to read this article on how you can hit a balance between these things and still selling your product or service.
4 Tips for Writing SEO-Friendly Blog Posts – OPEN Forum
These tips are both easy and effective. Keep your blog posts human-readable while also making it easier for Google to understand what you're writing about.
Twitter Launches Official iPad App – Mashable
If you have an iPad, grab the official Twitter app now! This app uses the touchscreen capabilities in really interesting ways to make the most of what the iPad was made for: media consumption.

Lessons Learned after 5 Years of Blogging – Perishable Press
Jeff Starr's lengthy article is a good read about his blogging experience over the past 5 years, his lessons learnt and the paths he's decided on. Most importantly, he says to "be yourself" when blogging: be honest, real & sincere; work, learn & share; think for yourself; and, stay calm and take advantage of criticism. Be more than just a blog full of round-ups!!!
How to tell if your Company is Advanced: 10 Criteria Of Social Business Maturity – Web Strategy by Jeremiah Owyang
This article is talking about maturity in your use of social media, which isn't initially clear! With that in mind, I particularly like these points: 1) Clear understanding of customers' socialgraphics, 5) Thriving advocady program: customers are actively selling on your behalf, and 6) A community of customers supports each other, reducing support center calls. Are these true about your company?
The Three Key Elements of Irresistible Email Subject Lines – Copy Blogger
Brian Clark takes influence from the fundamentals of headlines to explain how to write email subject lines that get your emails opened. From tips like identifying yourself to getting through spam filters, following this article should help you write some amazing & effective subject lines!
152 Social Media Policies – Social Media Governance
Check out the social media policies used by companies like the BBC, FedEx, Kodak, Telstra and Yahoo!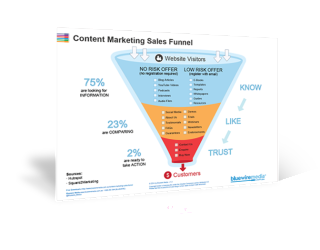 Content Marketing Sales Funnel
Your content marketing sales funnel is all about getting people to know, like and trust you by nurturing them with the right information at the right time.