What good clients do well [#29]
[Highway Hotel, Bunbury, Western Australia]
Question
"What do good clients do to get the best results?"

Answer: They implement quickly and they don't over think it.
VIDEO
TRANSCRIPT
Hey, guys. It's Adam Franklin and I'm just here in Bunbury. Today's topic is things that clients do that work really well.
So the first thing really is just to, don't overthink stuff. Like I just off a call today in the car with a client who said, "I implemented what you said," it was a very simple approach of inviting people that you connect with on LinkedIn if they want to be a part of a very short survey, we'll then share some of the findings in an article. And so he's reached out to a whole bunch of people, 15 responses, so the moral of that story is just don't overthink stuff. If you've got the homework just get in and do it as quickly as you can, and should hopefully, get results like this client. Take care, see you later.
100 videos in 100 days. Want more?
This is part of my 100 videos in 100 days challenge.
For all my videos, join my Facebook page
For more videos and tip, let's connect on LinkedIn:
Or subscribe via my website and download my popular Web Strategy Planning Template.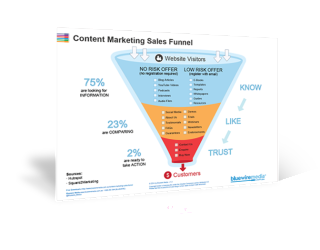 Content Marketing Sales Funnel
Your content marketing sales funnel is all about getting people to know, like and trust you by nurturing them with the right information at the right time.