What I wish I knew about social media
Updated on May 2nd, 2016
 Let me admit what social media was like for us 2 years ago. HARD WORK.
We were social media and marketing professionals — total advocates of the power of social media — yet it was increasingly hard to keep on top of it. And it was frustrating.
We had a decent blog but we seldom promoted the articles via social media as well as we should, yet we knew exactly what needed to be done.
We had a Facebook page that we struggled to keep up to date, even though it had helped us save $13k in recruiters' fees (because it helped attract a key team member).
We had a Twitter account and we battled to keep up with all the replies and thank yous — even though it was a Twitter exchange that had been responsible for us landing a meeting with the CEO of a billion dollar company.
We knew social media worked, if only we could find the time and resources to do it properly and consistently.
We felt stuck.
We had seen the incredible power of social media first hand, but we weren't keeping up with it like we should. There were so many social media platforms and new ones kept popping up like mushrooms. We were social media pros and yet we couldn't even keep up.
We spun our wheels trying to do it all. We had the nagging voice in our head saying that we needed to be doing more and we should be doing it better. We felt guilty.
The reality was we weren't in control.
Fast forward 18 months…
We are no longer slaves to social media, nor are we neglecting it. We are in control and have confidence that our best evergreen content is being shared systematically on the social media platforms that are most meaningful to us, our readers and our customers.
Now we are free to focus on the high value social media activity — namely content creation and relationship building — which happens to be the stuff we love as well. Instead of getting bogged down in the social media minutiae we've been able to focus on the most important things.
We have been able to start a podcast and release 73 episodes in less than a year. Aside from the value of the content itself and the exposure on iTunes, the massively underrated element of this project has been the relationships that we've created with guests on the show.
In that time, we've even had time a to publish a book, plus we've released 10 more marketing templates for our readers. Our blog has gone on to be named the best Australian business blog for this year and we've increased the amount of time we spend teaching other people how to master social media for their business. This is all high value work and very enjoyable for us.
What you do with the extra time is up to you.
Like us, I'm sure you have plenty of projects on your To-Do list that you'd love to sink your teeth into if you could just get some of the social media minutiae off your desk. If you're a marketing professional or business owner, there are always high value, strategic and fun things you'd love to do.
Whether you want to connect with some more influencers in your field, write an extra blog post or start a YouTube channel, it is possible to free up the time for these projects by mastering social media. We can show you how.
What changed for us?
We built a system.
Firstly, we realised what we needed to master ourselves and we only did that. We focused on what only we could do which was creating our own content and forming relationships. Now that's all we do. And as for the rest? Well…
Secondly, we delegated everything that someone else could do better than us. We recruited a small team of editors, contributors and social media assistants. And we worked with them and designed processes for everything that needed to happen.
Thirdly, we automated the tedious, repetitive things like posting blog content on social media platforms. We discovered amazing tools like Buffer, Meet Edgar and CoSchedule that freed up hours per week.
Fourthly, we ignored (and importantly gave ourselves permission to ignore) much of the noise and distraction that is associated with social media.
This extra time has also given us extra head space. And, if the truth be told, the social media system we built has also eliminated the guilt we'd been feeling earlier. We've broken those shackles and it's been a weight off our shoulders.
How about the ROI?
Once you put a value on the time you free up, not to mention what projects you can work on it that time, it begins to stack up.
Plus then factor in having your best content shared consistently on social media and think of all prospective customers who will interact with it, join your online tribe and eventually buy from you.
For us, many of our paying customers originally found us through social media and most of the relationships we've built with influencers started out via social media interactions. Your mileage will vary depending on how much effort you put in but the results (and freedom) are easily achievable.
Why have I shared all that with you?
Well Toby and I have been taking everything we've learnt and implemented over the last 18 months and have created 4 powerful modules for the Social Media That Works Online Course.
This is the exact social media system we use and it is now available to you. It's what we wish knew about social media 2 years ago!
Check out the Social Media That Works Online Course.  Enrolment is open and early bird pricing is still available (until 18th April).

This was first released on the Bluewire News. Join over 17,000 fellow marketers who get the weekly email and subscribe here (you'll also get our 33 free marketing templates).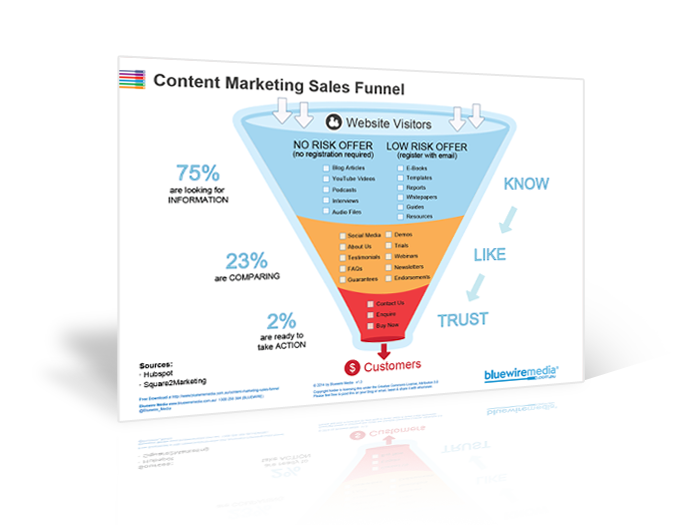 Content Marketing Sales Funnel
Your content marketing sales funnel is all about getting people to know, like and trust you by nurturing them with the right information at the right time.