What if people copy me? [video #17]
Updated on April 20th, 2019
[Woodford, Queensland, Australia]
Friends and clients often ask, "What if people copy you?"
I personally choose to take it is as a compliment and here's why.
VIDEO
TRANSCRIPT
Good day. It's Adam Franklin, and have you ever felt hard done by when, say, somebody copies your work and doesn't attribute it properly? It's actually the question that I get asked quite a bit is, what do I do when people plagiarise or copy or very closely emulate my work? This is a discussion I've had with quite a few people, and for me, it's one that, with my work, I draw a line in the centre with all my blog posts, all my templates, all the stuff that I publish for free, I explicitly put on there released under Creative Commons, which means you're free to copy it, build upon it, use it commercially. That's up to you.
The reason for me doing that is because I want to add value to the marketplace. You don't have to, but it's certainly becoming more and more the trend because as marketers and business owners, ideally, we want people to know about us and to trust us, and the best way to do that is to help them achieve something, help add value to their life. That's why a lot of content marketers, including myself, release the templates and whatnot for free.
That said, if it's my premium paid courses or my keynote presentations or anything like that, it would be a different story if people were plagiarising those, so those are essentially copyright. I hold the copyright and I say be respectful of the IP. I've never had to chase anybody up or ask them to remove stuff. I think I'd be prepared to though because that is where we we make our revenue, but for a lot of other people like particularly creative work writing or designs on Instagram or Facebook, if people do emulate or essentially, it might feel that they're copying it, my advice is … what I encourage people to do is to take that as flattery. "Imitation is the sincerest form of flattery" according to Oscar Wilde, and I would choose to view it that way rather than getting upset by it, rather than feeling like, "Oh, my God, people are copying me."
That said, I can get the irritation with it too because it might feel like if other people are copying you, then maybe other people think you are the copier and not the other person, so I do get it, but look. At the end of the day, it's much better to have to work that people like and emulate and borrow, and that's much preferable to me anyway than being in the position where nobody even notices your work, that nobody finds it good enough to emulate, and that people don't bother learning from it or being inspired by it because it's too mediocre.
They're two sides of the coin, what to do if people are copying your work. If it infringes on your copyright, which you hold, by all means, do something about that, but if you want your work just spread far and wide, release it freely under Creative Commons. At the end of the day, if people are just inspired by your work and want to emulate it, take that as flattery. This is my advice. Thank you. See you next video.
100 videos in 100 days. Want more?
This is part of my 100 videos in 100 days challenge.
For all my videos, join my Facebook page
For more videos and tip, let's connect on LinkedIn:
Or subscribe via my website and download my popular Web Strategy Planning Template.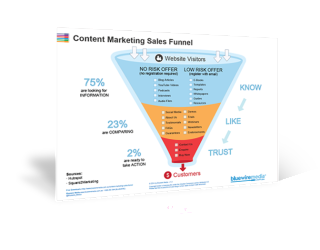 Content Marketing Sales Funnel
Your content marketing sales funnel is all about getting people to know, like and trust you by nurturing them with the right information at the right time.