What Is Social Proof (and Why It Is Important for Social Media Marketing)
Updated on September 13th, 2020
Today's online buyers are much more sophisticated.
Buyers these days have a unique taste and many unique ways to decide what and when to buy. As entrepreneurs, our job is to make our customers desire our products enough to hand us cash.
So we lean on marketing and psychological techniques to achieve this. Although many of these techniques have existed since the beginning of time, they are more prominent now in the internet marketing era than ever.
Among these techniques is social proof. Online buyers are more influenced by social proof than any other time in history. Social proof today is a simple but effective way of influencing online users to take action.
If you are looking to boost online sales, you'll learn in this article why you need to implement social proof in your social media campaign.
Let's dive in.
What is Proof in marketing?
In the marketing context: social proof has more to do with people. How they feel and act based on the actions of others.
According to social media experts, online users make decisions based on the testimonies or recommendations of other online users; it could be someone they trust, someone they like or their friends, acquaintance, or family.
Look at it this way, social proof is the trust currency of the internet When people gush about your solutions, others trust that you can deliver.
And the best part is.
Social proof can come in different forms on the web. Some of the most popular forms are testimonials, user reviews, influencer endorsements, ratings, clients' case studies, social shares, and many more.
Here are key reasons why social proof is important in social media marketing;
Why social proof is important in social media marketing 
Shared emotions are contagious: especially online.
And if you're thinking – mob mentality, you are certainly close to it.
Psychology shows us people mimic the actions of others in an inherent need to conform. Humans are social creatures. We love to belong to a community or a pack.
With the internet- a massive linking web. people can share their emotions with others millions of miles away. This is why social media marketers should always strive to develop a positive persona and messaging throughout their brands.
People are always looking for a sense of belonging. This is why Facebook and Reddit communities are popular. Online users look for shared thoughts and validations for their idea. And also. a sense of connectedness.
Online communities and forums are a goldmine for prospective customers.
Apart from helping people engage with like-minded people, they give people a sense of belonging. Online communities are also a great avenue for communicating with your customers. This is where you build credibility and enhance your brand reputation.
As an internet person, you've heard that the best form of marketing is done by satisfied customers or some variation of this. Whether on the Internet or In real life, the phrase is still relevant to this day. This is because – we can't help but share information.
Psychology proves that people love to talk about themselves.
So what does this mean for you as a social media marketer?! A chance to listen to your customers' pain, get your solutions in their mouths, and win trust currency.
When online users gain new information from someone they know or trust they are most likely to trust the information. This is the expertise and credibility factor that comes with social proof. People with more specialized knowledge can lead to the opinions of others. Think – influencer marketing. Today, brands build trust currencies on the internet by providing valuable information and becoming experts in their industries.
Online users gathering information from people who've used a product or service before making up their minds to buy. Research shows that 70% of online users check the product reviews before buying.
Think about it.
If you wanted to buy a product that you can not touch or feel, how else would you find out if that product is the right one for you?
This when you check out your favourite celebrity: reach out to a friend, make inquiries on your online communities, and revisit your favourite blog sites.
And this is the biggest reason why social proof works in social media marketing.
5 ways to use proof in SMM
For digital marketers, implementing the best social proof for your marketing campaign can improve your conversion rate as well as your churn rate. However, you need to use them in the best ways to get the best results. 
Here are a few best practices to make social proof work for your marketing;
Deliver on your promise:

As we discussed the best form of marketing is word of mouth. If your product or service solves the needs of your customers, they will sing your praises on their social media pages and direct their follows to your service. You should look to improve your product or service to get them in the mouths of as many people as you can.

Build a positive brand persona:

People associate with a positive message more than a gloom or negative message. Make sure your persona is inviting and charming to get your potential customers open to engaging with you.

Engage with your customers:

One of the

best ways to leverage social media

is by engaging and creating strong bonds with your customers. Knowing your customers' pain points and solving them is a great way to earn social proof.

Use actual social proof:

Whether you are using testimonies, client reviews, case studies, or other forms of reviews: make it believable. Your best bet is using actual social proof. The best one you've got And oh, make sure the social proof is relevant to the solution you are solving.
Conclusion 
As an entrepreneur understanding behavioural psychology can help in persuade prospects to try your service. Social proof is one of those techniques, when correctly implemented in your social media strategies can help you sell your products.
About Richard Giuliano
Richard Guiliano is the Australia Sales Director at Dot Com Infoway Pty Ltd and he is responsible for all customers within Australia. He has 30+ years of experience in Sales, Marketing, and Product Management.
He comes equipped with a good set of skills to interpret how a product can meet customer needs and also helping companies to market their products.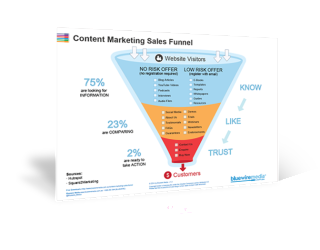 Content Marketing Sales Funnel
Your content marketing sales funnel is all about getting people to know, like and trust you by nurturing them with the right information at the right time.