Why You Need To Invest in Evergreen Content
Updated on April 12th, 2017

Regular, consistent and sustainable traffic…
That's what you want from your content marketing efforts, right?
Because more sustainable traffic will mean more leads and eventually more sales.
But how do you make it happen? What TYPE of content delivers the most traffic to your website over time?
It's the type of content that doesn't go out of style. It's helpful and interesting today and will still be helpful and interesting in 6, 12 or 18 months time.
It's evergreen content.
What Evergreen Content Isn't
Before we talk more about evergreen content and what makes it compelling, it's helpful to discuss what evergreen content isn't.
Let's take Donald Trump for example. At the moment, Trump is perhaps one of the most talked about men in the world because he is engulfed in a presidential election. Everything he does or says makes the front page news, especially when he says something that's controversial.
But by the time this election is over and the next President of the United States is elected, we will, in all likelihood have forgotten all about Trump's campaign and moved onto other important issues. After all, how many of us remember Mitt Romney's political campaign of 2012?
Newsworthy content that is heavily restricted by a point in time is not evergreen, it's time bound.
Evergreen content is something that stands the test of time and has a certain permanence about it. The results of last week's UEFA Champions League matches or the latest box office report of 'Star Wars: The Force Awakens' are NOT evergreen.
Evergreen Content – A Definition
Evergreen content is content that remains fresh forever (or at least a long time).
Just like the evergreen trees we use to decorate our homes during Christmas, that remain perpetually green throughout the year, evergreen content retains its value through the ravages of time.
When you write an article on, say, "How to impress a girl on your first date?" or "How to teach your kids to ride a bike?" – that is an example of evergreen content. Regardless of how fast time passes by, some things always remain the same, whether it's parents teaching their kids certain basic skills, such as riding bikes, or tying shoe laces, or single young men wanting to know what it takes to impress the opposite sex.
Evergreen content is something that is sustainable and long lasting, far beyond the date of publication of the content. A report of the latest football match, a journalistic report on the United Nation's stats for May 2014, the latest Hollywood celebrity gossip, this season's biggest fashion trends and fads, and so on, are not evergreen content.
Before you know it, people will have moved on, and nobody would be interested in reading about who George Clooney dated in 2012 (a WWE wrestler), when he has already got engaged to somebody completely different (a human rights lawyer). These are short term articles with limited life spans.
Evergreen content refers to a long term article or blog post, that will always be useful to internet surfers seeking information many years into the future. Such long term articles will attract internet traffic year after year, without fail.
Why It Pays to Write Evergreen Content
To truly understand the long term profits that you can make from Evergreen content – think of it just as a value investor looks at the stock market. Nobody likes to hold onto a stock for a long time, it's really quite boring. We prefer to buy and sell straight away, as soon as our investments spike a little. But does that make you money for the long term? Evidently not, else most day traders or swing traders would be billionaires, not a long term investor such as Warren Buffett.
It is the same with evergreen content. When you create evergreen content, you're increasing your chance of building traffic to it over time. Sure, short term content can get you immediate traffic – but to what end? And for how long?
The chart below shows traffic from both strategies – an evergreen content strategy and a regular, short-lived content strategy.
A "flash-in-the-pan" piece of content, gets you super high traffic for about X days, and before you know it, just like a shooting star, the traffic first diminishes in brightness, before fully disappearing or coming to an end.
The evergreen content strategy gets traffic for a considerable period of time. A quick comparative calculation of both strategies tells you that the total traffic from evergreen content by far exceeds that from 'flash-in-the-pan' or short lived content.
Some of the top producers of Evergreen Content are:
All these sites enjoy great traffic from internet surfers from all over the world, and easily rank among the top searches in their respective fields. Wikipedia for instance is ubiquitous on Google search results for almost anything. To the list you may also add question based sites like Yahoo Answers and Quora who really are crowdsourced evergreen content sites.
If your desired content is already covered by these sites, you should consider just how you can make your content even better, after closely analyzing just how you can improve upon the information given.
You may change things around by increasing the length of your content. For example, if a competing producer of evergreen content has an article such as "5 best ways to optimize your site", you may make it "20 best ways to optimize your site" in an attempt to jump them in the search rankings.
Popular Examples of Evergreen Content
Here are some examples of what people will always be interested in and look for in a Google search, no matter how far ahead in the future.
Any informative "How To" article about things that always remain the same – "How to keep your house clean?", "How to build a sand castle?", "How to get a lucid dream?" – You get the idea.
Tips and tricks articles – "Top 5 Tips on saving money!", "Top 10 Tips for Acing Your Job Interview!" and so on.
Anything about history – the JFK assassination, the evolution of computers, or maybe how the various Ford models since the very first Ford Model T changed over the years. There is always a great demand for a quality article based on historic events.
Posts that track something – This could be a yearly post that is updated constantly. Moz.com, for instance, has a popular article on Google Updates, which is updated with every new update to Google's algorithm. This is a prime example of evergreen content and very popular among those interested in tracking how the Google algorithm has developed over the years.
Infographics, tutorials and videos.
How to Write Evergreen Content
Here are some quick tips on writing evergreen content for your website;
When creating evergreen content, the idea is to create something extremely useful about a topic that people want to understand. Help them access that information by keeping it simple.
Your content should be narrowly focused on a specific topic. Don't try to cover too many things all at once. Your content should be aimed at a specific niche, and not be too general.
If you're writing on a general topic such as "Delicious, Sumptuous and Healthy Smoothies", and have homemade recipes for around 10 smoothies, you should write different articles for each of the 10 recipes, and then link them back to the main article. Or you may add a new recipe, every now and then and then link it to the main article. This approach helps with your SEO performance.
Suppose your evergreen content has a limited life span. Take "10 Tips for Using your iPhone" for instance. Apple comes out with a new iPhone model every year. So, while the very first post that you had written on iPhone tips in, say, 2007, was helpful then it will need to be updated to make it evergreen.
Link to other great content
Don't be afraid to link your content to great content from other websites. Your readers will appreciate the additional value, plus search engines see this as a quality factor.
Evergreen links stands the test of time. Photo by C/N N/G, licensed under Creative Commons
Keywords
There is no point in writing great evergreen content if people don't look for it on Google or Bing.
You should keep your articles very narrowly focused, work hard on your keyword research, and make your web page SEO optimised.
Don't give your content a title that is smart or funny, but one that is focused on the keyword and the user's search intent – it could be boring, but it should be something that is search-friendly. For example, its quite common or even likely for the search query to be constructed like a question – "how to build a dog house" or "how to fix frozen water pipes".
Conclusion
As you may have noticed by now, this article itself is an example of how to create quality evergreen content that gives important and relevant information, which is searched for years after the publication of the original content.
The idea is to simply pick a great topic on something that people will always want to know about, and which doesn't change with time. If your content is of high quality then you will attract consistent traffic for years.
About Philip
Philip Blomsterberg has been an Internet entrepreneur and Internet Marketer since 1996. Phil lives in Sweden and has been involved in SEO and internet marketing since the days of Altavista and very beginning of Google. He is the managing director of Intripid and currently holds the third spot for "search engine optimization" in the swedish serp with his blog sökmotoroptimering.se. Follow Philip on Twitter, or connect with him on LinkedIn.
Bonus 33 Free Templates
Download the 33 free templates from Toby and Adam's book.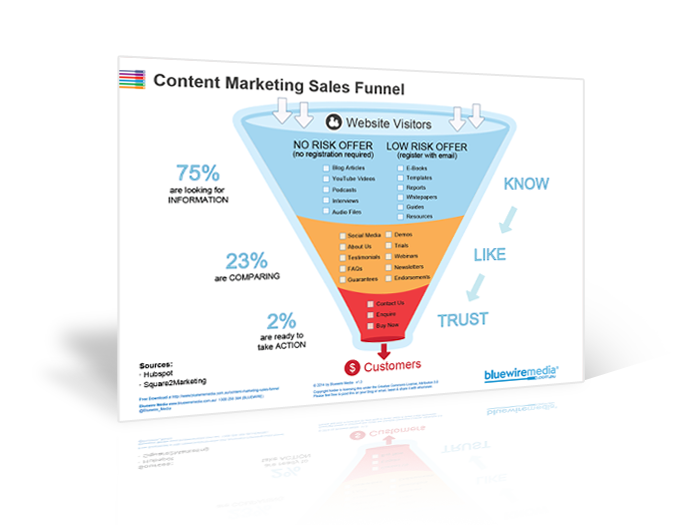 Content Marketing Sales Funnel
Your content marketing sales funnel is all about getting people to know, like and trust you by nurturing them with the right information at the right time.