Why You Should Favour Shares Over Likes (And 6 Ways To Get More)
Updated on November 19th, 2015
This is a guest post  – Karol Kopańko is Quiz Master at 4screens, the company that developed Engageform – an easy to use tool to engage customers on every screen with quizzes, surveys and polls. Follow him at @kkopanko or @4Screens.

Welcome Karol…
Making people share your content is the best way to reach a broad audience.
Unlike impressions that can be bought with click-bait headlines or appealing graphics, you can't fool somebody into sharing your content. Sharing means that the brand is in line with one's philosophy or system of values.
In the beginning let's take a quick tour through the shareability potential of the biggest social network in the world –  Facebook. It's News Feed is run by an algorithm called Edge Rank, which decides which stories are showing up on your screen.
From time to time Facebook tweaks the algorithm in favor of one type of content. In the past, it used to recommend a lot of commercial content created by brands to show how effective social media could be even without big budgets. Then organic reach slowly fell away and some marketers accused Facebook of quietly altering Edge Rank to force them to pay for reach.
Later on, Facebook decided that it finally has to show the content that matters and balance posts from Friends and Pages. They stressed on showing the stories which engaged you and your acquaintances to interact with the content by liking, commenting or most importantly sharing.
Image Source: We Are Social Media
According to the Huffington Post, there are 4 main factors that determine where your Facebook post will feature:
The frequency with which a person interacts with a given person or page
How many likes and comments a person or page receives from people in general
How many likes and comments a person or page receives from your shared friends
How much a person has interacted with a given type of post (e.g. photo, article, video) in the past
It's easy to plunge into the numbers – that's how algorithms work.
But we as marketers should think in different categories. I'm not saying that Facebook likes or YouTube views are bad or unworthy to take into account. But there is a very visible difference when one is liking or sharing branded content.
The infographic below is showing the order of interactions that the marketers should follow. Liking is the least powerful thing that the user can do while sharing is the most important one.
Fortunately, businesses are starting to understand that in the era of content marketing, people are looking for the best content.
When big advertisers were proudly presenting effects of their social media campaigns they used to underline views or impressions. Nowadays the focus has shifted more to numbers connected with sharing. Take the two Cannes Lions Winning campaigns below as an example:
GE – "#6SecondScience Fair" (Facebook Shares, Retweets, Revines)
EA Sports – "Madden Giferator" (Shares, Reblogging)
Image Source: Tumblr
But how do you ensure the shareability of your content?
1. Make it mobile friendly
As Benedict Evans stated: "For as long as the idea of the 'mobile internet' has been around, we've thought of it as a cut-down subset of the 'real' Internet. I'd suggest it's time to invert that – to think about mobile as the real internet and the desktop as the limited, cut-down version."
Your content has to be mobile friendly in the world where more people connect to Facebook and watch videos on YouTube on mobile devices than on PC's or laptops.
2. Go visual
Images, photos, and videos are far more eye-catching to potential readers than simple text.
It's also easier to consume information which is properly structured with key factors underlined.
Image Source: Social Media Examiner
To create appealing visual you can use:
3. Create calls-to-action
Encourage people to share your content by simply asking them to do so. Don't forget to be involved in a discussion and thank for every share.
Here's a call-to-action right now for you to take a quiz about "Where you share your content on social media".
After taking this super-quick quiz you will see what everyone else answered for the same question.
Take the quiz (or click on the image).
4. Remember emotions
According to a study by Facebook Karma, emotional posts are getting up to 10 times more interactions than informational ones. Plus, different emotions will spark different reactions – Joy will be liked, fear will be shared and rage will be commented.
Image Source: CoSchedule
5. Think beyond Facebook and Twitter
Twitter and Facebook are well-known and the biggest social networks in the world, but you can reach more specific audiences with less populated platforms like:
With an active presence on all of these platforms you create synergy and reach for your brand.
6. Develop interactive forms of content
Interactive content can capture an enormous amount of information. This allows you to build rich customer profiles and direct them to personalised landing pages or send them a customised newsletter. This is more than just your average lead, or email subscriber – these are high quality.
What kind of interactive forms of content are there?
Quizzes
White Papers
Games
Calculators
Videos
Here is a Quiz I created titled: "What Coffee Look Are You?".
Conclusion
Don't forget that your most important asset in the world of social networks is great content delivered on a regular basis. The more value you share the more shares and leads you will gain from content marketing. With a reason to come back, you will build a loyal audience of readers, users and customers.
About Karol
Karol Kopańko is Quiz Master at 4screens, the company that developed Engageform – an easy to use tool to engage customers on every screen with quizzes, surveys and polls. Follow him at @kkopanko or @4Screens.
Bonus 33 Free Templates
Download the 33 free templates from Toby and Adam's book.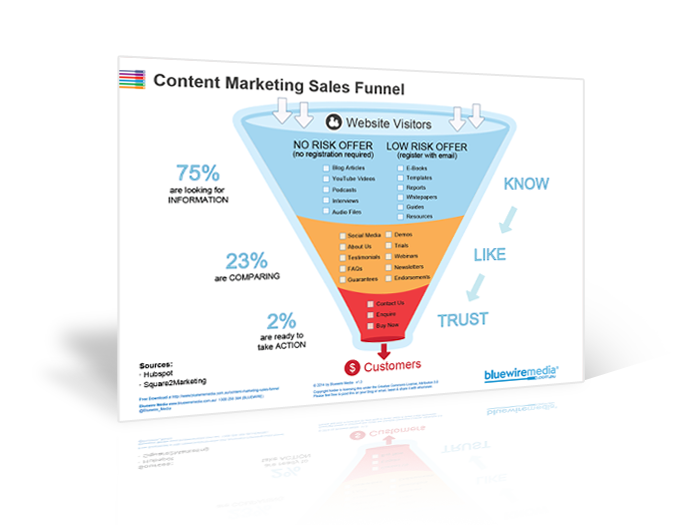 Content Marketing Sales Funnel
Your content marketing sales funnel is all about getting people to know, like and trust you by nurturing them with the right information at the right time.