WMTW 001: How to kick your advertising addiction [podcast]
Podcast: Play in new window | Download
Updated on June 20th, 2014
Welcome the very first episode of our new podcast, Web Marketing That Works.
It is brought to you by our new book, also called Web Marketing That Works and bonus 33 free marketing templates that come with it (free download).
[soundcloud url="https://api.soundcloud.com/tracks/155151876″ params="color=0066cc&auto_play=false&hide_related=false&show_artwork=true&show_comments=true&show_user=true&show_reposts=false" width="100%" height="166″ iframe="true" /]
The book is officially out on May 1st in Australia.
Episode 1 highlights
Kicking your advertising addiction
Toby shares the story of meeting with a couple of business owners in North Sydney who were fed up having to pay over $6,000 per month in Google advertising. The felt addicted and wanted to quit but didn't know how.
Building a web marketing asset
Adam wrote a blog post called Marketing Experiments: Email Content That Gets Clicked. 6 months later we got a surge of traffic when Buffer's blog linked to us. A percentage of these visitors signed up to download our Web Strategy Planning Template and receive our Bluewire News. 3 months after that a Perth business owner enquired about engaging our services. When we traced back ho we had found us, we discovered he was one of the people 'converted'.
Lessons
Advertising depreciates fast vs Web marketing that appreciates over time.
The Web Strategy Planning Template that we mentioned.

Articles that we mentioned:
Marketing experiments: Email Subject Lines That Get Opened
Marketing experiments: Anatomy of an irresistible landing page
Shout outs
Thank you to..
Dan Norris and John Lee Dumas who gave us our first taste of podcasting when we were guests on their popular shows. Thanks for the help and inspiration!
Did you like the show?
We'd love to hear from you, so please click here to tweet Adam and Toby >>.
Also we would be very grateful for an honest review on iTunes (at the time of publishing this show wasn't on iTunes yet. It will be up very soon, thanks!
Bonus 33 Free Templates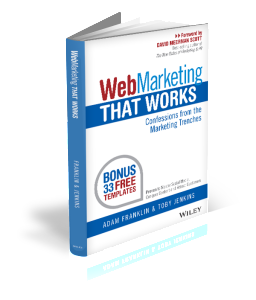 Download the 33 free templates (11.2 MB – zip file) from our new book.
Read the free, 28 page sample chapter (948 KB – PDF)
Or order the book online: Web Marketing That Works: Confessions from the Marketing Trenches (Wiley 2014).