WMTW 001: How to kick your advertising addiction [podcast]
Podcast: Play in new window | Download
Subscribe: RSS
Updated on January 4th, 2020
Welcome the very first episode of our new podcast, Web Marketing That Works.
It is brought to you by our new book, also called Web Marketing That Works and bonus 33 free marketing templates that come with it (free download).
[soundcloud url="https://api.soundcloud.com/tracks/155151876″ params="color=0066cc&auto_play=false&hide_related=false&show_artwork=true&show_comments=true&show_user=true&show_reposts=false" width="100%" height="166″ iframe="true" /]
The book is officially out on May 1st in Australia.
Episode 1 highlights
Kick your advertising addiction
Toby shares the story of meeting with a couple of business owners in North Sydney who were fed up having to pay over $6,000 per month in Google advertising. The felt addicted and wanted to quit but didn't know how.
Building a web marketing asset
Adam wrote a blog post called Marketing Experiments: Email Content That Gets Clicked. 6 months later we got a surge of traffic when Buffer's blog linked to us. A percentage of these visitors signed up to download our Web Strategy Planning Template and receive our Bluewire News.  3 months after that a Perth business owner enquired about engaging our services.  When we traced back ho we had found us, we discovered he was one of the people 'converted'.
Lessons
Advertising depreciates fast vs Web marketing that appreciates over time.
The Web Strategy Planning Template that we mentioned.

Podcast Transcript
Kick your advertising addiction
Adam Franklin 0:00
Web Marketing networks podcast episode number #1.   Hello, listeners. It's Adam Franklin from the Web Marketing That Works podcast, and we're here with our co host, Toby Jenkins. How's things Tobes?
Toby Jenkins 0:39
Hi Ads. Hi, everyone.
Adam Franklin 0:41
Okay, so welcome to the show. This is the podcast for people who love marketing on the web. Toby and I will take you behind the scenes of real life marketing experiments will share the good, the bad and the ugly, will confess what's failed and we will reveal the truth about what really works.
Toby Jenkins 0:59
This show is brought to you by the book Web Marketing That Works, and specifically the tools and templates that go along with it. So if you're keen to download the 33, free templates from the book, please go over to bluewiremedia.com.au/book.
Adam Franklin 1:16
And we'll include a link to those templates in the show notes so that you can download them anytime you like. And the book is due out on the first of May. Now, how about we get into the show? So to kick off our very first episode of Web Marketing That Works, I really wanted to ask Toby a question about one of the meetings he had a couple of years ago, because what we really try and focus on doing with our own web marketing is to solve other people's problems. So Tobes, can you run us through that meeting your head?
Toby Jenkins 1:45
Yeah, sure. So the meeting that Adam's talking about was one over in North Sydney. I've met a prospective client at the time in a pub. And it was a light off like Thursday afternoon and basically we sat down with a beer and they said to me, look, this is what we're doing. We've got Google AdWords running, we've got our website up and running. We're sending out email newsletters, we on Twitter, and LinkedIn, and social media, and all that sort of stuff. And basically, they had, they had a lot of the core elements in place, and we're going through their activity. But then the thing that really struck a note with me was when they said, what we really want to do is kick our advertising addiction, because the problem with the way we're currently marketing is that we're paying Google, you know, thousands of dollars each month to generate leads for us. And what we would love to do is transition from that to this whole philosophy of inbound marketing, where we can turn that tap off because I sorry, they can turn the keep the tap going, because that was the sort of analogies that the ladies kept coming while Google AdWords We're running. But then when they stopped Google AdWords, a tap turned off, which is their late tap and how they were generating their business. And so they really wanted to switch that over. So then the tap would continue running without continuing to having to pay for ads, basically.
Adam Franklin 3:17
So the so the tap that pay to get the tap running, which was Google AdWords, delivering leads and traffic, but as soon as they stopped paying that money, they were worried because the leads would just drop. Right, exactly. Yeah. And so they were looking for a better way to attract inbound leads in without having to reach into their pocket and pay money each and every time to Google.
Toby Jenkins 3:40
Yeah, that's right. So one of the other things was that I've been Google advertising, you know, had been using Google AdWords for quite a while and it found it to be a great way to generate leads. But one of the things that they found was that over the course of 12 or 18 months of advertising with Google Each month there was this incremental increase to get the same result. So every time they were looking to get X number of leads through the door, they were having to increase their spend. And that seems to be a really common problem that we sort of asked about by a lot of clients is how do I prevent this? having to spend more each time to get the same result?
Adam Franklin 4:28
It's I mean, some people sort of said, it's a bit like being on a hamster wheel because you're running around spending money all the time. But if you stop then everything stops. And yeah, it feels hard to make any actual progress. And I guess that's quite a common thing that's, that's occurred. Hey, yeah, absolutely.
Toby Jenkins 4:46
And I suppose Yeah, when when we thought more about the book, even, you know, jumping to that point, but you know, that that was the whole you know, there's so many tools available to people and people are often running a lot of these tools already. But how did I coordinate them? How did I actually make them work so they can turn off that advertising tab was the whole sort of has been a lot about what we've learned over the last nine and a half years. And really what the book is about in terms of taking all this understanding of these new opportunities, and then but then making it work in a disciplined and sort of results oriented manner.
Adam Franklin 5:26
And it got us thinking about some of our own experiences. And certainly, an experience that happened to us last year was that we'd written a blog article on our own blog, blue I media blog, and it was cold I was I was writing about our marketing experiments, and specifically that email content that gets clicked. And it was a reasonably popular article at the time, and it got shared socially and had a number of comments on it, and then it kind of died down a little bit. But interestingly, about six months later, we've got this surge of traffic to this blog post. And the reason why was because the very popular blog called buffer buffers blog had actually linked to that article on their blog. And so we had a whole surge of traffic come to our site, a lot of people read the article. And a percentage of those actually took us up on our offer on the page, which was to download our web strategy planning template. And that's what we call our flagship piece of content. It is only available if you sort of tell us your name and email address. And a percentage of those people from the buffer blog did that and then they went on to our lead nurturing process and received our regular email newsletters. And interestingly, about three months after that, we had an inquiry from a from a prospect over in Perth actually. And a we sent him a proposal and he agreed to that, and when we tracked back where he'd come from, we could work Through analytics and up through HubSpot, that he originally found out about blue wire, because he came from that buffer website.
And it was interesting to compare that to Toby's story, because you'll see that that article I'd written six months earlier, had been being linked to by buffer, and that person had come. And then after three months of receiving our lead nurturing, through email marketing, he decided they did put his hand up and say half an hour, engage your services, and then agree to a proposal. So you can see using these online publishing tools like blogging and email marketing, that you really are building something that not only exists today, but it exists you know, in six months time when buffer link to it. And even you know, three months after that. This prospective customer was gradually learning more and more about web marketing to the point that he wanted to engage our services to Helping. And so that stark contrast between, you know, constantly reaching into your pocket, putting your credit card details into pay for advertising, versus actually creating something publishing online and knowing that that blog post is going to be there forever, whereas your Google ad is only going to be there until somebody clicks on it, and then you've got to pay more money to get there, again,
Toby Jenkins 8:22
adds to that is that concept of advertising depreciating very quickly, as in, you know, you paid for an ad in a newspaper, and then the day after it ends up in the bin. And yes, you might see a lot of people may see that ad, no doubt about it. But then it's irrelevant the next day and versus online and web marketing and that actually appreciates over time. So again, you know, using your story, you wrote a blog posts, and, in fact, it didn't necessarily drive business at that point in time. Maybe that was saying by a few people, but then when buffer then link to it, then that actually increase the value of the blog post. And to the point that it actually generated business from that one particular blog post, and it had actually appreciated in value over the six months to the time of the inquiry, style.
Adam Franklin 9:20
Yeah, exactly. Right. Exactly. Right. And, and as we sort of delve deeper in the book, it's all about building a web marketing asset. And like Toby said, you know, asset that increases in value. That is, my article was actually it's more valuable now than it was when I first wrote it. And the reason for that is that when I first wrote it, it was just an article. And then within a few days, there was comments, which added value to the discussion, and there was social media shares, which added the social proof that it was an article worth reading. And then there was those backlinks that attracted and the main one being that buffer backlink and so content you publish online really can or really does become a web marketing asset. Because yes, it's here today. It's here next week, and it's here next year. And as you publish more and more content on the web, it's more opportunity for people to read it, to comment, to share it to link back to it. And it really does become an asset that you building essentially one brick at a time. So you can see how you can actually make progress. As opposed to that that sort of feeling like you're trapped, often with paid advertising where each and every time you want traffic, you've got to you've got to pay for it.
Toby Jenkins 10:34
So it's what do you think that article particularly attracted a backlink?
Adam Franklin 10:39
Yeah, great question time. I'd love it if every single article I wrote, got links from from hugely popular blogs like Buffer, but the reason I think it did is because it was quite a detailed post about our own experiences. It wasn't just theory, and it wasn't just my thoughts on X, Y and Z. It was the actual talk title of the article was marketing experiments, email content that gets clicked. And in it, I actually revealed all the different types of content that we've been publishing on our newsletter, and actually shared the open rates and the click through rates of all of those pieces of content. And so it was really quite practical for the reader because they could go, Oh, well, look, templates get the highest click through rate, or ebooks or photographs or riddles. And I outlined all the different types of things that had worked for us. And I think the fact that you can be, you know, practicing what you preach, but also then sharing that with people. I think that's what made it so appealing in this particular case. And that's certainly hasn't helped us inform other blog posts because after that experience, I then decided to share what worked for all sorts of other types of email marketing and general marketing experiments, because I learned that it was resonating with people. And I mean, do you think the data behind it? Do you think that sort of reinforces the benefit of that particular experiment?
Yeah, I think that versus just telling I guess, yeah, absolutely. I think the numbers, I think the numbers made it real. I think that they could actually see that, yes, you know, some templates get between 33 and 66%. click through rate really could demonstrate to the readers of that blog post that well, that they're the real stats, that's something that I can I can learn that I can take away and implement myself. And they I guess what, what the blog post actually kind of offered them in terms of benefit was that they could fast track you know, the, the months and months that I've been experimenting and toying around with these things, and actually take literally the stuff that works and implemented straightaway on their own email marketing. What other articles might be related to that?
Sure. So we'll put will put links to these in the show notes. For this one, we're talking about marketing excellence. elements, email content that gets clicked. I've also done one on the anatomy of a successful landing page, as well as email subject lines that get opened. So they've been some of our more popular blog posts, and we'll share links with those in the show notes. In short, in summary, I guess what this episode has really been about is the idea of building a web marketing asset, publish good content, let people access it, let people share it. And essentially, it's going to increase in value over time. And it really does give you an out, it gives you a way to kick your advertising addiction, because as you build up more content on the web, you build more traffic coming to you, you attract more leads, you know, for free, and then eventually you can whenever you're comfortable, you can turn off that paid advertising tab and be comfortable knowing that you're going to have a consistent stream of traffic and leads and customers can Through your your web efforts. Great. We might call that a wrap. Yeah, sounds good. Thanks. That's great. Thank you.
Well, that brings the very first episode of web marketing that works to a close. Thank you for joining us listeners. And thank you for hanging with us till the end. We truly appreciate it. As Toby mentioned at the start of the show, this podcast is brought to you by our book called web marketing that works. And it is out on the first of May. We've also released a bonus 33 free templates for you. And if you want to get your hands on those for free, head over to our website, which is bluewiremedia.com.au/book.
Toby Jenkins 14:54
And thanks so much everyone. The idea of these podcasts is to make sure that we are providing actionable advice and recommendations and experiences from both ourselves and our guests, and so would be really excited to hear if you put those into action, and wish you luck with doing so.
Adam Franklin 15:12
If you'd like to get in touch with us and give us topics you'd like to hear about, or guests that you would like us to interview on the show, we're both available on Twitter and email. I'm [email protected] media.com.au. And on Twitter, it's at Franklin_Adam,
Toby Jenkins 15:31
And I am at Toby_Jenkins on Twitter and [email protected]
Adam Franklin 15:40
Now if you're on iTunes, will be very appreciative if you could head over and leave us an honest review. And anyone who leaves us a five star review will try to give a shout out to on one of our upcoming shows. And finally, it would be remiss of us not to finish our very first episode without saying thank you to two friends, Dan Norris and John Lee Dumas. These were the first two shows that we were interviewed on. And we've been following these guys podcast ever since. You both inspired us to kick our own show off. So for that we're very grateful and thankful and listeners will see you all next time.
Transcribed by https://otter.ai
Articles that we mentioned:
Marketing experiments: Email Subject Lines That Get Opened
Marketing experiments: Anatomy of an irresistible landing page
Shout outs
Thank you to..
Dan Norris and John Lee Dumas who gave us our first taste of podcasting when we were guests on their popular shows. Thanks for the help and inspiration!
Did you like the show?
We'd love to hear from you, so please click here to tweet Adam and Toby >>.
Also we would be very grateful for an honest review on iTunes (at the time of publishing this show wasn't on iTunes yet. It will be up very soon, thanks!
Bonus 33 Free Templates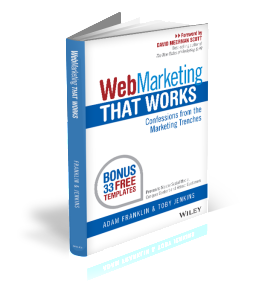 Download the 33 free templates (11.2 MB – zip file) from our new book.
Read the free, 28 page sample chapter (948 KB – PDF)
Or order the book online: Web Marketing That Works: Confessions from the Marketing Trenches (Wiley 2014).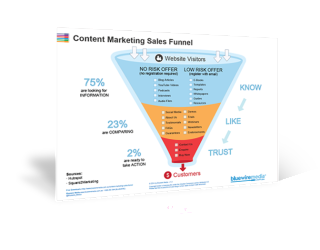 Content Marketing Sales Funnel
Your content marketing sales funnel is all about getting people to know, like and trust you by nurturing them with the right information at the right time.