WMTW 002: Trent Dyrsmid interview [podcast]
Podcast: Play in new window | Download
Subscribe: RSS
Updated on June 20th, 2014
Click to tweet this podcast with Trent Dyrsmid>>
[soundcloud url="https://api.soundcloud.com/tracks/155154829″ params="color=0066cc&auto_play=false&hide_related=false&show_artwork=true&show_comments=true&show_user=true&show_reposts=false" width="100%" height="166″ iframe="true" /]
Welcome to episode 2 of the Web Marketing That Works podcast with Adam Franklin and Toby Jenkins. Trent Dyrsmid from Bright Ideas is the author of the The Digital Marketing Handbook. 
Podcast highlights:
Trent's book launch:

Interestingly 55 per cent of people who bought Trent's book didn't know Trent already. We discuss Trent's book launch and his tiered pricing system that lead to over $17,000 in sales. And also Trent's "elephant offers."  The three tiered pricing model worked really well because the highest price option brought in the lion's share of revenue.
Check out Trent's book The Digital Marketing Handbook.
Marketing experiments
The good:
Podcasting to engage an existing audience. Most people are generalists, but you need a unique selling proposition.
The bad:
Picking a business with a short shelf life.
The ugly:
Automating too early, plus many more!
Advice for people starting out
"Stop getting ready to get ready" 

"The best way to succeed in business is to be in business."
Aha moment:
Realising how quickly business can come in once you already have an audience.
Mentions and influences:
Mike Michalowicz, author of the Pumpkin Plan
Nathan Barry
Andrew Warner from Mixergy
Marcus Sheridan, the Sales Lion
Social Media Examiner (aka Michael Stelzner)
Wes Schaeffer, the Sales Whisperer
Quote:
"Number 1 rule is business is connect with people"  ~Trent Dyrsmid
Connect with Trent:
BrightIdeas.co website or on Twitter @TrentDyrsmid
Did you like the show?
Please let us know by tweeting Adam and Toby.
Brought to you by our book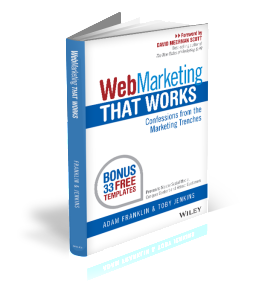 Download the 33 free templates (11.2 MB – zip file) from our new book.
Read the free, 28 page sample chapter (948 KB – PDF)
Or order the book online: Web Marketing That Works: Confessions from the Marketing Trenches (Wiley 2014).