WMTW 003: How a Facebook comment led to a night in jail [podcast]
Podcast: Play in new window | Download
Subscribe: RSS
Updated on June 20th, 2014
In Episode 3 of the Web Marketing That Works podcast we look at social media risk management and how a Facebook comment landed a guy in jail for a night!
[soundcloud url="https://api.soundcloud.com/tracks/155162044″ params="color=0066cc&auto_play=false&hide_related=false&show_artwork=true&show_comments=true&show_user=true&show_reposts=false" width="100%" height="166″ iframe="true" /]
Episode 3 highlights
When social media posts go wrong, and more importantly what plan you need in place for when it happens.
How a Facebook comment landed someone a night in jail and the smooth process that handled the situation effortlessly.
Comment classifications:
Level 1: Neutral comment (no action required)
Level 2: Positive comments (share within organisation)
Level 3: Genuine negative comment (with follow up required)
Level 4: Negative comment that breached the 'House rules' (eg. defamatory, racist, malicious or offensive)
Level 5: Negative comment with potential legal ramifications (eg. threats or serious accusations). Escalate to management, if where necessary to legal or police.
House Rules
Why you need house rules on your blog or Facebook page.
Tools and templates that we mention
Corporate Social Media Approval Template (free download)
Mention
Google Alerts
Hootsuite
Audience Q&A
Sean Bowes from Bowes Fitness asks:
"Should I delete negative comments to avoid the bad publicity or should I leave them up?"
Did you like the show?
We'd love your help spreading the word, so please click here to tweet this podcast >>.
Also we would be very grateful for an honest review on iTunes (at the time of publishing this show wasn't on iTunes yet). It will be up very soon, thanks!
Bonus 33 Free Templates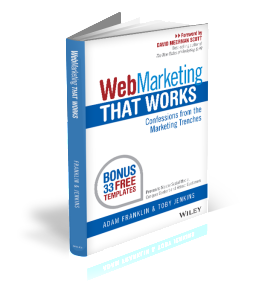 Download the 33 free templates (11.2 MB – zip file) from our new book.
Read the free, 28 page sample chapter (948 KB – PDF)
Or order the book online: Web Marketing That Works: Confessions from the Marketing Trenches (Wiley 2014).