WMTW 004: Dan Norris on creating killer online content [podcast]
Podcast: Play in new window | Download
Subscribe: RSS
Updated on June 20th, 2014
Dan Norris from WPCurve shares his successes, what he's learnt from failures and what advice he has for people starting out.
[soundcloud url="https://api.soundcloud.com/tracks/155176813″ params="color=0066cc&auto_play=false&hide_related=false&show_artwork=true&show_comments=true&show_user=true&show_reposts=false" width="100%" height="166″ iframe="true" /]
Click to tweet this podcast with Dan Norris >>
Shownotes:
www.StartupChat.co is Dan's website (Dan moved it over from TheDanNorris.com because he now has a business partner.)
Dan's web marketing philosophy:
Be transparent and generous. Dan started publishing his income reports when he had zero income!

A-ha moment: Pick a problem that people are trying to solve already, don't invent something new. WPCurve gained momentum from Day 1. It had a customer on the first day, 10 in the first week and Dan has 189 customers at the time of recording.
The good:
Content marketing and doing 'a good job'. Advertising hasn't worked.  Giving away a 15 page Google Doc to help marketers has been great for email conversions. And at the end of your blog posts having a call to action to download something valuable and related to the post has skyrocketed Dan's opt-ins. For example this free conversion template is the one Dan mentions.
The bad:
Marketing to agencies has been the biggest failure.  50 phone calls to agencies, retargeting.  Dan had assumptions about it, and it took a while to realise that agencies didn't want his product.
The ugly:
Worked on a piece of software for 12 months and after that year had $476 a month in recurring revenue, and was a couple of a weeks away from getting a job.  Dan had also spent all the money he had sold his last business for. 
How to get started:
You need to build an audience, so focus on conversions.  Basically you want to get people's email address when they visit your website by giving away something valuable.
Get new audience members by doing offsite content like blog posts and interviews.  Put more of your best stuff elsewhere at a ratio of 70 per cent on other people's site, and only 30 per cent on your own.
Dan's plans for 2014
Double everything.
Increase annual recurring revenue run rate to $250,000
Increase web traffic to 50,000 visitors per month.
Double email list to 12,000 people.
Release one piece of content every single day.
Do live streaming calls via Google Hangouts.
Tactic that brings the most joy:
Written content, mainly blogs.
ProTip:
Don't worry about chasing back-links.  Aim to go from "good" to "great" content and back links will follow. It takes practice. Dan had published 315 articles before one had more than 10 tweets!
Some of the key attributes of a popular blog post.
10 quotes from influencers, 10-15 custom graphics, a good title, 20-30 reference links, Dan often invests a 10+ hours.  Here is Dan's post where he shares his tips. The Ultimate Guide to Creating Content That Converts.
People that have influenced Dan
Adam Franklin (thank you Dan!)
Brendan Sinclair
James Schramko
Dan Andrews 
Neil Patel
Final advice:
"Focus on what you are good at." ~ Dan Norris
Focus on what works for you and what you enjoy. Don't necessarily copy what others.
Connect:
StartupChat.co
WPCurve/blog
dan [at] wpcurve [dot] com
Mentions:
Joe Pulizzi
Seth Godin
Think Traffic
ProBlogger
Firepole Marketing
Joe Rogan
Did you like this show?
Please click to tweet the show to your friends on Twitter >>.
Or feel free to leave or review and subscribe via iTunes (once this podcast gets approved!)
Thanks.
Subscribe
Stitcher radio
Subscribe via iTunes
Bonus 33 Free Templates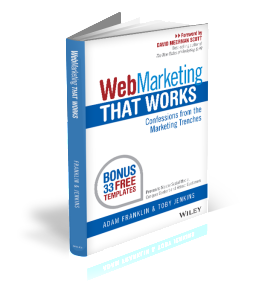 Download the 33 free templates (11.2 MB – zip file) from our new book.
Read the free, 28 page sample chapter (948 KB – PDF)
Or order the book online: Web Marketing That Works: Confessions from the Marketing Trenches (Wiley 2014).