WMTW 007: Our brutal early marketing journey [podcast]
Podcast: Play in new window | Download
Subscribe: RSS
Updated on May 2nd, 2014
Click to tweet this podcast>>
With our first six episodes on iTunes… you may be wondering who we are, what led us here to this podcast and how we've embarked on a decade long adventure to discover web marketing that works.
Show notes
Background of Adam & Toby
Met in Grade 1 in 1986 at Ashgrove State School
Did everything from school, swimming, water polo, uni, travelling, 9.5 years in business and most recently a book!
Background of Bluewire Media
You'll hear stories of us selling websites, doing graphic design, managing social media for clients, but we now are a web marketing consulting firm.
We started as strictly a web design shop (or agency for lack of a better word)
Evolved into social media as that come on the scene and over the decade we've evolved into a web marketing advisory firm, offering training, mentoring programs, events and speaking.

First marketing efforts:
Started in Jan 2005 with $120. We were non-techies, but keen on learning business and marketing!
First week we went on a surfing holiday (to celebrate!)
Mentor advice: you need clients to be a business (websites, stationery and office could all wait)
All we had was a Bluewire email address, and that was enough!
First attempt – knocking on doors
Pounded the pavement for 2 weeks for 0 leads
One breaking point, Toby introduced himself by saying "Hi I'm Adam". Oops!
Second attempt
Cold calls for 0 leads — we had scripts and everything (Yellow pages)
The next breaking point was "I can hear crows in the background!"
Qualified cold call with a valuable offer: this gave us our first leads but not our first client.
First client came via a referral from our network (our water polo coach Lance's mate from the pub)
First cheque for $247 (deposit for a $1200 website)
Lesson: value of your network and community
Q&A: Starting out today?
Knowing what we know now with our decade of experience and the new world of technology, how would we start marketing a business today?
Build an audience, solve a problem, understand the communities you are already a part of.
Did you like the show?
We'd love it if you helped spread the word.  Click here to share podcast with your friends >>
Bonus 33 Free Templates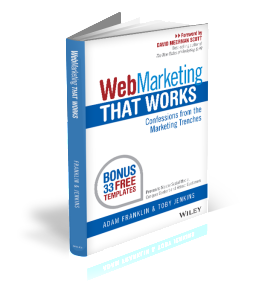 This podcast is brought to you by our new book Web Marketing That Works. You can download the bonus 33 free templates (11.2 MB – zip file).
Read the free, 28 page sample chapter (948 KB – PDF)
Or order the book online: Web Marketing That Works: Confessions from the Marketing Trenches (Wiley 2014).