WMTW 009: How a YouTube video nearly torpedoed our biggest deal [podcast]
Podcast: Play in new window | Download
Subscribe: RSS
Updated on December 12th, 2014
Click to tweet this podcast >>
This podcast explores the hits and misses of our YouTube marketing journey. Including nearly missing out on our biggest deal because of a YouTube video.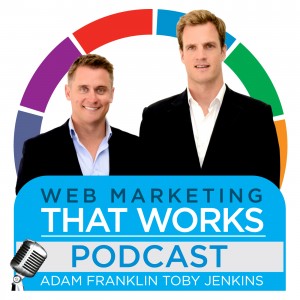 Show notes
Getting started
Mike O'Hagan gave us the heads-up so on the FlipCam we bought on.  (He was inspired by the success of the Will It Blend You Tube series).
We bought a Flipcam and started interviewing people at events.
Next stage
We graduated to recording Skype interviews. Timbo Reid from Small Business Big Marketing gave us the tip to by Call recorder for $20.
Talking head videos
At the Leadership Summit in Atlanta, Kevin Daum, author of Video Marketing For Dummies convinced us of the importance of talking head videos (and also using humour).
The accidental faux pas
We met with prospective client we were told they couldn't engage Bluewire unless we fixed our homepage video. As it turns out, we nearly lost the opportunity to work with a major client because YouTube was delivering 'suggested videos' that were actually quite suggestive!
How else we've used You Tube?
Testimonials
To describe our products and services
YouTube tips for beginners
Record in a quiet place
Don't film under fluro light since it makes everything flicker
Use a decent mic like the Blue Yeti that Timbo Reid put us onto.
Don't wear stripes since your shirt or dress will go blurry. Thanks to our acting mate Tom Oakley for this. Tom is on the long running Fosters ads in the UK!
Put the laptop camera at eye level or above.  Don't look down into the camera because it's very unflattering, and aside from this, the viewer feels like they are being looked down upon.
Get help with video editing. We often use an editor on oDesk or Elance.
What's next?
Training videos using Screenflow
Live Google Hangouts On Air
Mentions in the show
Mike O'Hagan – founder & owner of MiniMovers
Timbo Reid – host of the Small Business Big Marketing podcast
Tom Oakley – from the Fosters adverts in the UK
Kevin Daum – author of Video Marketing For Dummies
Tools
Did you like this show?
If you did like it, we'd love your help spreading the word to your friends. Please click here to tweet this podcast >>
Subscribe
Subscribe to the Web Marketing That Works podcast on:
Stitcher Radio
Subscribe via iTunes
Bonus 33 Free Templates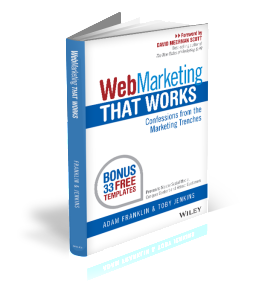 Download the 33 free templates (11.2 MB – zip file) from our new book.
Read the free, 28 page sample chapter (948 KB – PDF)
Or order the book online: Web Marketing That Works: Confessions from the Marketing Trenches (Wiley 2014).