WMTW 010: Eric Keiles on inbound marketing's secret sauce [podcast]
Podcast: Play in new window | Download
Subscribe: RSS
Updated on November 22nd, 2019
Tweet this podcast with Eric Keiles >>
Eric Keiles is the co-founder of Square 2 Marketing, one of the world's largest inbound marketing agencies and a Hubspot Platinum partner. He's co-written 2 books with his business partner Mike Lieberman – Reality Marketing Revolution and Fire Your Sales Team Today.
"The secret sauce to inbound marketing is traditional outreach." Eric Keiles (tweet this).
Adam and I had read their book and been following their work for a few years before we were able to meet face to face in Boston for Inbound 2012 – an inbound marketing conference. Sharing a passion for inbound marketing meant there was plenty to talk about over a few beers at the bar on the first night. The next day they also joined us for a quick interview.
It was great to have Eric as a guest on Web Marketing That Works podcast.
My highlights from the interview were:
The importance of great stories to cascade your strategy into your tactics
The simple process to follow to create those great stories
How you can use Edge-crafting to make your business remarkable (a term I'd never heard before)
The secret sauce to inbound marketing is what you do to actively promote your content
Eric's explanation of how to merge your marketing and sales teams into a revenue department
There are more detailed show notes below.
If you liked this podcast, please click to tweet the show>>
Show Notes:
02:20 – Eric's marketing philosophy is "Strategy before tactics" – great stories cascade down through the tactics
03:10 – Stories help to differentiate products and services
03:49 – Eric tells a client story about unsexy safety products and how they crafted the powerful story of "everybody goes home safe tonight".
06:00 – How they turned an Accountants/Tax advisor into a "tax warrior" service helping to fight the IRS.
07:24 – How Eric uncovers stories for clients:
Start with the target market – profile (who is your favourite customer?)
Create a persona of that person
Demographics
Psychographics
What are their pains and problems?
Solutions that are truly remarkable things and haven't told world.
3 day service to 59mins
Part 2
09:25 – Edge-crafting story for the hair salon – men wait an hour for a hair cut, smoked windows, sports, beer on tap, stylists dressed in fantasy costume, not topless.
11:35 – What has worked? The secret sauce to inbound marketing. A blend of inbound marketing and traditional outreach. Got to take the content and put it in front of your customer!
12:54 – What hasn't worked? B2C companies have been really difficult. Content doesn't have time to take hold.
15:48 – The Ugly –  Marketing and Sales conflict – 3 out 6 people retrenched. Forced them to dig into the client's sales process as well.
18:20 – Digging into Marketing and Sales working together as a revenue department (based on their second book). Square 2 Marketing implemented it 7 years ago – sales and marketing people in the same room and created a new role of "Sales Guide".
21:59 – Marketing is now accountable to revenue in a revenue department. Everything is quantifiable.
22:47 – Who have you learned from?
Marketing – Seth Godin. Favourite – Purple Cow.
Sales – Jeff Thull – Mastering the Complex Sale
Ben Franklin – invent 20,000 – Philadelphia
24:23 – Final advice – Small leap of faith to get started.
Resources
Eric Keiles and Mike Liebermann's books:
<<  Reality Marketing Revolution
Connect with Eric:
Mentions, influences and resources:
Did you like this podcast?
If you liked this podcast, please click to tweet this show >>
If there are any guests you'd like us to interview, please leave a note in the comments.
Subscribe
Subscribe to Web Marketing That Works via
Bonus 33 Free Templates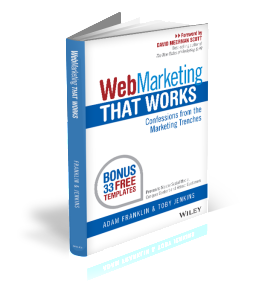 Download the 33 free templates (11.2 MB – zip file) from our new book.
Read the free, 28 page sample chapter (948 KB – PDF)
Or order the book online: Web Marketing That Works: Confessions from the Marketing Trenches (Wiley 2014).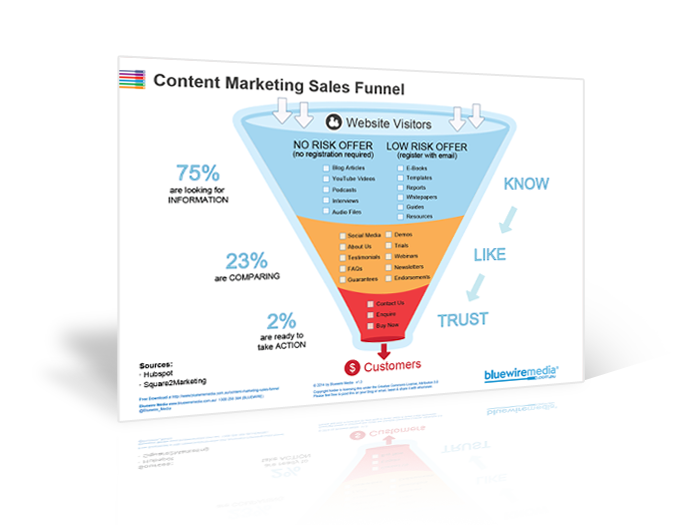 Content Marketing Sales Funnel
Your content marketing sales funnel is all about getting people to know, like and trust you by nurturing them with the right information at the right time.