WMTW 012: Ian Altman on same side selling and content marketing [podcast]
Podcast: Play in new window | Download
Subscribe: RSS
Click to tweet this podcast >>

Show notes
Marketing philosophy
Sales and marketing are the flip side of the same coin
Speak to the problems you solve for people, not 'what you do'
A-ha moments
Stick to what you do best. Don't overreach into areas you don't love. Be candid and refer that work onto the experts in that area.
Marketing experiments
What's worked well: Ian's "Entice, Disarm, Discover" approach has a very high success rate (as high at 30 per cent response rate).
What's failed: Well, the chairman of the company than bought his, was later indicted on fraud,  so a bit of due diligence would've been good!
'Show up and throw up' never works well (someone usually dies;)
Deadset shockers:  Discounting a product doesn't make it more appealing to a buyer.  The first thing you think is 'what's wrong with it?' — it erodes trusts, and makes you wonder why was it so expensive on the first place.
Upside Down Selling
How can people in an organisation who don't wear a "selling hat" help others without being a pushy salesperson.
The book is an easy 30 minute read.
Advice for people starting out?
Work out the answers to these questions:
What problem is it that you solve?
What is the likely outcome or result?
Why would someone buy from you?
Favourite marketing tactic
FIT principle:
Working with your client to assess whether the issue that they are facing warrants your attention and time.  You end up with a list of everything that is important to your prospect.
ProTip
Never discuss price until the client understands unequivocally the impact of doing nothing, and the value of the result.
Influences
Daniel Pink
Seth Godin's blog
Gary Vaynerchuk's new book Jab Jab Jab Right Hook
Derek Coburn Networking is Not Working
Connect with Ian Altman
@growmyrevenue
www.GrowMyRevenue.com
Preview chapter of Same Side Selling – coming soon.
Did you like this show?
Please click to tweet the show to your friends on Twitter >>
Subcribe
And we'd love it if you subscribed and left us a review on via iTunes or Sticher. Thanks.
Bonus 33 Free Templates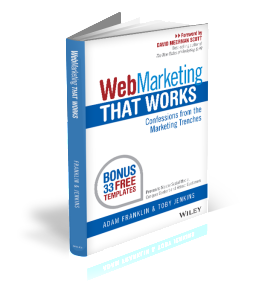 This podcast is brought to you by our new book Web Marketing That Works. You can download the bonus 33 free templates (11.2 MB – zip file).
Read the free, 28 page sample chapter (948 KB – PDF)
Or order the book online: Web Marketing That Works: Confessions from the Marketing Trenches (Wiley 2014).