WMTW 013: Email marketing for beginners [podcast]
Podcast: Play in new window | Download
Subscribe: RSS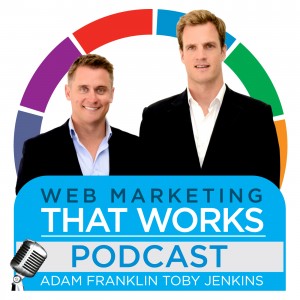 Click to tweet this podcast>>
Show notes
Early days:
Adam had been involved in nightclub marketing and had used email in the early 2000s.
We had very few other options at the time – social media as we know it today didn't exist.
Had our first 3 clients, and we wanted to "add-value" to them, and our readers.
But our first Bluewire News email was a disaster. I sent "Dear Adam" to everyone on our database!
It evolved 2006 – 2012
We send monthly Bluewire News emails for 7 years (2006-2012).
Sold tickets to events and digital products via email.
But the then this being independant of developers
2013 to now
We now send weekly or bi-weekly emails
We are also independent of developers which means we can create, test and sent as often as we like
Some email marketing experiment discoveries
Bluewire vs 'Adam & Toby' — the company name outperformed our names!
HTML vs text-only — text only get a higher click through (if sent from an individual)
Templates get highest click throughs — as high as 66%
Tips:
Get started
Curate content if you are short on ideas
Mentions
Dan Zarrella the Social Media Scientist
Did you like this show?
Please click to tweet the show to your friends on Twitter >>
Subcribe
And we'd love it if you subscribed and left us a review on via iTunes or Stitcher. Thanks.
Bonus 33 Free Templates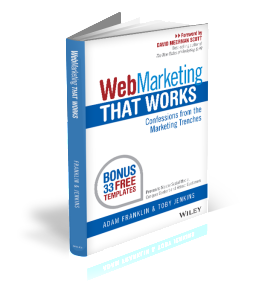 This podcast is brought to you by our new book Web Marketing That Works. You can download the bonus 33 free templates (11.2 MB – zip file).
Read the free, 28 page sample chapter (948 KB – PDF)
Or order the book online: Web Marketing That Works: Confessions from the Marketing Trenches (Wiley 2014).