WMTW 014: Llew Jury on hiring great people [podcast]
Podcast: Play in new window | Download
Subscribe: RSS
Click to tweet this podcast >>

Llew Jury is the founder and MD of Reload Business Group.
Show notes
Marketing philosophy
Treat a digital business like a traditional business with great customer service. Put marketing and business first, and technology second.
A-ha moments
Educating the market. Today SEO, SEM and social media is going through the "education" phase just like web design did in the late 90s and early 2000s.
The biggest a-ha moment at Reload has been hiring Craig Somerville. He's 25 and been with Reload since he was 19. Craig has an MBA from UQ, chairman of the young management advisory board for AIM, heads up the Global Expansion team and now the CFO and Director.
What's worked well?
Word of mouth and relationships, treating it like a business and building authority in SEO.  Testing has always been a big thing for Llew.
What's not worked well?
Llew's motto is fail quickly, fail internally and fail cheaply.  Websites like MoreHits.com.au haven't worked out, but he is always testing.
Biggest mistake?
Back in the Alfresco Design days, the mistake was not putting on a management team early enough.
Advice to people starting out
1. Solve a problem people are going to pay you for.
2. Research (research, and more research)
What's next on the marketing front?
More public speaking and talking to people about the different offerings that fall under the Reload Business Group.
What tactic brings the most joy?
Outreach and content marketing.

Good Business Technology Blog
LlewJury.com
ProTip
Buy a few coffees for the editor of a well known publication.
Who have you learnt from?
Richard Branson  – customer service is king
The chaps at GoPro for their Innovation
Mashable
Good to Great by Jim Collins
Contact Llew Jury
Llew Jury is @reloada on Twitter
Reload Media's website.
Reload Media is @reload_media on Twitter
Llew Jury's website
Reload Media on Google+
Templates
Aspirational Contact Template
Blogger Outreach Email Template
Did you like this show?
Please click to tweet the show to your friends on Twitter >>
Subcribe
And we'd love it if you subscribed and left us a review on via iTunes or Stitcher. Thanks.
Bonus 33 Free Templates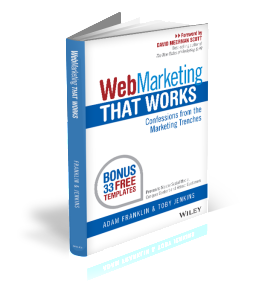 This podcast is brought to you by our new book Web Marketing That Works. You can download the bonus 33 free templates (11.2 MB – zip file).
Read the free, 28 page sample chapter (948 KB – PDF)
Or order the book online: Web Marketing That Works: Confessions from the Marketing Trenches (Wiley 2014).