WMTW 016: Jack Daly cares most about the customer [podcast]
Podcast: Play in new window | Download
Subscribe: RSS
Updated on July 2nd, 2014
Click to tweet Jack Daly's podcast >>
[soundcloud url="https://api.soundcloud.com/tracks/155368775″ params="color=0066cc&auto_play=false&hide_related=false&show_comments=true&show_user=true&show_reposts=false" width="100%" height="166″ iframe="true" /]
Adam and I first saw Jack give a presentation in Brisbane and have subsequently seen him in Sydney numbers of times. I can honestly say that Jack is the best business presenter and one of the best presenters I have seen live on stage.
Jack has built businesses since he was 12 working on a newspaper run.  As CEO, he built a mortgage company to 750 employees and 22 offices in 18 months AND in the first 3 years of business to $42 million in profits. He's led sales forces numbering in the thousands and he's married to his high school sweetheart Bonnie. He's run 65 marathons, 13 Ironman Triathlons and played 82 of the US's Top 100 golf courses.
And now he's written a new book Hyper Sales Growth which hit #1 on Amazon in 7 countries!
His catch cry is "If you think you know sales, then you don't know Jack." And man does he live it!
Show Notes
Jack's Sales philosophy:
"When you care more about the customer rather than you do about the sell, you'll end up selling more than anyone else out there."
"You build such an absolute foundation of trust, that repeat and referral business just stands in line to do business with you."
Jack's Marketing philosophy:
"Multiple channels in multiple categories and it's got to be about them, not about us."
"Takes 9 touches before they even know you exist."
Sales people aren't bringing information and data any more.
Use the web for pre-work to understand the prospect and customer better.
The good, the bad and the ugly
What has worked well: Social Media
20% of attendees at his public events are coming via social media providing value. (Here's another video we did with him about generating enquiry through facebook)
What hasn't worked: Webinars
1hr webinars at $100: customer feedback was that they were getting bombarded, that he was selling too hard on the webinars. Didn't get the numbers he was after.
Changed up webinars to be free. Attendance of 1,000+ people
Bring your customer value at every turn.
Marketing catastrophes: Buying leads
Buying internet leads. Very cheap. Disaster – there was very little conversion. Disproportionate amount of time on junk leads. Tread lightly and inspect deeply. "You tend to get what you pay for."
Advice
Kicking off your business from scratch:
Model the masters – someone has probably already figured this out.
Leverage – how can I generate more business with less work?
They've engaged a company Kirk Global.
What's next for Jack Daly?
Speaking gigs
Growing public events
Sales Management – virtual coaches
Energy management:
Lucky in the gene pool
50% or more of success is in your head – "I love life!"
You focus on those things that you have control over, and those things you don't have, don't exist.
Takes care of physical – physical check ups every 6 months, cognisant of what he eats, enjoys wine.
Discipline.
Put yourself in a place of passion.
Personal life: 
Measures everything since he was 13.
10 mins a day reflecting on what he did.
Broken down by day/week/month.
Goals are posted.
Quarterly report on personal goals.
Board of directors of his life – meets with one on one each quarter to hold him accountable.
It's like breathing.
Learned from:
Jim Pratt – father figure.
Voracious reader – 2 business books this week – The Challenger Sale, Nick Saban – Disciplines of Life.
Desert island book: Endurance, Alfred Lansing
Connecting
Connecting with Jack:
Websites and books mentioned:
Did you like this show?
Please click to tweet the show to your friends on Twitter >>
Subcribe
And we'd love it if you subscribed and left us a review on via iTunes or Stitcher. Thanks.
Bonus 33 Free Templates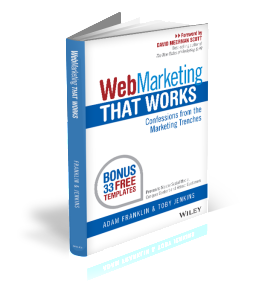 This podcast is brought to you by our new book Web Marketing That Works. You can download the bonus 33 free templates (11.2 MB – zip file).
Read the free, 28 page sample chapter (948 KB – PDF)
Or order the book online: Web Marketing That Works: Confessions from the Marketing Trenches (Wiley 2014).