WMTW 017: How to grow your email list [podcast]
Podcast: Play in new window | Download
Subscribe: RSS
Updated on October 30th, 2019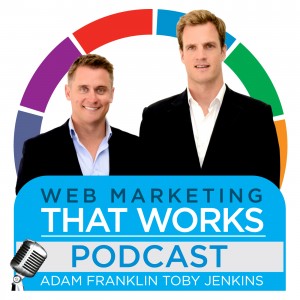 Click to tweet this podcast >>
How to grow your email list
In the last 18 months our email list has grown 3x from ~3,000 to now 10,328 at the time of this podcast. During the previous 8 years our email list grew at a snail's pace.  Here's what we did to amplify that growth.
Show notes – Grow your email list
1.  Opt-in form instead of 'no rego required'
For the first 12 months after we released our flagship Web Strategy Planning Template, we had it available for download with no registration required. This has a 50 per cent conversion rate but we didn't know who these people were, nor did we have a way to communicate with them again.
Then we followed Hubspot's advice and tested putting our flagship content up behind an opt-in form. (We are a reseller of Hubspot's software too).  The conversion rate dipped down to 30 per cent but now knew who they were and could communicate with them via email.
This simple step saw our email subscriber list double in 12 months.
2. Landing Page
The basics of an effective landing page are:
Have a simple form that people can fill in to access the content.
Set their expectation as to what happens next (ie, mention how often they will receive your emails)
Once they've filled in their details it should trigger a thank you email
4. Home Page
Your home page is usually one of the most trafficked pages on your website, so including a form and call to action on it.
5. Call to action on the blog
Include a call to action (CTA) on your blog — either on the side bar or at the end of the blog post. Toby's also been using links to flagship content in the blog post itself.
6. Blog pop ups
This is the most controversial one.  People do find pop-ups intrusive, so it's important that you tread carefully here.  Even though folks like Dan Zarrella, the social media scientist.
Blog pop up options
Finally
Once you have the opt-in forms and flagship content set up on your website, then it's time to increase traffic. One of the best ways to do this is by guest blogging (on other people's sites).
Did you like this podcast?
If you liked this podcast, please click to tweet this show >>
Subscribe
Subscribe to Web Marketing That Works via:
Bonus 33 Free Templates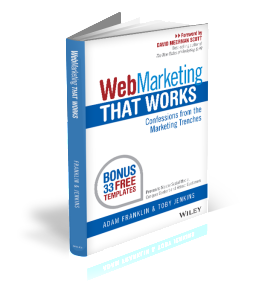 Download the 33 free templates (11.2 MB – zip file) from our new book.
Read the free, 28 page sample chapter (948 KB – PDF)
Or order the book online: Web Marketing That Works: Confessions from the Marketing Trenches (Wiley 2014).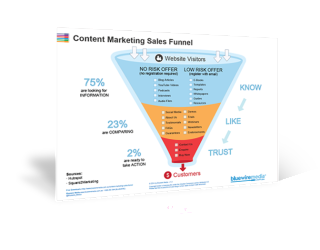 Content Marketing Sales Funnel
Your content marketing sales funnel is all about getting people to know, like and trust you by nurturing them with the right information at the right time.