WMTW 018: Tristan White on culture and marketing to staff [podcast]
Podcast: Play in new window | Download
Subscribe: RSS
Updated on January 4th, 2020
Tweet this podcast with Tristan White >>
Image source: Herald Sun 
"Be transparent and give away as much as you possibly can." Tristan White (tweet this)
Tristan White is CEO of The Physio Co, a proud father and husband and Ironman triathlete.
Show notes
The bottle neck for growth is finding the right people to work in the unsexy world of aged care. So the marketing is focused on attracting and retaining physiotherapists to work in aged care.
Web Marketing Philosophy
"Be transparent and give away as much as you possible can"
Marketing experiments:
The good (what's worked well):
The The Culture Book which is a year in the life of The Physio Co family. Here is the 2014 Culture Book.
The Physio Co is No.5 on BRW Top 50 Places to Work. The key to this is having a culture built on trust!
The bad:
Biggest failure is having just one 'culture' when in reality there are lots of sub-cultures. Tristan has realised everyone has specific interests, even though all team members share the same four core values.
The ugly:
Tristan overcommitted on his promise to blog everyday and wasn't able to deliver on it.  But Tristan came clean and write a blog post to his subscribers that explained his situation and how he felt bad for letting his readers down.  Everyone admired his vulnerability and honesty and to this day people mention that blog post.
If you were starting out, what would you do first?
Make it clear what value I wanted to add to my subscribers. And be transparent and personal.
What tactic brings to the most joy
Blogging.  Tristan uses Evernote to gather his ideas, and then fleshes them out when it's time to write. He turns off email and focuses on the blog post. In terms of time spent an equal amount of time on
writing the content (one third)
writing the title (one third)
sharing the blog post and replying to comments (one third)
ProTip
Focus on a tight niche but don't be afraid to write off-topic every now and again and show a different side of your personality.
Learning from others
Verne Harnish
Adam and Toby at Bluewire (for their emphasis on experimenting).
Connect with Tristan
@tristanjwhite
Culture is Everything
The Physio Co
Did you like this podcast?
If you liked this podcast, please click to tweet this show >>
Subscribe
Subscribe to Web Marketing That Works via:
Bonus 33 Free Templates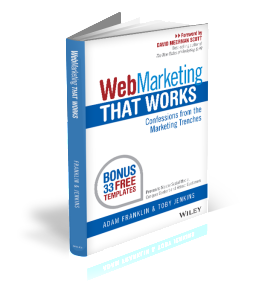 Download the 33 free templates (11.2 MB – zip file) from our new book.
Read the free, 28 page sample chapter (948 KB – PDF)
Or order the book online: Web Marketing That Works: Confessions from the Marketing Trenches (Wiley 2014).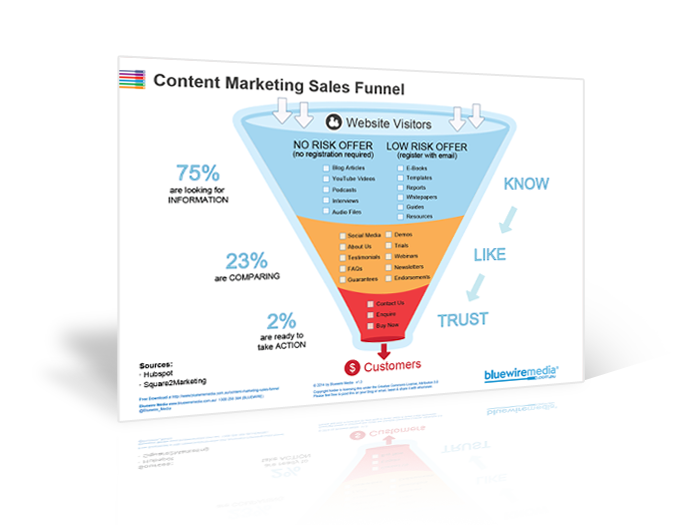 Content Marketing Sales Funnel
Your content marketing sales funnel is all about getting people to know, like and trust you by nurturing them with the right information at the right time.