WMTW 019: How to explode your email list via advanced landing pages [podcast]
Podcast: Play in new window | Download
Subscribe: RSS
Updated on April 2nd, 2015
[soundcloud url="https://api.soundcloud.com/tracks/158380542″ params="color=0066cc&auto_play=false&hide_related=false&show_comments=true&show_user=true&show_reposts=false" width="100%" height="166″ iframe="true" /]
In episode 17 we looked at the basics of how to grow your email list. Things like housing your flagship content on a landing page, with a simple form where people can enter their name and email address in exchange to for it.  Plus things like removing the main navigation to remove distractions.  In this episode we step it up a notch and look at the more advanced tactics to amplify the growth in your email list.
Show notes
We learnt the factors listed below from Unbounce co-founder Oli Gardner's brilliant e-book The Ultimate Guide to Conversion Centred Design.
Psychology
1. Social proof
Just like people gravitate to the popular (and packed) restaurants and bars, people find safety and confidence in numbers. Display the social media shares, like facebook likes, tweets, LinkedIn shares, Google Plus +1s and Pins.
We use the WordPress Plugin called Jetpack.
2. Try before you buy (Preview)
We use Slideshare to upload our tools and templates, and then to embed them onto our landing pages.
Design
1. White space
Use plenty of white space to make it a calm experience with lots of breathing space.
2. Directional cues
Use arrows and things like people looking in a certain direction to direct the eyes of people visiting your landing page.
3. Encapsulation
The idea is to put a line or box around the form on your landing page, so that it stands out.
4. Buttons
There are a number of components here.
Contrast the colour of the button so it stands out from the rest of the page.
The words on your button are very important.
Use vern – noun format
Use words that are low effort (like instant download) not high-effort words (like sign-up or invest)
On the button text, finish this sentence for the person visiting the page:  I want to ______  (eg. start a free trial,  access the resources etc)
Use the first person (my) as opposed to second person (your).  For example, therefore "Start MY 30 day trial" vs Start YOUR account (90% increase on button text — thank you Clay Collins from Lead Pages and the case study)
4. ProTip: 'SEO' your landing page for Google
Since people are in an active frame of mind when they are searching for something, it is advisable to
Resources
Did you like this podcast?
If you liked this podcast, please click to tweet this show >>
Subscribe
Subscribe to Web Marketing That Works via:
Bonus 33 Free Templates
Download the 33 free templates (11.2 MB – zip file) from our new book.
Read the free, 28 page sample chapter (948 KB – PDF)
Or order the book online: Web Marketing That Works: Confessions from the Marketing Trenches (Wiley 2014).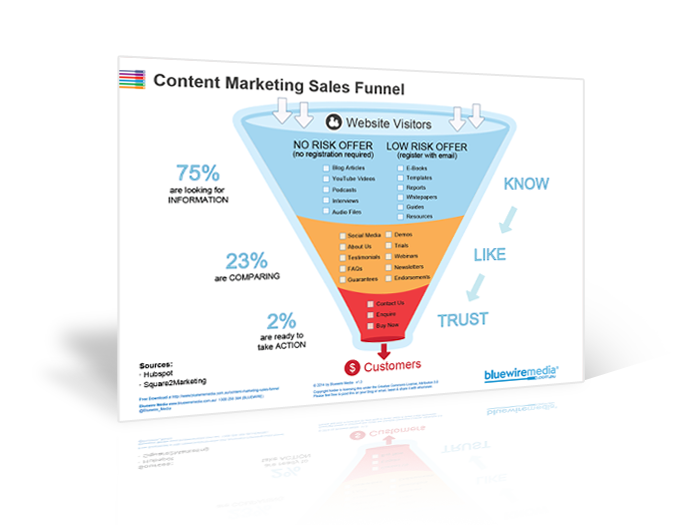 Content Marketing Sales Funnel
Your content marketing sales funnel is all about getting people to know, like and trust you by nurturing them with the right information at the right time.