WMTW 025: David Meerman Scott – NASA's Biggest Mistake in Marketing The Moon [podcast]
Podcast: Play in new window | Download
Subscribe: RSS
Updated on March 2nd, 2015
Click to tweet >>

It was my great pleasure to have on the show one of our marketing heroes – David Meerman Scott.
David is author or co-author of ten books – including three international bestsellers. The New Rules of Marketing & PR, which is how we first heard of David, is now in its 4th edition, has been translated into 26 languages and sold over 300,000 copies. David is also a fantastic keynote speaker and travels all over the world to do so.
After we read New Rules of Marketing and PR, Adam and I then heard him give a presentation at a conference in Sydney via satellite. To me, David is the guy who finally gave us the language to describe what we felt was happening online. We connected and eventually collaborated to develop the Web Strategy Planning Template. He was also kind enough to write the foreword to our book Web Marketing That Works.
It was awesome to talk about the marketing lessons from his new book: Marketing The Moon.
Show Notes:
Day in the life of David Meerman Scott
Up early – exercise
2 breakfasts
Writing/Interviews/Emails
Dip into social frequently – 10x per day each a couple of minutes
Twitter, Google News, Facebook and LinkedIn
Does everything early.
How did Marketing The Moon get started?
Child of the 60s
Wanted to be an astronaut
10 years ago was caught back up in it
Digging into the Apollo program they realised that it took 4% of the US's budget + 2% of the US's workforce for an entire decade!
Realised it was a marketing thing too.
Focussed on the contractors as well as NASA's involvement in the marketing
Is a collector of Apollo moon program artifacts – Apolloartifacts.com
Marketing Lessons from Marketing The Moon:
the importance of live video to give people access to the moment when people stepped on the moon
live video was not supported by everyone – expensive, heavy, technology development – took a huge effort to convince people that they needed to do it.
We have to deliver this real time content to the constituents – we owe it to them.
Delivering content that people will find interesting and share
Tapped into the marketing and PR resources of the contractors
The concept of partnering with others to achieve a common goal – rely on others to help you.
NASA's big mistake:
Sold the Moon landing as a quest – simply a goal to achieve
It was like a product launch that had no follow up
Didn't do a good job as to why people should pay attention to their subsequent missions
Lost support from taxpayers and congress to foot the bill
Connect with David:
Did you like this podcast?
If you liked this podcast, please click to tweet this show >>
Subscribe
We would love you to subscribe to Web Marketing That Works and please leave your honest reviews via:
Bonus 33 Free Templates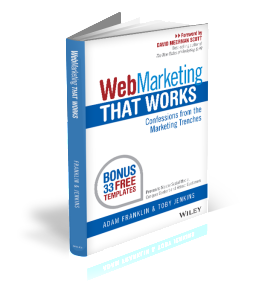 Download the 33 free templates (11.2 MB – zip file) from our new book.
Read the free, 28 page sample chapter (948 KB – PDF)
Or order the book online: Web Marketing That Works: Confessions from the Marketing Trenches (Wiley 2014).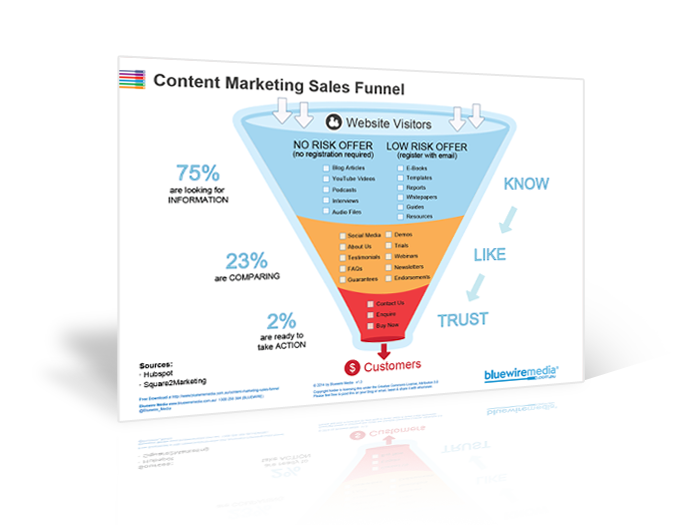 Content Marketing Sales Funnel
Your content marketing sales funnel is all about getting people to know, like and trust you by nurturing them with the right information at the right time.