WMTW 030: Trevor Young – PR Warrior and Author of Microdomination [Podcast]
Podcast: Play in new window | Download
Subscribe: RSS
Updated on March 2nd, 2015
In this episode I'm talking with Trevor Young, the PR Warrior. He is the author of MicroDomination and has worked in public relations and communications for over 20 years. He has started and sold 2 businesses and merged a third with the world's largest independent PR agency.
Personally he's a passionate educator and loves listening to 1960s hard-bop jazz – he even gave me a quick sample while we were recording! He's a Geelong Football Club supporter (which we won't hold against him) and is plotting and planning the Great Australian Crime Novel.
We talk about:
How the media has changed – Paid, Earned, Shared and Owned and what you can do to maximise them.
How to craft a story and content to win publicity
What he means by The Connected Brand
And lots more!
Enjoy!
>Subscribe on iTunes
>Subscribe on Stitcher
If you have a second, please leave us a review on iTunes (or Stitcher)! It really helps us to keep getting great guests on the show.
>Download the 33 free web marketing templates
Show Notes:
Day in the life of Trevor Young:
Portfolio approach
Writing research
Mentoring/coaching
Presentations
Workshops
Educational based
Marketing Philosophy:
Connected brand – how to better connect with the marketplace in a hyper networked environment.
Content and events, cultivating the enthusiasts of your brand
Collaboration and partnering with like minded individuals and orgs
All this comes before the Call to action
Major aha moments?
Serendipity and the fact that we are all connected – it's a small world.
What else is working for you at the moment?
LinkedIn
Podcast – Reputation Revolution with LinkedIn group attached
What's not working?
Hasn't built subscriber list
What would you do if you were starting from scratch?
Blog first – to bring clarity, focus and form
Create a body of work.
Twitter as the second choice
What is PR?
Public Relationships
PR is not getting your name in the papers/TV/Radio – this Media Relations
Getting others to talk about you in a positive way
Speaking engagements, media briefings etc
Paid, Earned, Shared and Owned Media:
PESO
Paid – advertising
Earned – you've earned the right – eg story by a journalist/blogger
Shared – people commenting and retweeting etc – general public
Owned – your website, blog etc.
Know the journalists personally – the stronger the tie the better.
Hybrid blogs:
Techcrunch
Huffington Post
Mumbrella
Business Insider
Smart Company
Startup Smart
Entourage
Blogs:
Solo
Multi author – jeffbullas.com, problogger.com
Moz – SEO blog
Learning from others:
David Meerman Scott
Content Marketing Institute
Jay Baer
Mitch Joel
Mark Masters – ID Group
Dionne Lew – The Social Executive
Closing thoughts:
"You are the media channel."
Connecting with Trevor:
Did you like this podcast?
If you liked this podcast, please click to tweet this show >>
Review & Subscribe>
We would love you to subscribe to Web Marketing That Works and please leave your honest reviews via:
Bonus 33 Free Templates
Download the 33 free templates (11.2 MB – zip file) from our new book.
Or order the book online: Web Marketing That Works: Confessions from the Marketing Trenches (Wiley 2014).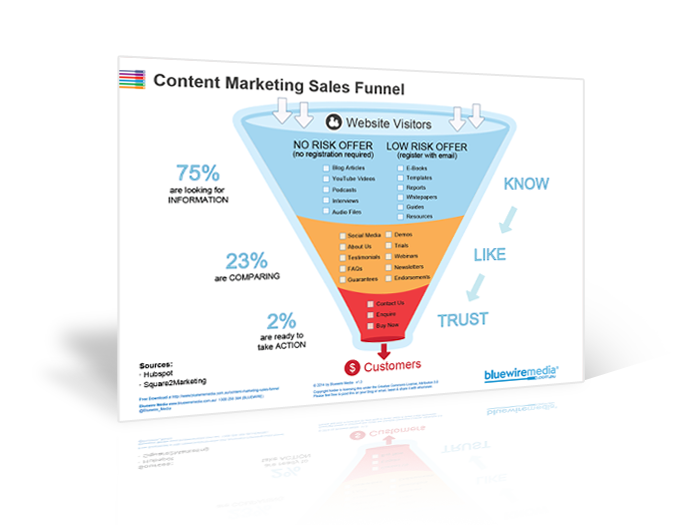 Content Marketing Sales Funnel
Your content marketing sales funnel is all about getting people to know, like and trust you by nurturing them with the right information at the right time.