WMTW 031: Jeff Bullas – Super Blogger Doing Social at Scale
Podcast: Play in new window | Download
Subscribe: RSS
Updated on January 4th, 2017
For this show, our guest was friend and super blogger Jeff Bullas.
 "If you want to be a leader you need to create." Jeff Bullas (Tweet this)
If you don't know Jeff, then here's just a fraction of his online credentials:
We first met Jeff Bullas to interview him at his office in 2011 to find out how he had attracted 47,000 twitter followers. Since then, he's up closer to 250,000 followers and has joined us as a speaker at our Social Media Down Under event.
My favourite quote from the show was:
"If you want to be a leader you need to create. The art of creation crystallises your thinking and helps you structure your thoughts."
Enjoy the show!
Show notes:
Philosophy of upcoming book:
Lots of business leaders grew up with mass media
Crafting and creating online content
Building online connections as well as face to face connections
Based on blogging, writing, creating, immersed in digital world
Philosophy of online marketing:
Helping people solve problems
Educational style blog
Trained as a teacher
Blog evolved from curiosity
3 inspirations for starting blog: David Meerman Scott's New Rules of Marketing and PR, Tim Ferriss's 4 Hour Work Week, Blog post on Hubspot
"If you've got an inkling of what you want to start a blog about, just start."
Process to get started:
Gut feel and fascinated by the momentum around social media
Bought domain name
Started blog on wordpress.com
12 months later transitioned to self hosted blog
started with own domain name was really important.
Owned assets are crucial – self hosted and own domain name.
Advice came from Darren Rowse and other top bloggers in the industry.
Creates the best content he can on his platform, social media is how he gets it out – Hub and Spoke model.
Crowdsources your marketing – tribes and followers – earned media. These tribes then share your content
What has worked well?
Twitter – Law of reciprocation – followed people and relied on people following him in return
Facebook has reduced it's effectiveness
What hasn't worked well?
Didn't upgrade blog to self-hosted platform because of traffic issues
Not building email list from day 1 – gives you owned channel to share your content.
Content is what you own, you can accelerate by paying for advertising online.
Creating vs Consuming:
"If you want to be a leader you need to create. The art of creation crystallises your thinking and helps you structure your thoughts."
Creating and feedback online is a powerful synergy.
Could be curating – not always creating. List posts.
Put content in a format that is easy to consume and adds value to readers' lives – possibly just by saving them time and putting it all in one location.
Can position you as a thought leader in your industry.
If you want to write a lot, you need to read a lot.
Feedly has taken up the mantle of pushing content to you.
"You need to be both a creator and a consumer."
Creative process:
Get up early – 4:30am – Jeff's time to create.
Twitter feed off, no emails
Focus on blog post for the day
Dedicated time without interruptions – no phone calls/door knocks
Create your space and time.
Get inspiration and write it down
Seize a moment – stop the car and write down an idea and interrupt a conversation.
Inspiration sometimes moves on. Need to capture it.
1 blog post every day 5 days a week.
Create a life.
Tim Ferriss – deep long form content
Content must be insightful, interesting, informative, angle
You'll need to operate on full throttle to break through
"You need to be creating content on a consistent and persistent basis."
Uses a plug-in called Yoast for SEO.
Content is shared – Twitter, Flipbook, Facebook, LinkedIn, Email subscribers, Google+
"Hustle your content"
Article by article – possibly create summaries on weekends.
Repurposing blog posts to more visual formats like Slideshare.
Content Flow:
Blog post – tweeted 4-5 times
Social Oomph to retweet content
Content is evergreen
Content Curation:
25 other bloggers that he shares daily
Automated – Seth Godin, Chris Brogan, Lee Odin, Mark Scheafer
Doing Social at Scale:
Do need to use some automation
Tweepy – following followers of other Twitter accounts
Content Creation:
Snackable and easy to consume
Structure your content
Headline
Enticing first sentence
Subtitles
Bullet points
Numbers
There is no commitment – you are one click away from oblivion if you are boring them.
Stephen King – when people read something, it needs to look fluffy but not be fluffy.
Learn from:
Final thoughts:
Adding value to people's lives on online
Developing premium content
Monetizing the platform
Make the journey enjoyable and make a difference to people's lives at the same time.
Connect with Jeff:
Did you like this podcast?
If you liked this podcast, please click to tweet this show >>
Review & Subscribe
We would love you to subscribe to Web Marketing That Works and please leave your honest reviews via:
Bonus 33 Free Templates
Download the 33 free templates (11.2 MB – zip file) from our new book.
Or order the book online: Web Marketing That Works: Confessions from the Marketing Trenches (Wiley 2014).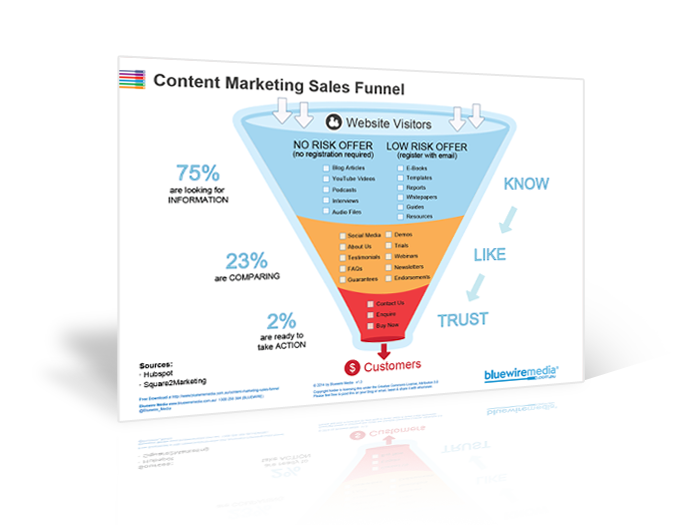 Content Marketing Sales Funnel
Your content marketing sales funnel is all about getting people to know, like and trust you by nurturing them with the right information at the right time.